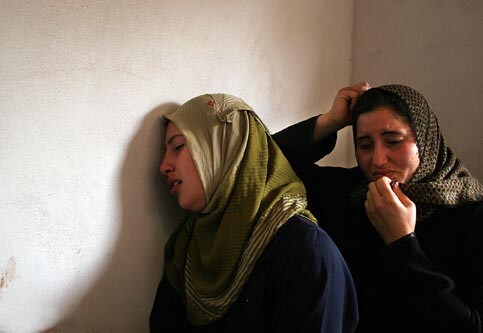 At 5.30pm on Monday 10 April 2006, at least six artillery shells fired by the Israeli military fell on the family house of Mohammed Rabe'eya Ghaban in Beit Lahiya, in the north of the Gaza Strip. Shrapnel from the shells pierced the skull of Mohammed's eight-year old daughter Hadeel, killing her instantly. The shelling also resulted in the injury of eight other family members, including Hadeel's brothers and sisters: Rawan Ghaban (18 months); Rana Ghaban (3); Munir Ghaban (4); Amneh Ghaban (9); Ghassan Ghaban (11); Bassam Ghaban (15) and Tahrir Ghaban (17).
The children's mother, 35-year old Sofia, was the eighth family member wounded in the attack.
Several neighbours were also injured including: Jaqueline Mo'ein Maarouf (11) and Mariam Maher Al-'Assi (15).
The killing of Hadeel and the wounding of her siblings and friends is the latest crime to come out of Israel's escalating aggression against the Palestinian population of the Gaza Strip. Despite the physical withdrawal of the Israeli military from the area in August 2005, Israeli occupation forces continue to exercise military control over the entire Strip — intensifying assassination attacks against Palestinian activists, shelling residential areas and imposing a virtual siege on the whole strip by sealing entry and exits points to goods and people.
Since the beginning of this year, 15 Palestinian children have been killed in the Occupied Palestinian Territories, including eight from the Gaza Strip. Four of the eight were passers by - killed in Israeli extra-judicial assassination attempts against Palestinian activists; two Gaza children were killed by gunfire; one by unexploded ordinance while Hadeel is the eighth Gaza child to die so far this year.
Defence for Children International/Palestine Section (DCI/PS) views with grave concern this growing list of child fatalities and this latest Israeli crime. The recent Israeli military activities, including the bombing of residential areas, preventing food supplies from reaching the population and carrying out extra-judicial killings are considered war crimes under international law.
As such, DCI/PS calls on the international community to assume its moral responsibilities and legal obligations under international law and to act immediately and effectively to stop these gross violations being perpetrated by Israeli forces against Palestinian civilians.
Related Links