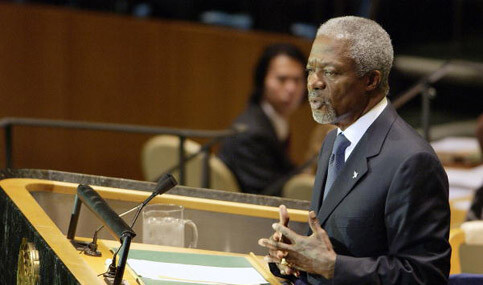 NEW
YORK
: United Nations Secretary-General Kofi Annan today said victories by religious parties in recent elections in the Middle East were more an indication of interest in effective government than a rejection of secular rule.
In New York, Mr. Annan was asked by reporters about the success of Hamas in the Palestinian elections, the Muslim Brotherhood in Egypt, and religious parties in Iraq. "I am not sure if the region is saying goodbye to secular government, or if the religious are better organized, and have acquired a reputation of being able to deliver," he replied. "If that is the case, it is a message for ruling regimes, and for other parties, that this is what people are looking for."
The Secretary-General said the trend was not a total rejection of secular movements or a swing to Islamic parties. "I think, if the regimes in power were seen to be delivering, were seen to be close to the people, I am sure the results would have been quite different," he said.
Winning religious parties, such as Hamas and the Muslim Brotherhood, have all been well organized, he said. "What were the people voting for? Were they voting for a clean government? Were they voting for peace? Were they voting for a stable environment in which their kids could go to school? Or were they voting for a Hamas manifesto? My sense is that they were voting for a peaceful and stable and well-organized Palestine."
The Secretary-General observed that this trend should serve as a "a lesson and a message for all rulers and politicians in the region, and everywhere in the world, that people want good government, and they will vote for people that they believe would offer that."
Asked specifically about Hamas, he said it was important to remember that it had never been in government and that they needed time to prepare to govern. He also called on the group to listen to appeals from the Quartet on the Middle East — the UN, the Russian Federation, the European Union and the United States — as well as from other countries.
"My message to the Palestinian people who voted and voted peacefully, in a calm and secure manner, is to pursue the effort that they have been engaged in with the Quartet in trying to implement the Road Map," the Secretary-General said, referring to a peace plan aimed at settling the Israeli-Palestinian conflict.
"I urge Hamas to listen to the appeals, not just from the Quartet, but from other governments in the region, asking it to transform itself into a political party. We must also understand that this is not the first time that an armed movement has transformed itself into a political party," he said.