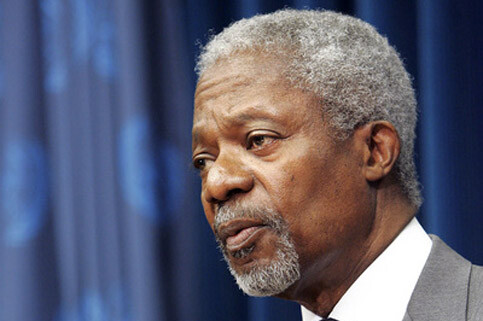 United Nations Secretary-General Kofi Annan is working "very intensely" with Security Council members and key leaders to push for a resolution concerning the situation along the Blue Line separating Israel from Lebanon.
A spokesman for Mr. Annan issued a statement in New York saying the diplomacy is taking place "both here and in capitals."
The statement also reiterated Mr. Annan's long-standing call for a cessation of hostilities. "The fighting must stop to save civilians on both sides from the nightmare they have endured for the past four weeks."
The spokesman voiced Mr. Annan's conviction that the Security Council should be able to adopt a resolution by the end of the week.
The spokesman, asked about the Secretary-General's contacts with officials, noted that the Secretary-General today had spoken by phone with United States Secretary of State Condoleezza Rice, Lebanese Prime Minister Fuad Siniora and Israeli Foreign Minister Tzipi Livni.
At a Security Council meeting on Tuesday, Qatar's Foreign Minister, Sheikh Hamad bin Jassem bin Jabr al-Thani, speaking for the League of Arab States, accused the 15-member body of doing nothing while the Lebanese people have become engulfed in a "bloodbath" since the conflict between Israel and Hizbollah erupted in mid-July.
Since the start of hostilities, the Security Council has adopted a resolution temporarily extending the mandate of the UN Interim Force in Lebanon (UNIFIL) through August, as well as two presidential statements on the violence.
The Council President, Ambassador Nana Effah-Apenteng of Ghana, was asked on 4 August about a view among the general public that the Council has not done enough to stop the fighting.
"We have tried our best as members of the Security Council to get action taken on the issue but there are certain realities that one has to contend with and because of those realities we have to be pragmatic and we have to be realistic and look at the option which will enable us come to a quick decision on this issue, and I think that is what we have been doing," he said.
Related Links