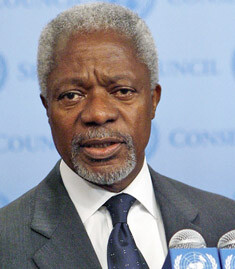 Observing that every day Security Council discussions go on, "the death, the killings and the destruction continues" in the Middle East, United Nations Secretary-General Kofi Annan said this morning that he was hopeful the Council can vote on a resolution to halt the conflict in the region before the end of the day.
Mr. Annan, speaking to reporters as he arrived at UN Headquarters in New York, said: "I hope we should be able to do it [adopt a resolution] today. The will is there. We are close."
The Council has scheduled a meeting for later today to discuss the violence that has engulfed Lebanon and northern Israel for the past month. As many as 1,000 civilians have been killed in Lebanon alone, according to authorities there, while Israel has said 41 of its civilians have also lost their lives in the conflict. Hundreds of thousands of people have been forced to flee their homes.
Mr. Annan stressed that it was vital "that we make progress today. Every day that the discussions go on, the death, the killings and the destruction continues in the region, and civilians on both sides continue to suffer."
There have been "enough discussions," he said. "The issues have been discussed all around and it is time for decision, and I hope the Council will take firm action today. I see no reason why they shouldn't. Most of the Council members are determined to go ahead. They are frustrated themselves, and I hope today they will have the opportunity to pronounce themselves."
The Secretary-General, who has a meeting scheduled today with United States Secretary of State Condoleezza Rice, also said he has been in regular contact with Lebanese Prime Minister Fuad Siniora to discuss how to sort out the differences between the parties on the wording of a resolution.
Since the start of hostilities, the Security Council has adopted a resolution temporarily extending the mandate of the UN Interim Force in Lebanon (known as UNIFIL) through August, as well as two presidential statements on the violence.
Related Links