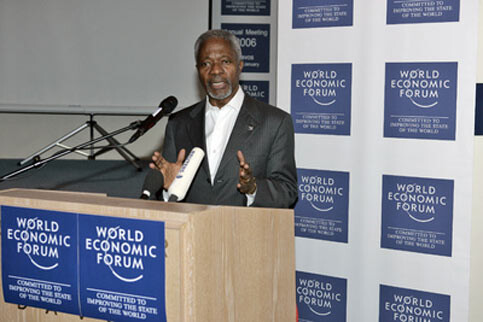 United Nations Secretary-General Kofi Annan today congratulated Palestinian Authority President Mahmoud Abbas and the Palestinian people on the peaceful and orderly conduct of their legislative elections.
"The Secretary-General views these elections as an important step toward the achievement of a Palestinian State," a UN spokesman said in a statement. "He looks forward to the publication of the results of the elections over the coming days and to discussing them with the Quartet."
In Davos, Switzerland, Mr. Annan, responding to press questions about the developments in the Palestinian legislative elections, said that "any group that wishes to participate in the democratic process should ultimately disarm."
The Secretary-General, who is attending the World Economic Forum, said that there is a "fundamental contradiction" between carrying weapons and participating in a democratic process and sitting in parliament. Referring to Hamas, he added, "I'm sure they are thinking about that too."
The Secretary-General will meet with members of the diplomatic Quartet – the UN, European Union, United States and Russian Federation – next week in London.
During his phone conversation with President Abbas, the Secretary-General expressed his appreciation for the work of the UN-supported Central Election Commission, according to the statement.
Related Links