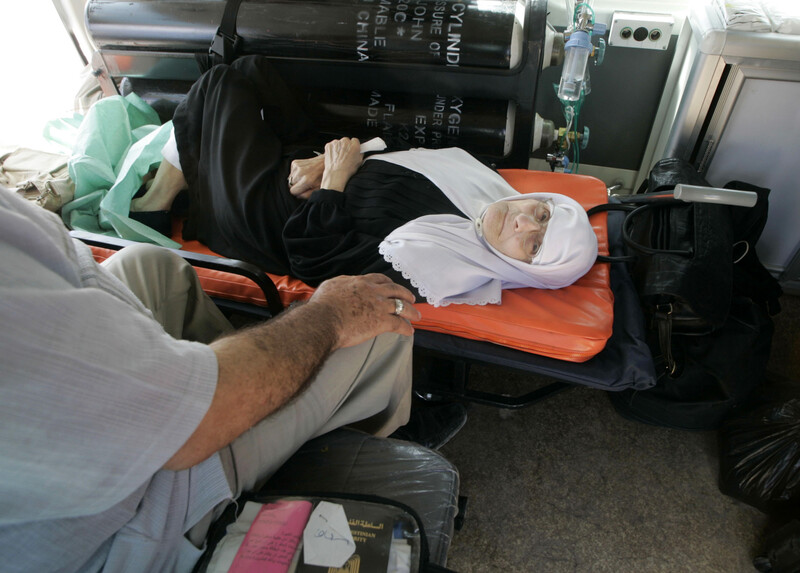 It took five days before Mohammad Wadi was able to speak with doctors at the Nasser Institute hospital in Cairo, Egypt. Following his relentless attempts to gain admission, the forty-year-old Palestinian from Gaza arrived on Monday last week at the hospital's leukemia department.
On the previous Thursday, Wadi, escorted by his nephew Ramadan, took urgent referral papers from Gaza's Ministry of Health and immediately set off to the Rafah border crossing in the southern Gaza Strip.
"The first three days, I had to go to a private clinic, for I was not admitted at the hospital," Wadi explained to The Electronic Intifada while sitting in a wheelchair at the leukemia ward. "Since last Thursday, I have been staying with my nephew. I have been helpless, screaming late at night and causing a great deal of noise to nearby neighbors. I came over here with a clear referral for admission at the Nasser Institute, but so far I haven't been able to be admitted. Why?"
Wadi teared up as he expressed hope that he would be admitted to the clinic, which is on the eighth floor of the hospital.
"For the time being, what I have is [just] torture and more torture, as I am suffering but surviving with the help of painkillers that I can hardly afford and also embarrassed to purchase myself, because I am being covered financially by the Palestinian Authority's health ministry," Wadi, a dentist by profession, added, sighing.
After a brief talk with a doctor in the leukemia clinic, Wadi was told he was not going to be admitted and that he should wait until there is a spare bed in the 27-bed ward.
With a great deal of disappointment apparent on his face, Ramadan Wadi turned his uncle's wheelchair around and they headed downstairs, hoping to would find someone in a senior position to talk with about the case.
Long waiting list
Clinic staffer Dr. Haitham Sherif told The Electronic Intifada, with evident sorrow, "Actually, this is something that is out of my hands, something that really saddens me. Unfortunately, it is not only Mohammad who is on a waiting list — I have several cases here who have been waiting for the past two or three weeks. The problem lies in the small number of hospitals beds here, a problem that can be solved with expanding the leukemia clinic, something that we doctors have nothing to do with."
This means patients from Gaza endure an agonizing wait.
In a garden on hospital grounds, Ramadan Wadi said: "For the past two months, my uncle has been suffering from such a disease that has eventually caused him some sort of paralysis in his legs — and as you saw, he is now relying on the wheelchair. After two months of continuous care at the European Gaza Hospital, doctors in Gaza have referred us to the Nasser Institute here in Cairo."
"When we arrived at the Nasser Institute last Thursday evening, people at the emergency department there turned us away, saying to us, 'we are not a hotel, you have to wait until Saturday so that the hospital can take the necessary administrative measures,'" he added. "They told us that the referral papers will have to be checked before any treatment proceeds. We have told them that the referral papers state outright that patient should be admitted immediately, so where should we go?
"Why did they refer us to Cairo, while we continue to suffer here? Why? For the past five days, the patient's condition has clearly deteriorated, to the extent that his sight has been affected," Ramadan said angrily.
Priority for Gaza patients?
Dr. Ahmad Abdel Nabi, director of the Nasser Institute, told The Electronic Intifada that the hospital has long given priority to patients from Gaza, yet there have been some issues relating to the medical care for Palestinian patients.
"I have been here for the past 15 years, before I was appointed as the hospital's general director," Abdel Nabi said. "I used to personally receive some Gaza patients. I am well-aware of the problems, which are divided into two main parts. One is related to us and the second to the patients themselves. The problem with our Palestinian brothers is that they think they are coming here to immediately be treated. Our problem is that most of Gaza patients need cancer treatment or surgical operations or follow-up from surgery they had gone through over there back in Gaza.
"We have instructions from high-ranking officials that Palestinian patients should be given priority in terms of medication and we do our best to give the best care," he added. "However, I admit that in recent years, Gaza patients have been left ignorant about their own conditions — that's why these patients stay anxious and worried for several days without being informed by the hospital about the facts of their conditions."
Abdel Nabi added that the hospital has a limited number of specialists in particular medical conditions.
"For instance, those who are expert at taking a test sample from the brain or the spinal cord, are few in Egypt," Abdel Nabi said. "The hospital has been working on a contract basis with these few doctors and they happen to work for us for one day a week. Sometimes, a particular doctor is delayed for a reason or another, so we and the patients alike should wait for him or her. We are concerned here about good-quality treatment of Gaza patients and patients from other countries."
"The hospital has a total of 950 beds and the occupancy is 100 percent," Abdel Nabi explained. "The problem is that a patient who comes here believes he or she will be admitted immediately. Therefore, we give priority to the most urgent cases, while those who can wait can be treated at out-patient clinics at the hospital."
Gaza patients left with few options
Since Israel began enforcing a blockade on the Gaza Strip in 2007, Egyptian authorities at the Rafah crossing border terminal have allowed urgent cases of Gaza patients to hospitals inside Egypt. But it was only after the Israeli attacks on Gaza in December 2008 and January 2009 that Egypt began to allow higher numbers of Palestinians from Gaza into the country to receive treatment in Egyptian hospitals.
A July 2011 report by the World Health Organization (WHO) states that 4,843 patients from Gaza were referred to treatment centers in Egypt last year. The WHO found that patients often encountered delays in reaching Egypt, due to closure of the Rafah crossing. It also said that because Gazans had to bear the cost of medical treatment in Egypt themselves, traveling to Egypt for medical care was "unaffordable for the vast majority of Gaza's impoverished population."
The rate of referrals for hospital patients from Gaza rose in the second half of 2010, compared to the first six months of that year, the WHO found, citing the "opening of the Rafah crossing in June 2010" as the reason for the increase. The WHO found that referrals are especially high for male patients aged 18 to 40. Whereas such men have some chance of being allowed to enter Egypt, they have less than a 50 percent chance of being allowed through the Erez checkpoint at the boundary between Israel and Gaza. As a result, Gaza doctors tend to refer young men to Egyptian hospitals, rather than requiring them to travel via Israel for treatment ("Referral of patients from Gaza," World Health Organization, 14 July 2011).
Meanwhile, there is no immediate solution for Gaza patients seeking urgent medical treatment.
"What will I do?" Wadi asked rhetorically. "The doctor at the leukemia clinic instructed me to go tomorrow morning to the outpatient clinic for leukemia treatment and then to the pain clinic to get the painkillers I need until I am admitted to his department. Maybe this will take one day, two days or one week. I hope I don't have to wait long, for I am really suffering a lot."
Rami Almeghari is a journalist and university lecturer based in the Gaza Strip.
Tags