It has taken me a long time to gather the strength to write about a period of my life that has reshaped me completely: the night I lost 14 members of my family.
It was a night I had barely escaped myself. I had been transported to safety in far away Australia not two weeks before.
The evening of 17 July 2014 was to be my last in Gaza. I was due to be evacuated to Jordan and then Australia, to which I had a visa. It would be the last I would spend with my beloved family.
The night before, the eighth night of Israel's "Protective Edge" military assault on Gaza, we — along with 1.8 million other Palestinians besieged on a strip of land of 365 square kilometers — weren't able to sleep. Tanks shelled civilian houses seemingly at random, drones filled the skies and the cries of ambulance sirens penetrated every home.
In each dwelling, people hunkered down, waiting as death threatened to take us, one by one.
It was one of the last nights of the holy month of Ramadan. My brother Ahmad's five children huddled up tightly next to each other, cramped into one small bed trying to find at least an illusion of some secure space.
My sister-in-law Muna and I went to the kitchen to prepare suhour (the morning meal) with thoughts of a long summer's day and a 16-hour fast ahead of us. The darkness was illuminated by a small candle as the family sat around the table.
The sun rose at around 6am on 18 July in Khan Younis. Outside, after a ferocious night of shelling, it was quiet. We'd later learn that the huge explosions we had heard that night was the bombing of a four-story building only 500 meters away.
At 9am, I bade a quick and emotional farewell. I was heading to the United Nations Development Program's headquarters in Gaza City from where I would be evacuated along with a few dozen foreign passport holders.
It was heartbreaking to see my brother begging me to not leave. I can't describe the guilt I felt in those short few hours, that I would be safe while my family remained in mortal danger. Ahmad's last words to me will remain forever embedded in my mind: "Don't leave us, sister. I beg you to stay."
I never imagined those words would be the last he would ever say to me.
Escape
I had been lucky enough to secure a car to Gaza City for 100 shekels (about $25). But my life was in jeopardy as soon as I left home.
I was scared, nervous and doubted we would ever make it to Gaza City. The Salah al-Din highway is usually busy with traffic. That day, save for ambulances, it was completely quiet.
A few hours later, though, dozens of Palestinians with foreign citizenships were evacuated through the Erez checkpoint. Provocatively, an Israeli F-16 air strike exploded not far away from our bus.
Mercifully, it was the last one I heard. At Erez, I was stripsearched and left in a room for 30 minutes.
I made it to Jordan. There I heard that my uncle had been killed in a bombing that also left much of his family injured and destroyed his home. Days later, I made it to Australia where I landed on a winter's day on 24 July.
The smell of rain-soaked land relaxed me. But my thoughts quickly returned to those I had left behind with the smoke of rocket trails and the sound of exploding tank shells.
On the last night of Ramadan, my mind filled with thoughts of Gaza, I prayed at the Islamic center in Liverpool, a city near Sydney. I found that Gaza was in the hearts of people halfway across the world.
While I traveled a world away, my sister Oroba's family had taken shelter at a kindergarten on the first floor of a building in Khan Younis.
Oroba was a year older than Ahmad. They both married in the same week and both had the same number of children, around the same ages.
They had taken shelter at the building with the nursery because of the toys and facilities there: they wanted to provide some relief for their children even during that extremely difficult time. Ahmad and his family joined her later that day, the first day of Eid al-Fitr, the holiday that marks the end of Ramadan.
On 28 July, I received what was to be the last call from my family. They reassured me they had evacuated Abassan, our village, to a more secure place in Khan Younis.
But I was not much comforted by the pictures of the kids playing with toys they sent me or their voice messages. I was on edge the entire time: the bombardment had become more aggressive and the number of martyrs had reached 1,500. Thousands were injured.
I woke up on the morning of 29 July panicked from a nightmare. I had a quick breakfast that I was barely able to swallow. I spent the morning glancing constantly at my phone, not straying anywhere from an Internet connection.
Then the WhatsApp messages began. The condolences came streaming in.
Disaster
My world crumbled. I wanted to transport myself from Australia to Gaza in any way possible. I grabbed my phone, hand shaking, and furiously began dialing all the numbers of my family that I could find. There were no answers.
I thought of my sister and the last call, the pictures of my nephews and nieces I received just a few hours ago. My mind raced to my last visit to my sister's home, how worried she was and how we spoke of not surviving. I could hear the laughter of my nephews and nieces.
I imagined their last moments, their fear. This thought is still stuck in my mind. I will never get rid of it.
Despite the messages I got from friends, I was in denial. Then I finally got through to my brother Mahmoud. "Is what I have heard right?" I screamed down the line. "Is it? Where are my sister and my nephews?"
After a pause, he quietly answered: "Yes sister, we have lost our beloved Oroba and all her family."
These were my five nephews:
Omar, 12, was the oldest. He seemed so mature even at his young age. He would help and advise his brothers. He had a passion to learn new things every day. I wept remembering the day he taught himself how to use Photoshop to design me a card for my birthday.
Abdelghani, 11, was full of energy. He would visit me in the early hours of the morning and bring me breakfast. We would watch Mr. Bean cartoons, the bungling Brit his all-time favorite.
Emad, 9, was cheeky but could also be quiet and shy like his brother Issa, 7. Izzedine was just 5, the youngest and most adorable whom I always remember returning home one day happy and excited to be starting his first year at school.
One memory kept giving way to another, like a movie reel through my mind.
And then there was Ahmad. There had also been no answer from my brother's phone. I spent that night mourning the loss of my sister and her children, but holding out some hope that perhaps Ahmad and some of my family, sheltered in the same building, had survived.
I was exhausted.
Return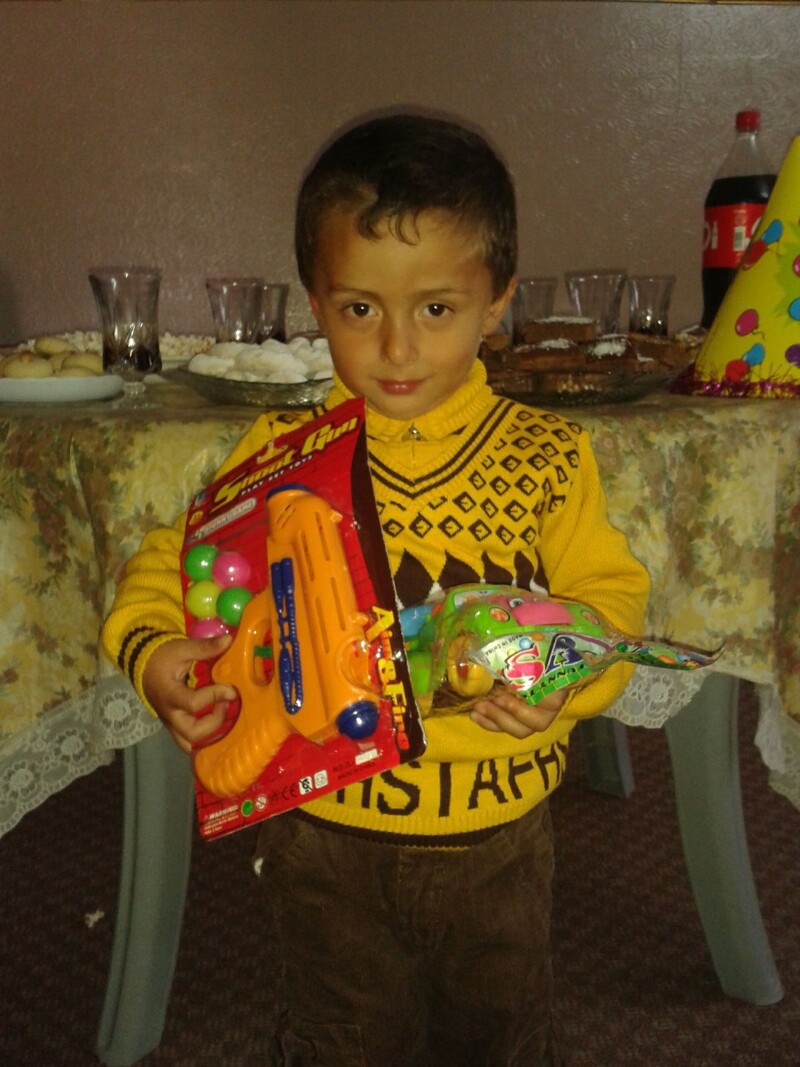 I found the first news of them a couple of hours later on a Gaza website. Local authorities, it was reported, had pulled their bodies from a building that had been targeted earlier that morning.
Thirty-four people died in the bombing of the al-Dali building. Whole families. Ahmad's family too.
What had they done to deserve to feel the wrath of a missile fired from an F-16?
More memories: Muhammad, 12, Yasser, 8.
Suleiman … he was just 3.
Then my nieces, my butterflies and princesses, Marah, 10, Marwa, 5, their simple dreams of just having a peaceful childhood.
I remember them squatting with their cousins over what looked like a grave they had decorated with flowers in the front yard where they would play soccer. Me watching unnoticed.
They said their prayers before I asked what was going on. "We just buried a bird that fell from the tree. We couldn't help it," was their answer.
I couldn't help you, my angels. But that bird will await you in the heavens, your souls will be freed from living in constant fear.
My angels: I have returned to Gaza. I found only your dreams and the memory of your laughter in the rubble of our homes. Your names are still engraved on your seats at school. Your memories motivate your friends to hold onto their dreams and continue life. Your bodies rest beneath the earth in your graves. I can hear your whispers. They won't leave me.
My beloved angels: It's been nearly two years since I lost you. I wrote your story to strengthen myself and impress on those who will read it that you taught life. I promise you that I will teach my children to pursue your dreams.
All images courtesy of the author.
Doa'a Abu Amer is a human rights activist and international relations coordinator in the Ministry of Detainees and Ex-detainees' Affairs in the Gaza Strip. She is also a fundraiser for resilience projects for local organizations in her community.
Tags