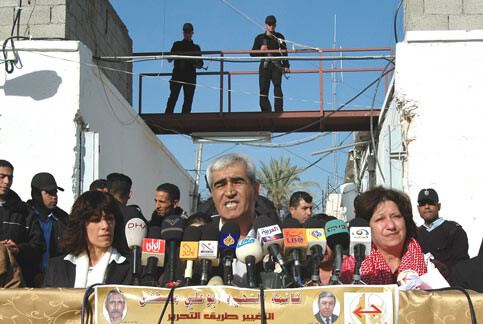 Amnesty International is deeply concerned about the safety of Palestinian detainees in Jericho Prison. The prison is currently surrounded by Israeli forces who have threatened to kill detainees who refuse to surrender to them.
The detainees most at risk are Ahmad Saadat, leader of the Palestinian Front for the Liberation of Palestine (PFLP), and four other Palestinians who have been detained at Jericho Prison since 2002 despite a court decision ordering their release. While detained under the jurisdiction of the Palestinian Authority (PA), Ahmad Saadat and his four co-detainees have been held under the supervision of guards provided by the UK and US in accordance with an agreement reached between these states and Israel and the PA.
They, together with a sixth Palestinian detainee, Fuad Shubaki, wanted by Israel on charges of smuggling weapons, are the principal targets of today's Israeli military action and are particularly at risk of being killed by Israeli forces.
This morning, after US and UK guards withdrew from Jericho Prison, Israeli forces moved in and surrounded the prison. They demolished its walls with armoured bulldozers and, using megaphones, called on the inmates to surrender. There are reports that one Palestinian guard and one Palestinian prisoner were killed as the Israeli forces moved in. Israeli officials say they took action in order to arrest Ahmad Saadat and his co-detainees because the PA was intending to release them.
The UK and US contributed to perpetuating an extra-legal arrangement over the past four years during which Ahmad Saadat and his co-detainees were held arbitrarily by the PA. The sudden departure of the US and UK guards today contributed to the escalation of the situation that we are currently witnessing.
Amnesty International holds the Israeli authorities responsible for the safety of the detainees and staff in Jericho Prison. The organization reiterates its call on the Israeli authorities to end their policy of assassinations and excessive use of lethal force.
Related Links
Amnesty: "Ahmad Sa'adat must be released and his safety ensured", Amnesty International (13 June 2002)