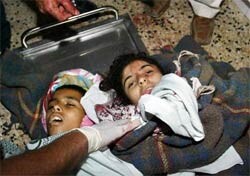 Amnesty International is calling on the Israeli authorities to ensure that a thorough, independent and impartial investigation is promptly carried out into the killing of two Palestinian children by members of the Israeli army in recent days in the Gaza Strip.
Sixteen-year-old Asma al-Mughayr and her 13-year-old brother Ahmad were shot dead within minutes of each other on the roof-terrace of their home in the southern Gaza Strip town of Rafah on the morning of 18 May 2004. Each was killed by a single bullet in the head, Asma while taking clothes off the drying line and her brother Ahmad while feeding the pigeons.
All available information indicate that the bullets which killed the two children were fired from the top floor of a nearby house, the highest building in the area, which had been taken over by Israeli soldiers shortly before the two children where shot.
Amnesty International spoke with several foreign journalists who visited the al-Mughayrs' house and the nearby house which was being used by Israeli soldiers at the time and reviewed photos taken by them. In the nearby house the journalists found an empty Israeli army ammunition box, spent bullet cases and leftovers from Israeli army food rations next to the holes which Israeli soldiers had pierced in the walls of the house to use as sniper positions. The pictures taken by the journalists show that there was a clear view of the al-Mughayrs' roof-terrace, where the two children were killed.
Israeli army officials have alleged that the children may have been killed by an explosive device set by Palestinians. However, the photos taken by the journalists show bullet holes on the clothes hanging on the drying line, on the satellite dish and on the wall; they did not show any damage which could have been caused by an explosion or by shrapnel from an explosion.
According to the children's family only single gunshots were heard when the children were killed and no explosions were reported at the time. Also according to the family, Ahmad ran downstairs to call for help after his sister Asma was shot in the head; he was shot in the head as he re-emerged from the staircase onto the roof-terrace.
In light of the pattern of inadequate investigations or lack of investigations into unlawful killings by the Israeli army of hundreds of Palestinians, including hundreds of children, in the past three and a half years, Amnesty International urges the Israeli authorities: to ensure that a thorough, independent and impartial investigation is promptly carried out by judicial authorities; that the scope, methods and findings of the investigation be made public; and that those responsible for these killings are brought to justice.
Related Links