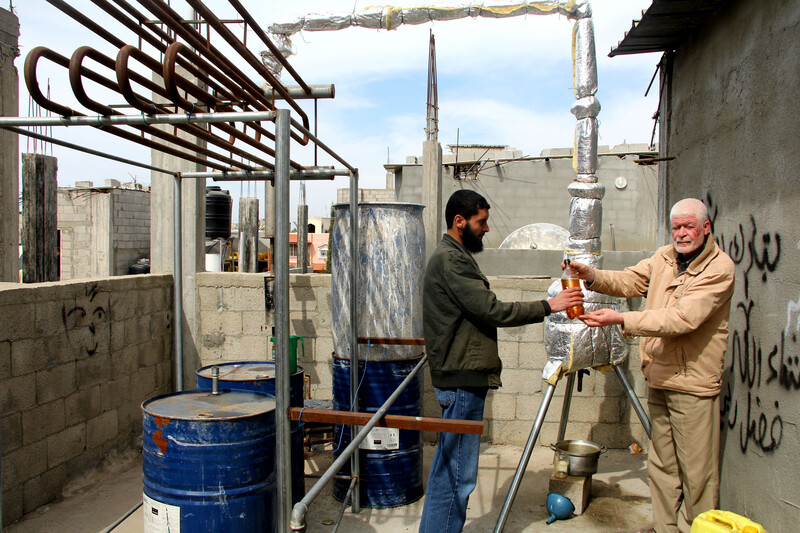 GAZA CITY (IPS) - On the roof of a modest house amid the alleys of Nuseirat refugee camp in the occupied Gaza Strip, Ibrahim Sobeh and his sons spent more than two hundred days working on a primitive device that converts plastic waste into fuel.
"The idea came when I watched smoke emissions from a fireplace I made in my house," Sobeh said. "I thought how to exploit these fumes and vapors. That prompted me to search online to find there were already attempts in America to exploit fumes emitted by burning hay to produce fuel, and this was the start."
Sobeh, 56, who received a diploma in electricity from an institute run by UNRWA, the UN agency for Palestine refugees, in Gaza thirty years ago, faced considerable difficulties because of lack of raw materials. He also had to borrow money from a friend.
"Fuel in Gaza is extremely expensive and it is not available on a regular basis as a result of the blockade imposed on Gaza," Sobeh said. "This is precisely what prompted me to look for a way to produce fuel domestically, which finally succeeded. But the project requires substantial financial support for its development."
The device exposes plastic waste composed of oil molecules to high temperature in an oxygen-free airtight box, leading to degradation of the constituent particles of plastic into vapors. These are then passed through metal channels where the fumes are cooled. This results in a type of liquid fuel somewhere between gasoline, diesel and kerosene.
"We produce one liter of fuel from 1.5 kilograms of plastic waste," his son Mahmoud Sobeh said. "Diesel-run electrical and mechanical machines were successfully run on this fuel output. We have sent samples to the laboratories of the Islamic University of Gaza for scientific examination."
Desperate measures
These are desperate measures. But Palestinians in Gaza are in a desperate situation.
The fuel crisis in Gaza has been ongoing for eight years now as Israel controls the amount of fuel entering Gaza through the Karem Abu Salem crossing between Gaza and Israel (the crossing is known in Hebrew as Kerem Shalom). Gaza's only power plant also runs on scarce diesel. Blackouts that last hours are a daily reality.
A liter of Israeli gasoline costs seven shekels ($2). A liter of fuel from Egypt cost half as much before the Egyptian army demolished the tunnels between North Sinai and the southern Gaza town of Rafah after Muhammad Morsi, Egypt's elected president, was ousted in a 2013 coup.
This exacerbated the electricity and fuel crisis in Gaza.
Dr. Sameer Afifi, director of an environmental studies center at the Islamic University of Gaza, said that the Sobehs' project "was conducted under primitive conditions and the quality may therefore be not quite good. But still it is promising."
Environmentally damaging
What is certain is that production of fuel in such a manner would be environmentally damaging, and could be harmful to health. Yusef Abu Safieh, a former environment minister in Gaza's government, said that production of such fuel must be subject to in-depth scientific studies.
The incomplete combustion of plastic may result in the release of other hydrocarbons that are hazardous, some of them carcinogenic. "Any material that is not fully combusted results in the production of fumes and dangerous substances," Abu Safieh said.
But citizens in Gaza still look at such attempts with hope.
"Ordinary fuel is not readily available due to high prices, and this makes us look for locally-produced fuel that helps us to overcome the energy crisis and relieve us of an economic burden," said Shadi Abu Samra, 35, from al-Shati refugee camp.
The Sobeh experiment is now driving others to look at such measures to produce fuel. In harsh conditions where survival is a struggle, people have little choice than to produce fuel in a way that can harm the environment and their own health.
All rights reserved, IPS - Inter Press Service (2014). Total or partial publication, retransmission or sale forbidden.
Tags