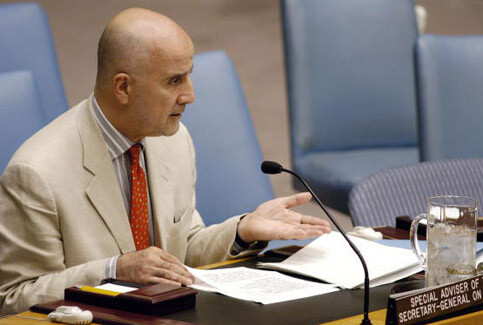 Veteran United Nations negotiator Alvaro de Soto will begin work immediately as the top
UN
envoy in the Middle East after Secretary-General Kofi Annan today appointed the Peruvian national to the post.
On Monday, Mr. de Soto will accompany Mr. Annan to a working meeting of the Middle East Quartet — which comprises the UN, the European Union, the Russian Federation and the United States — in Moscow.
Mr. de Soto succeeds Terje Roed-Larsen as UN Special Coordinator for the Middle East Peace Process and the Secretary-General's Personal Representative to the Palestine Liberation Organization and the Palestinian Authority. He will also act as Mr. Annan's envoy to the Quartet.
In a statement announcing the appointment, Mr. Annan noted that Mr. de Soto assumes the post at a time of renewed momentum for peace in the region and will therefore "play an essential role" in trying to help the parties sustain that pace. He also thanked Mr. Roed-Larsen, who served from October 1999 to December 2004, for the "excellent job" he had done.
Mr. de Soto, 62, has spent 23 years working for the UN, most recently in senior peacemaking positions. From October 2003 until this month he served as the Secretary-General's Special Representative for Western Sahara, and he was the Special Adviser on Cyprus from late 1999 until mid-2004. Both positions were at the level of Under-Secretary-General.
His previous roles have included Special Envoy for Myanmar, Personal Representative for the Central American peace process, and Assistant Secretary-General for Political Affairs, responsible for the Americas, Europe, Asia and the Pacific. Mr. de Soto was also a Senior Political Adviser to Boutros Boutros-Ghali while he was Secretary-General.
Related Links