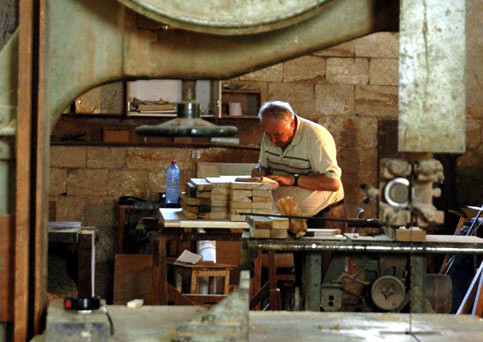 15 DECEMBER 2005
ISRAEL'S ARAB SCHOOLCHILDREN GET FIRST BOOKLET EXPLAINING PALESTINIAN HISTORY
A booklet explaining key terms in Palestinian history from 1948 onwards is being distributed among Arab schoolchildren in Israel for the first time. "We are trying to break the stranglehold of the Education Ministry on the information given to our children, which is always presented from a Zionist perspective," said Asad Ghanem, head of political science at Haifa University and one of several academics behind the initiative.
Called "Belonging and Identity", the booklet includes entries on 99 major personalities, places and landmarks in the Palestinian story, as well as explanations of the most important concepts employed in political debates about the region's future. There are entries, for example, on "Yasser Arafat", "Ahmed Yassin", "Emile Habibi", "Edward Said", "nakba", "massacre", "democracy", "PLO", and "apartheid wall".
Dr Ghanem said an initial print-run of 72,000 copies was being sent to Arab homes rather than schools because of problems getting approval from the Education Ministry. The Ibn Khaldun Association, which Ghanem heads, and the Center Against Racism devised the booklet, asking a panel of some 20 leading academics and intellectuals to contribute entries. It has won the backing of the monitoring committee for Arab education, the heads of Arab municipalities and the national Arab parents' association.
"Since 1948 Israel has been producing school books that simply ignore the fact that another people, Palestinians, live here," said Dr Ghanem. "It is important that students know what happened on Land Day [the killing by the security forces of six unarmed Arab protesters in 1976] or during the nakba [the 'catastrophe' of Palestinian dispossession in 1948]. They cannot know who they really are and where they live unless they are offered this kind of information."
The idea for the booklet came in response to increasing efforts by the Education Minister, Limor Livnat, to force schools to emphasise Jewish heritage and Zionism in the national curriculum. One of her first acts on joining the government in 2001 was to threaten Arab schools with financial penalties if they failed to fly the Israeli flag or play the national anthem during morning services, ignoring arguments that the anthem's words and the symbol of the Star of David excluded Arab citizens.
In September 2003 she launched a new initiative, requiring all schools to participate in a weekly study program based on "100 terms in Jewish Heritage, Zionism and Democracy". In particular, all pupils were expected to learn about important Jewish figures, including Menachem Begin, Yitzhak Rabin and Baron Edmond de Rothschild, as well as to memorise entries on 33 terms considered basic to Zionist history, such as "Jewish democratic state", "the War of Independence", "the Law of Return", and "Jewish National Fund". "Not only did much of the curriculum have no relevance to Arab schoolchildren, but it was designed to exclude their history and narrative," said Dr Ghanem. "Our booklet is trying to rectify that."
He added that Arab education had also been damaged after decades of interference from the domestic security service, the Shin Bet, which has been vetting Arab teachers since Israel's creation in 1948.
There are plans to distribute the booklet in areas of the West Bank too, and Dr Ghanem would like to see it translated into Hebrew. "We know the Zionist narrative very well but it is important that Jewish students learn about our narrative and learn that we have leaders, intellectuals and institutions too."
On hearing of the booklet's publication, Livnat said: "The Education Ministry is the only body authorized to determine the content of the education system, and no other body, including the monitoring committee, has the authority to distribute any materials in schools in the Arab sector." She said she would be seeking the attorney general's advice about whether publication of the booklet was legal.
Meanwhile, the Education Ministry has issued an instruction to all schools, including Arab ones, to begin teaching the "legacy" of Rehavam Ze'evi, the leader of the extreme-right Moledet party who was assassinated by Palestinian gunmen in October 2001. Ze'evi had repeatedly called for the "transfer - or expulsion - of Palestinians from the occupied territories and "inducements" to "encourage" Arab citizens to leave the region.
A law passed in July created a state-funded Ze'evi Heritage Centre and requires schools to establish a curriculum to "honour" Zeevi's memory. The drafters of the legislation argued that they were not interested in his political views but wanted only to teach children about his "love of the land".
Contact: Asad Ghanem on 052 334 2742; Abid Anabatawi on 04 6013323 / 22.

ANALYSIS: FORMER ADVISER SUGGESTS GOVERNMENT PLAN TO STRIP ARABS OF THEIR CITIZENSHIP RIGHTS IS GAINING GROUND

A leading former adviser to the government has set out his vision of Israel's future after the disengagement from Gaza, suggesting that plans are being quietly devised to perform a series of "land swaps" that would see a significant number of Arab citizens being stripped of their citizenship rights in Israel.

Writing in the conservative American journal New Republic (November 28), Uzi Arad argues that Israel must urgently find ways to lower the number of Arabs under its rule to "increase ethnic homogeneity" and save Israel as a "Jewish and democratic" state. Arad points out that the total populations of Palestinians - including more than one million inside Israel - and Jews are reaching numerical parity in the region. Arad fears that Israel's legitimacy as "Jewish and democratic" will suffer if Jews become a minority inside an area comprising Israel and the occupied territories.

Arad, a former director of Mossad intelligence and foreign policy adviser during Binyamin Netanyahu's premiership, currently heads the Institute for Policy and Strategy, which organises the annual Herzliya Conference, where Sharon announced his "Disengagement Plan". Arad argues that the disengagement was an intiative to lessen the "demographic threat" posed by the Palestinians but in practice will postpone the problem by less than a generation.

He suggests a more wide-ranging solution is needed, and quotes approvingly from a scheme proposed by Professor Arnon Soffer of Haifa University that would remove many Arab citizens from Israel without forcing them out of their homes through a system of land swaps. In particular he recommends offering the Palestinian Authority an area of Israel known as the Little Triangle, densely populated with Arab citizens and hugging the north-west edge of the West Bank, in return for the PA agreeing to hand over to Israel the land on which large settlement blocs have been built around Jerusalem and in the West Bank.

The Little Triangle, whose main towns are Umm al-Fahm, Baqa al-Gharbiyya, Arara, Bartaa, Qalansuwa, Taibeh, Tira and Kafr Qassem, is home to about a quarter of a million Arab citizens. "By performing Soffer's land swap, the Jewish majority would remain at 81 percent until 2050," writes Arad.
Surveys have shown that more than 80 per cent of residents of Umm al-Fahm, the biggest town in the Triangle, reject the idea of a land swap. Arad ignores such findings to claim that, after a swap, "Proud Palestinian nationalists now living in Israel could manifest their identity as citizens of their own state".

Arik Carmon, president of the Israel Democracy Institute, observed that Arad was not really suggesting a reassignement of citizenship from Israel to the PA but "a proposal to confiscate the citizenship of Arab Israelis". "Arad's arguments are racist in nature, damaging to human rights — and of course to the foundations of democracy — stand in contradiction to international norms and are unrealizable."

Unfortunately on the last point, Carmon may be indulging in his own wishful-thinking. As Arad notes, the idea of land swaps has won powerful support from the last two prime ministers, Ehud Barak and Ariel Sharon. Both "seriously examined this option but probably deferred their explicit support for the negotiating process", he writes, referring to possible future final-status negotiations with the Palestinian leadership.

In fact, Sharon floated the idea of a land swap to rid Israel of the Little Triangle in February 2004 in an attempt to improve "Israel's demographic balance". According to an investigation by Maariv reporter Ben Caspit, Sharon has been examining the possibility of implementing the measure since he entered office in 2001. His main concern has been about how to "sell" such a violation of international law to the world.

Arad also proposes that any Arab citizens remaining in Israel after such a swap could be "encouraged" to leave both by offering them financial incentives if they relocated and by requiring them to serve in the Israeli army.
Several senior American, European and Middle Eastern officials, according to Arad, are now in favour of a land swap. "The land-swap formulas," he writes, "should no longer be dealt with as though they were the hidden agenda of one party or the semi-official plan of another; rather, they should be treated as an operational option whose time has come."

NEWS: GOVERNMENT OFFICIALS REJECT ARAB TOWN'S DEMAND FOR LAND TO END CHRONIC OVERCROWDING

A government boundary commission rejected this week a plea from the town of Sakhnin in the Galilee to ease its chronic overcrowding by returning a small portion of its confiscated lands, most of which were passed decades ago to a neighbouring Jewish regional council called Misgav. The commission has been examining Sakhnin's case for nearly two years.

The hopes of another 120 Arab communities had been riding on the success of Sakhnin's struggle to regain some of its land. Since the late 1950s government policies of "Judaising" - making Jewish - traditional Arab heartlands like the Galilee and Negev have left Arab towns and villages stripped of most of their land. It has then been passed on to exclusive Jewish communities, usually kibbutzim and moshavim, for their use.

Sakhnin has faced a particularly relentless campaign of Judaisation, including a series of land confiscations that culminated in a confrontation between local protesters and the security forces on 30 March 1976 over a government decision to take land for a firing range. The security forces shot dead six unarmed demonstrators. The day has been commemorated ever since by Palestinians as Land Day.

According to Sakhnin muncipality, today the town has only 2,500 acres of the 25,000 acres it owned in 1948. Its population of 24,000 is expected to nearly double over the next 20 years. Neighbouring Misgav, on the other hand, which comprises several small rural communities surrounding Sakhnin, has a population of approximately 19,000 but more than 47,000 acres, much of it land originally belonging to Sakhnin. Misgav has about 25 times as much land for each of its residents as Sakhnin has for its residents.

The government commission handed its decision to Prime Minister Ariel Sharon on December 12, rejecting Sakhnin's claim for an additional 2,000 acres to ease overcrowding and allow the municipality to plan housing and infrastructure for its rapidly growing population. Instead Sakhnin was offered 425 acres - and most of that covered by forest. "We cannot touch three-quarters of this land because it is designated for green belt use and cannot be developed," said Ghazil Abu Raya, Sakhnin's spokesman. "Our overcrowding problem has not been addressed at all by the commission."

In effect, the panel sided with Misgav, which was offering to hand over to Sakhnin about 90 acres of land under its jurisdiction. The commission also decided to locate a new industrial zone inside Misgav's jurisdiction rather than Sakhnin's, thereby benefiting the Jewish regional council with the income generated by business taxes. Misgav already has a large industrial estate close by Sakhnin but under its jursdiction, whereas Sakhnin has a small and inadequate trading area.

There was anger from Sakhnin officials that, unlike Misgav, they were not informed of the commission's decision; they heard through media reports. "We are being asked to continue to live in a ghetto," said Abu Raya.
Hussein al-Heib, the only Arab member of the five-person panel, said: "I believe the recommendations are not fair, and I pointed this out and recommended that [Sakhnin] get at least 3,000 dunums [750 acres]."

In another development it was revealed in the Israeli media that the chairman of the boundary commission was a leading member of a far-right party, Yisrael Beiteinu, which advocates transferring Arab citizens out of the state. Gideon Biger, a geography professor at Tel Aviv University, is standing as one of the party's main candidates for the Knesset in the general election in March.

Interior Ministry officials said they were surprised to learn of Prof Biger's political views. The former minister who appointed the panel, Avraham Poraz, said Prof Biger had joined the Yisrael Beiteinu party only after the commission began its work. "Had I known then, I would not have approved his appointment," he said.

However, Prof Biger's long-standing record of promoting transfer is well-known, as former government adviser Uzi Arad observed in a recent commentary in New Republic (see analysis article above). Arad noted that back in 1996 Prof Biger had proposed a scheme to create a pure Jewish state by transferring Israel's Arab population out of the country.
Contact: Ghazil Abu Raya on 050 539 2503 or 052 890 1451.

MEDIA WATCH: HA'ARETZ RUNS ADVERT CLAIMING ARAB CITIZENS ARE THREAT TO ISRAEL'S FUTURE

Israel's self-declared "liberal daily" Haaretz is running an advert on its English-language website which ostensibly suggests that the continuing presence of Arab citizens inside Israel is a threat to the future of the state.
The text of the ad, paid for by Efrat, an Israeli anti-abortion lobby group, reads: "If the Arab population in Israel will reach 40%, the Jewish State will be nullified. For the only solution press here." The link takes readers to the group's website. The message suggests both that Arab births are a threat to Israel and that in reality the anti-abortion group is opposed only to abortions by Jews.

To underline its point, Efrat includes a picture of former prime minister Binyamin Netanyahu, who famously told the Herzliya Conference in December 2003: "If there is a demographic problem, and there is, it is with the Israeli Arabs who will remain Israeli citizens … We therefore need a policy that will first of all guarantee a Jewish majority. I say this with no hesitation, as a liberal, a democrat, and a Jewish patriot."

The appearance of the advert was first highlighted on the Electronic Intifada website, which observed that it was "designed to appeal to the darkest racist elements of the society it purports to serve".

The surprise is less that an Israeli organisation is promoting a racist agenda - talk of Arab citizens as a demographic problem is now commonplace - but that a liberal newspaper such as Haaretz deems it as appropriate to allow such sentiments to appear on its website.

Related Links