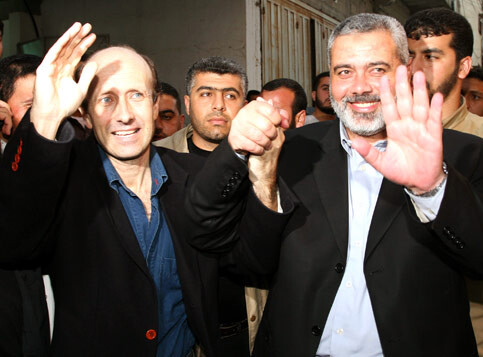 Reporters Without Borders is overjoyed at the news that British journalist Alan Johnston was released in the early hours of 4 July 2007 in Gaza as a result of the intervention of senior Muslim clerics and negotiations between Hamas and his kidnappers. The
BBC
correspondent had been held hostage for 114 days.
"Seeing Johnston free and in good health is an immense relief and a great joy," the press freedom organisation said. "During the 16 weeks he was held, we became more and more concerned at the increasingly grave threats from his abductors and the apparent inability of the Palestinian authorities to find a solution. We hail the international campaign waged for his release, which did not flag during all that time, and our thoughts go out to Johnston's parents and sister who showed great courage throughout this ordeal."
Reporters Without Borders added: "Johnston's departure leaves the Gaza Strip with no foreign journalists based there. We hope the security situation will be stabilised sufficiently for foreign correspondents to return and for Palestinian journalists to be able to work without being obstructed or harassed. The Palestinian Authority must now take measures to ensure that this does not happen again. Fifteen journalists have been kidnapped in the Gaza Strip since 2005. Their abductors have never been arrested or punished although many of them are known to the security forces. This generalised impunity must end."
Hamas leader and former Prime Minister Ismail Haniyeh received Johnston at his home immediately after his release. There Johnston said: "It is just the most fantastic thing to be free. It was an appalling experience, as you can imagine, to be held for 16 weeks … I often dreamed I was free and woke up to find myself still in that room … I cannot get over being free … I am very grateful to everyone, an enormous number of people, who worked with the Palestinians, in the British government, the BBC, from the bottom to the top, and all the BBC's listeners."
Johnston, who said he had not been tortured, was finally freed as a result of the intervention of the Popular Resistance Committees, one of the most senior groups of Muslim clerics in the Gaza Strip, which issued a fatwa condemning his abduction.
Since seizing control in the Gaza Strip on 15 June, Hamas had steadily stepped up its pressure on the group holding Johnston, the Army of Islam, and had surrounded its hideout in west Gaza. The intervention of the Popular Resistance Committees resulted in direct negotiations between Nizar Rayan, a senior Hamas leader, and Moumtaz Dogmush, the head of the kidnappers.
Johnston's release was part of prisoner exchange, in which Army of Islam leader Khattab Al-Maqdissi, who was arrested by Hamas's Executive Force on 1 July, and five other Army of Islam members were freed in return for the release of some 10 Hamas members who were kidnapped a few days ago.
Related Links