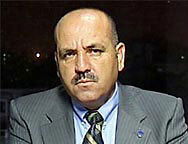 NEW
YORK
- The Committee to Protect Journalists is concerned by the detention of Al-Jazeera television crews covering Hezbollah rocket attacks on northern Israel amid allegations that they were "assisting the enemy." Walid al-Omary, Jerusalem-based bureau chief for the Arab satellite
TV
station, told
CPJ
that he had been detained by Israeli police three times in two days for his reporting on the location of rocket attacks. Al-Omary said he was detained yesterday evening with his crew for two hours at a police station in the northern port city of Haifa.
He was stopped by police today for 30 minutes outside his hotel in the coastal town of Acre, he said. Later in the day, he was arrested and held for six hours for reporting on rocket hits in the Galilee village of Kfar Yassif. Another al-Jazeera correspondent, Elias Karam, was held yesterday by police in Acre for several hours. Al-Omary said he was released on bail and could face charges of assisting Hezbollah through his coverage of the location of the rocket hits.
"We have been covering the situation along with 10 to 12 others crews, foreign and Israeli," Al-Omary said. "We have not received any warnings from the Israeli military censor."
Israel has a system of military censorship for all media, and censors can intervene if they consider military security has been breached.
Al-Omary said that that an Israeli investigator told him he was being held for assisting the enemy by revealing the location of rocket hits. Israeli police did not return CPJ calls for comment. Reuters quoted an Israeli police spokesman as saying was detained for questioning without giving further details.
"We call on the Israeli authorities to explain why Al-Jazeera crews have been detained," CPJ Executive Director Joel Simon said. "We note that Israel has generally allowed access to media to cover the attacks in the north of the country and we are concerned that Al-Jazeera is being singled out for questioning."
CPJ is a New York-based, independent, nonprofit organization that works to safeguard press freedom worldwide.
Related Links