In another incursion, Israeli occupying forces killed 8 Palestinian civilians, including a pregnant woman who bled to death under ruins of her destroyed house in an incursion this morning into al-Boreij refugee camp. In addition, the Israeli army destroyed a mosque and 14 houses, when they, reinforced with dozens of heavy military vehicles and helicopters, raided the camp which is based in the central Gaza Strip.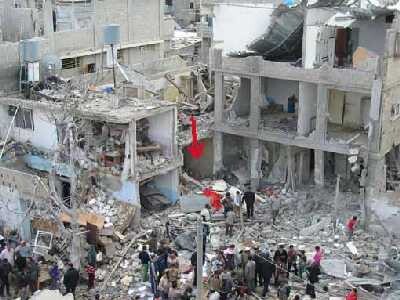 This wide scale Israeli military operation came less than 24 hours after a similar operation in Khan Younis in the southern Gaza Strip, which left 3 Palestinians dead, 39 others wounded and a number of houses destroyed. Incursions like these have become a systematic policy of the Israeli occupying forces.
According to PCHR's investigation and eyewitness reports, at approximately 00:30, around 60 Israeli heavy military vehicles, including military bulldozers, moved approximately 2-5km into al-Boreij refugee camp from three directions; from the eastern border, from "Kfar Darom" settlement in the south and from "Netzarim" settlement in the north. Before this incursion, Israeli undercover units dressed in civilian clothes deployed around targeted houses.
At approximately 01:00, Israeli forces surrounded 3 houses belonging to families of Palestinians killed while carrying out an armed attack against an Israeli target. They raided these houses using dogs and forced their residents out without allowing them to evacuate their belongings. Then, they planted explosives in the houses and destroyed them:
They destroyed a 100-square-meter, asbestos-roofed house, in which two families, counting 10 people, lived, owned by 'Aadel 'Abdullah 'Abdul Salam. He is the father of Sami 'Abdul Salam who was killed in a bombing at al-Matahen military checkpoint, north of Khan Yunis, on 9 February 2003. As a result of the explosion, 6 neighboring houses belonging to Ahmed Shahin, Shukri al-Maqadma, Khalil and Ghazi Badwan al-Hour, Nasser 'Omar Abu Eslayeh and Mohammed Ibrahim Abu Raya, in which dozens of people lived, were destroyed.
They destroyed a 220-square-meter, 2-storey house, in which 12 people lived, owned by Ramadan Hassan Abu Hassanein. He is a relative of Suleiman Abu Hassanein who carried out an armed attack against Israeli forces in the Kissufim area, southeast of Deir al-Balah, last year. As a result of the blast, a house owned by 'Anan Hamdan and a carpentry workshop owned by Khaled Abu Hwaishel were destroyed.
They destroyed a 250-square-meter house, in which 10 people lived, owned by Mohammed Saleh Hassan Abu Taha; a leader of the Hamas movement who was arrested along with 3 of his sons before the destruction of the house. As a result, a nearby mosque was severely damaged and 3 houses owned by 'Abdullah Hamed Abu Humaisa, Ahmed Khalil al-'Attar and Khalil Mousa al-'Attar were destroyed.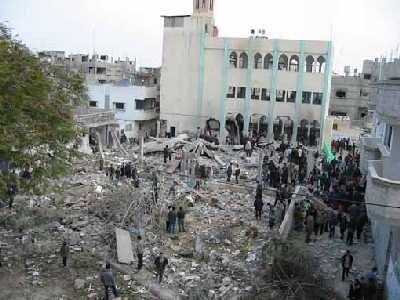 As a result of destroying 'Abdul Salam's house, walls of the house of Shukri Mohammed al-Maqadma fell down over his family. His wife, Nuha Sabri Swidan al-Maqadma, 40, who was 9 months pregnant, was seriously injured. Since ambulances and rescue teams couldn't reach the house due to the presence of the Israeli forces, which opend fire in all directions, the wife remained under ruins of the house bleeding. In the morning, she was found dead. Shukri Mohammed al-Maqadma and his 10 children were also injured.

At approximately 03:00, Israeli occupying forces raided the house of Ahmed Suleiman al-Qurinawi and forced its residents out. Then, they broke into a car park near the house and destroyed a civilian car, black Hyundai, owned by Fu'ad Ibrahim al-Wir.

As a result of the indiscriminate shelling by the Israeli forces during the incursion and withdrawal, 7 Palestinian civilians, including a child and a security man, were killed: Tariq Sa'di 'Aqel, 13, from Nusseirat refugee camp, shot by several live bullets throughout the body; Maher Khamis al-Refa'ei, 24, from al-Boreij refugee camp, a member of the Palestinian National Security Force, shot by two live bullets in the back and the chest; Walid 'Abdullah al-Khatib, 24, from al-Boreij refugee camp, shot by a live bullet in the chest; Mohammed 'Ali al-Babli, 22, from Nusseirat refugee camp, shot by a live bullet in the pelvis; Rami Yousef 'Awadh, 21, from al-Boreij refugee camp, shot by a live bullet in the abdomen – he bled to death; Fadi Fayez al-Hawajri, 19, from Nusseirat refugee camp, shot by two live bullets in the chest and the foot; and Mo'tassem Hamed 'Aqel, 24, from al-Boreij refugee camp, shot by a live bullet in the head.

PCHR strongly condemns this serious escalation in the violence perpetrated by the Israeli occupying forces against Palestinian civilians. PCHR asserts that the policy of collective punishment and attacks against Palestinian civilians property constitute grave breaches of the international law and humanitarian law.

PCHR believes that the failure of the international community to take steps in order to stop the numerous grave breaches of international humanitarian law, perpetrated by the Israeli military, encourages Israel to commit more hideous attacks. PCHR calls upon the international community to put an end to its silence and immediately intervene to stop these grave breaches.

PCHR also reminds the High Contracting Parties to the Fourth Geneva Convention of 1949 of their obligations under the Convention to ensure respect for the Convention, and take effective steps to stop the persistent, flagrant violations of the Convention by the Israeli occupying forces.

Related Links: