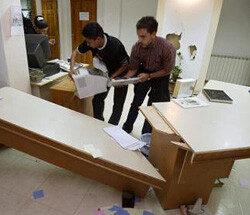 The Committee to Protect Journalists (
CPJ
) condemns the recent raid on the Ramallah offices of the Dubai-based Arabic satellite news channel Al-Arabiyya.
Al-Arabiyya producer Qassem Al-Khateeb told CPJ that on the evening of Saturday, September 13, five masked and armed men entered the building where Al-Arabiyya is housed and asked whether it was the office of Al-Arabiyya. Al-Khateeb responded that it was, and the assailants immediately ordered him and the two other employees at the station at gunpoint to go to the editing room.
From the editing room, whose door was not shut, Al-Khateeb and his colleagues watched the attackers destroy office equipment, including computer screens and furniture. Al-Khateeb said the attack lasted less than five minutes and that as the men left, they told the journalists they did not to want to see them working there again.
They also said they were from the Al-Aqsa Martyrs Brigade, a militant group loosely linked to Palestinian leader Yasser Arafat's Fatah organization. The Associated Press reported on Sunday that a spokesman for the Al-Aqsa Martyrs Brigade denied responsibility for the raid.
Al-Khateeb said that the men never gave a reason for the attack, but that recent reports on internal struggles within the Palestinian Authority, including control over security services and the role of the Palestinian prime minister, may have angered some.
Palestinian leader Yasser Arafat later summoned Al-Arabiyya staff to his Ramallah office and promised an investigation.
CPJ is a New York-based, independent, nonprofit organization that works to safeguard press freedom worldwide.