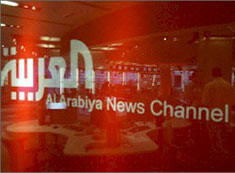 Reporters Without Borders has said it shared the outrage of the pan-Arab satellite
TV
station Al Arabiya, which issued a statement on 27 December 2005 condemning an Israeli decision to ban one of its correspondents, British journalist Bassem El-Jamal, from entering the Palestinian Territories. The ban is the latest in a long series of press freedom violations by the Israeli army against the Arab media.
"We call on the Israeli authorities to immediately lift the ban on Bassem El-Jamal, for which there are absolutely no grounds," Reporters Without Borders said, adding that it was vital for journalists to be able to freely cover the run-up to the Palestinian legislative elections on 25 January 2006 without fear of being arrested, roughed up or expelled by the Israeli army.
Jamal was denied access to the Palestinian Territories three times in 2005. The Israeli authorities cited "security reasons" for excluding him on two attempts to enter the West Bank on 25 and 27 April. His "contacts with hostile groups" was the excuse given on his most recent attempt, in mid-December.
Jamal has produced many programmes about the Israeli separation barrier. They have always been controversial in Israel and have been even more so since he interviewed members of the Al-Aqsa Martyrs Brigade.
While Israel respects freedom in its own territory, the same is not the case in the Palestinian Territories, where the Israeli security forces pursue a discriminatory policy towards Arab journalists.
Awad Rajoub, a Palestinian journalist who works for the satellite TV station Al-Jazeera's website, has been held without trial since he was arrested at his home in Doura on 30 November 2005. The Israeli army maintains that his arrest had nothing to do with the fact that he is a journalist.
Nabil Al-Mazzawi, who is an Al-Jazeera cameraman in the West Bank, was beaten and arrested by Israeli soldiers on 4 November while filming a demonstration against the Israeli separation barrier, and was held for several hours. Majdi al-Arabid, a cameraman with Israel's Channel 10, received two shots to the stomach and one to the leg while filming an incursion by Israeli soldiers in Beit Hanoun, north of Gaza City, on 2 January 2005.
Houda Ibrahim, a French journalist working for radio RMC Moyen-Orient, was turned back when she tried to enter the West Bank from Jordan on 3 July. She was previously expelled from Israel in April 2002 after interviewing Yasser Arafat.
Some 10 journalists, nearly all of them Israeli Arabs, have been summoned for questioning by the Israeli internal security agency Shabak in the past two months regarding their work and their political affiliations. They were reportedly suspected of links with Hezbollah.
More Information
Lynn Tehini,

RSF

, 5, rue Geoffroy Marie, Paris 75009, France, tel: +33 1 44 83 84 84, fax: +33 1 45 23 11 51, e-mail: moyen-orient@rsf.org.

Related Links