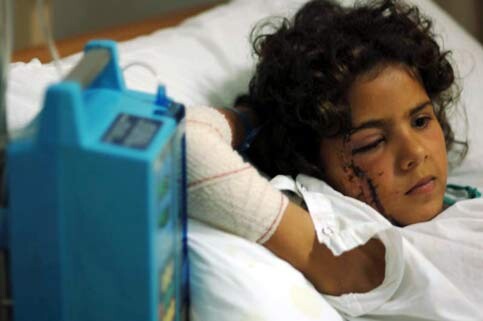 TYRE
- Many Lebanese civilians from areas exposed to Israeli air strikes are developing a health condition known as Post Traumatic Stress Disorder (
PTSD
), according to local psychiatrists.
"Trouble in sleeping, and eating disorders are some of the factors which are common for those who live through catastrophes and bombardment," Dr. Sami Richa, a Lebanese psychiatrist, told IRIN.
The ongoing Israeli air strikes against targets in Lebanon began on 12 July, following the capture of two Israeli soldiers by Hizbullah militants.
Since Hizbullah began shelling the north of Israel two weeks ago, more than 50 Israelis have been killed and an estimated 500 injured, according to the Israeli Defense Forces (IDF). During the same period, more than 600 Lebanese have been killed and more than 3,200 injured, according to the United Nations Office for the Coordination of Humanitarian Affairs (OCHA).
Thirteen-year-old Hassan Hamade recently fled Israeli bombing in the city of Nabatiyeh, 60 kilometres south of Beirut. "I cannot sleep at night," he said. "I still hear the sound of the Israeli warplanes and the explosion of bombs."
Hassan is now at his grandmother's house in Beirut with the rest of his family. Hassan's mother, Nibal, said that her two sons and daughter still wake up at night and at times scream in their sleep.
"It is not only the children," Nibal said. "My husband is also finding it hard to sleep at night, and he is always stressed out and edgy."
Richa said the psychiatric disorder can affect anyone who has lived through a conflict situation. Some of the children who have lived through aerial bombardments still hear the sound of explosions in their heads, are restless during the night and forgetful.
"Many children and adults do not show the symptoms of PTSD right away, but rather after some time, maybe a year or more later," Richa said.
"If their cases are not treated, then it might affect their lives. In the future, children who have anxiety disorder will show moodiness, become jumpy and will fight over any little word said to them. Adults express their anxiety through words."
Israelis living near the Lebanon border have also suffered from mental health problems after repeated cross-border rocket attacks, health professionals there said.
PTSD is a complex health condition that can develop in response to a traumatic experience, such as a life-threatening or extremely distressing situation. People suffering from the disorder can persistently re-experience or recall the traumatic event, according to the American Psychiatric Association's Diagnostic and Statistical Manual (DSM IV).
Symptoms may include difficulty falling or staying asleep; irritability or outbursts of anger; difficulty concentrating; hyper vigilance; and exaggerated response when startled.
"Some families have a larger possibility of being affected by the bombings and the fear associated with them because they are more prone to the anxiety disorder," Richa said.
Dr. Elie Mikhael, a member of the Higher Council for Children, said that the council, in collaboration with the Social Affairs Ministry, will be holding special activities for affected children. Doctors would diagnose the children's problems by watching their behaviour as they play.
Related Links
This item comes to you via IRIN, a UN humanitarian news and information service, but may not necessarily reflect the views of the United Nations or its agencies. All IRIN material may be reposted or reprinted free-of-charge; refer to the copyright page for conditions of use. IRIN is a project of the UN Office for the Coordination of Humanitarian Affairs.