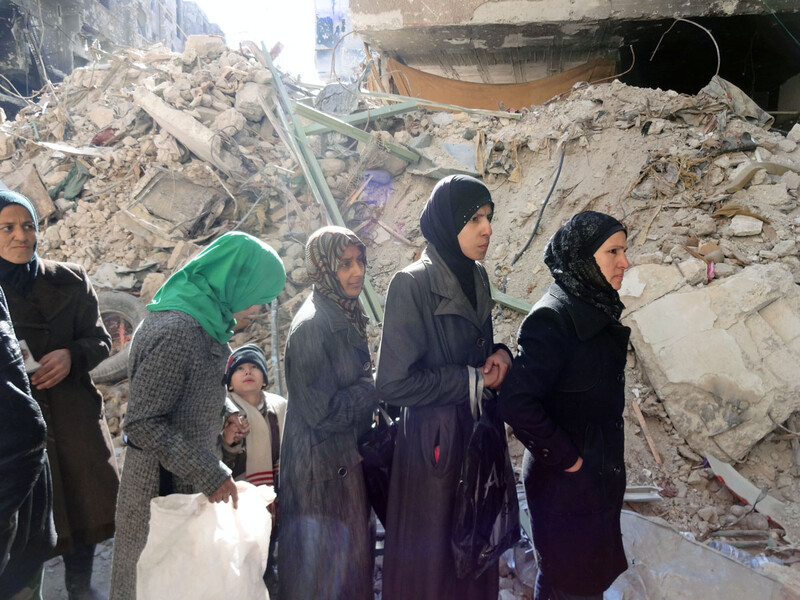 UNITED NATIONS (IPS) - The refugee camp of Yarmouk represents one of the most severe examples of the humanitarian crisis in Syria, with foreign aid agencies unable to enter the opposition-controlled area that has been effectively besieged since December 2012.
Responsibility for the plight of the primarily Palestinian Yarmouk population has been almost exclusively directed toward the Syrian government, whose forces control the periphery of the camp.
Approximately 18,000 residents are besieged within Yarmouk as fighting continues around and sporadically within the area.
The UN agency for Palestine refugees (UNRWA), which has been operating in Syria since 1950, is the only significant organization directly providing the civilians of Yarmouk with aid.
The biggest issue has been a lack of cooperation from the parties of the conflict to permit safe access to the camp.
While stressing that UNRWA appreciates that the Syrian government last week permitted some aid to enter the camp, Christopher Gunness, UNRWA spokesperson, said that, "The large crowds of desperate people waiting to receive food parcels attest to the massive needs that have yet to be met."
"Drop in the ocean"
Between 17 and 21 January, UNRWA was only able to bring a few hundred aid parcels into the camp. On Thursday 30 January, however, Gunness said that UNRWA had managed to enter Yarmouk and successfully distribute 1,026 food parcels. Aid distribution continued on Friday, and the Syrian government has expressed its intent to facilitate an accelerated distribution process.
Nevertheless, there are still thousands of people whom this aid did not reach. It is virtually a "drop in the ocean compared with need," explained Gunness.
"As each food parcel contains food for an average family for only ten days, it is imperative that continuous access to Yarmouk is authorized and supported, so that UNRWA can alleviate the deep and prolonged suffering caused by lack of food," he said.
The people of Yarmouk face what Gunness described as "unimaginable human suffering." Children are experiencing various symptoms of malnutrition, such as rickets and anemia, women have died in childbirth because of a lack of medical care, there is no clean water nor electricity and aid deliveries have slowed to a trickle.
At present, reports indicate that at least 49 people have died of malnutrition and government snipers have targeted people foraging for food in nearby areas.
Getting aid in is on a "convoy-to-convoy, day-to-day basis" said Gunness. Yarmouk can only be accessed via two main routes, both of which are strictly controlled through a series of tight checkpoints. In addition, fighting in close proximity to aid convoys has thwarted successive efforts to deliver humanitarian assistance. In one case, gunfire hit a bulldozer that was clearing debris for the convoy.
"Desperate"
On 17 January, the UN's High Commissioner for Human Rights Navi Pillay issued a statement on the humanitarian situation in Yarmouk.
Pillay described the situation as "desperate" and indicated that government forces and affiliated militias appeared to be imposing "collective punishment on the civilians in Yarmouk," adding that such actions which impede "humanitarian assistance to civilians in desperate need may amount to a war crime" and was certainly against international law.
"Aid access is a priority, but what is needed at this stage is not simply negotiating for weeks to get a few parcels in, what is needed is a paradigm shift … that this is not something you negotiate on, this is a right under international law," said Nadim Houry, deputy director for the Middle East and North Africa division of Human Rights Watch. "What is needed right now is to establish modalities for repeated and efficient humanitarian aid."
Talks between the Syrian government and the Syrian opposition have the potential to open Yarmouk to more comprehensive incoming aid and the exit of civilians. Though a deal has not been reached at the Geneva II talks, both sides have discussed relief for besieged areas, notably the old city of Homs.
Limited access
"We want the Geneva II talks to make the issue a priority and to demand that the regime end government sieges imposed on opposition held towns. Humanitarian organizations must have unfettered access to these areas," Geoffrey Mock, Syria country specialist for Amnesty International USA said.
"Humanitarian access has really been quite limited," Houry said, adding that workers for Human Rights Watch "have been able to get in [the country], but not the unrestricted access we had asked for."
This kind of restriction has also been experienced by Amnesty International, which has only been able to support the Syrian civilians through its presence in neighboring countries.
The Syrian mission to the United Nations did not respond to a request for comment.
All rights reserved, IPS - Inter Press Service (2014). Total or partial publication, retransmission or sale forbidden.
Tags