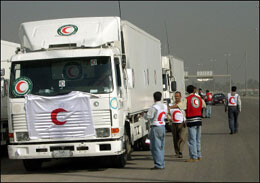 BEIRUT
- Humanitarian agencies working in Lebanon say their work is being hampered by continued Israeli attacks on aid convoys and access routes.
The International Committee of the Red Cross (ICRC) yesterday reiterated its 13 July appeal to both parties involved in the conflict in Lebanon to "respect humanitarian volunteers and workers and the Red Cross and Red Crescent symbols".
This call follows an attack on Tuesday by the Israel Defense Forces (IDF) on a convoy of ambulances and trucks, sent by the United Arab Emirates Red Crescent (UAERC), on the road between Damascus and Beirut.
According to the UAERC and other official sources, one truck was destroyed, two were damaged and four passenger vehicles were damaged, causing a number of injuries.
In a statement on Wednesday on its website, the IDF said it had carried out aerial attacks on "trucks carrying weaponry, including four trucks in the Bekaa valley area carrying weapons from Syria to Lebanon".
The trucks were, in fact, carrying medical supplies, vegetable oil, sugar and rice. UAE officials have said the convoy was clearly marked as a relief operation.
"This act goes against the Geneva Conventions and the principles of international law. It exposes the life of civilians who are protected by these laws," read a statement from the UAERC, which has made an official complaint to the Federation of Red Cross and Red Crescent.
The UAERC also confirmed that the convoy's 24 ambulances reached the Ministry of Health in Beirut and the NGO is today sending more medical supplies to Lebanon.
Human Rights Watch also demanded that Israel allow relief convoys safe entry into Lebanon, and take all feasible precautions to avoid attacking them. Border towns in Lebanon are facing serious shortages of food and medicine.
"Israel is legally obliged to permit free passage of materials essential for civilians and to protect humanitarian personnel delivering those supplies," said Sarah Leah Whitson, director of the Middle East and North Africa division at Human Rights Watch. "If attacks are hitting relief and medical convoys, the implications for civilian protection are serious. Such attacks would indicate that Israel is failing to take appropriate precautions to avoid targeting civilian objects."
Related Links
This item comes to you via IRIN, a UN humanitarian news and information service, but may not necessarily reflect the views of the United Nations or its agencies. All IRIN material may be reposted or reprinted free-of-charge; refer to the copyright page for conditions of use. IRIN is a project of the UN Office for the Coordination of Humanitarian Affairs.