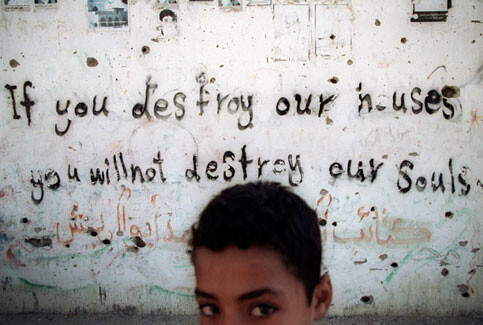 Today the American Friends Service Committee (
AFSC
) announced that, on the recommendation of staff in Gaza, it is contributing $20,000 for humanitarian assistance to hundreds of Palestinian families left homeless by the recent actions of the Israeli Army in Gaza.
AFSC
will also accept donations for additional relief.
This first contribution is made through AFSC's Building Homes/Building Peace Campaign initiated in 2000 after the start of the second intifada, when parts of Gaza were re-occupied by the Israeli Army. Initially, the campaign provides assistance to families whose homes were severely damaged but not totally demolished in these actions.
"Through this campaign, we seek to educate people in the United States about the impact of the Israeli Army's violence on Palestinian civilians living under occupation in Gaza, the West Bank and East Jerusalem," said Kathy Bergen, coordinator of Middle East Programs in AFSC's Peacebuilding Unit. She added: "We also suggest ways people can become involved in working for a just peace between Palestinians and Israelis."
According to the United Nations Relief and Works Agency (UNRWA), more than 1,800 Palestinians in Rafah, including children and the elderly, have lost their homes, and require humanitarian assistance. AFSC will donate funds to two local groups: the Palestinian Agricultural Relief Committee and Ta'ayush, an organization made up of Jewish Israelis and Palestinians living in Israel.
"In directing a portion of AFSC funds to these two organizations, we acknowledge and support the work of Israelis and Palestinians who are seeking ways to work together for peace and to find non-violent means to confront the occupation and promote a just and lasting peace," says Bill Pierre, Middle East Regional Director for AFSC's International Programs.
In this initial effort, AFSC will help provide food baskets and blankets for about 250 families, at a cost of about $60.00 per basket.
Donations can be made to this appeal on our website at www.afsc.org, by calling 1-888-588-2372 ext.1 or by mail to American Friends Service Committee, Building Homes/Building Peace, 1501 Cherry Street, Philadelphia, PA 19102. AFSC will not accept material donations.
The Israeli Army began this most recent operation in the Rafah refugee camp in southern Gaza following a suicide bombing in the city of Haifa in northern Israel in early October. The bomber killed 21 Israelis as well as herself. The demolition operation involved a series of strikes with dozens of tanks tearing down structures under the cover of helicopter gun-ships. Israeli officials say the Rafah operation is designed to "destroy tunnels used by Palestinians to smuggle illegal weapons" under the Egypt/Gaza border.
Amnesty International has characterized these waves of destruction as war crimes on civilian populations since they have left more than a dozen people dead, and severely injured scores of school children and women. In a statement issued last week, UN Secretary General Kofi Annan "deplored the killing of Palestinian civilians during the Israeli incursions into Rafah."
AFSC is an international peace and justice organization that has been involved in the Middle East since the establishment of Palestinian refugee camps in 1948. It firmly believes that the Palestine-Israel conflict must be resolved through non-violent means and condemns, without reservation, suicide bombings and other acts of violence - especially those directed against civilians.
The American Friends Service Committee is a Quaker organization that includes people of various faiths who are committed to social justice, peace and humanitarian service. Its work is based on the belief in the worth of every person and faith in the power of love to overcome violence and injustice.
More information:
Janis D. Shields, Director Media and Public Relations
(215) 241-7060 After Hours: (302) 545-6596 and John W. Haigis, Media Assistant, (215) 241-7056; Contact: Shahina Malik (215) 241-7283