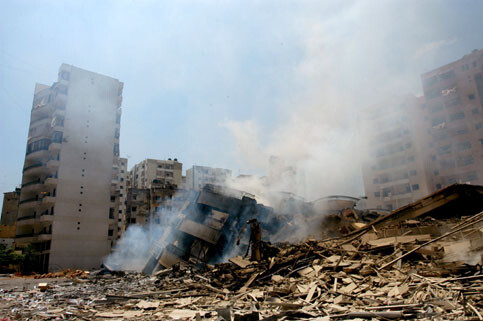 Today, the American-Arab Anti-Discrimination Committee (
ADC
) filed a federal lawsuit claiming that Secretary of State Condoleezza Rice and Secretary of Defense Donald Rumsfeld failed to fulfill their constitutional and professional obligations and protect
US
citizens in a crisis or time of war.
In the lawsuit, ADC alleges that the defendants placed US citizens in peril by not taking all possible steps to secure the safety and well being of US citizens in Lebanon. Further, the lawsuit asks the Federal Court to issue an order compelling the Secretary of State and Secretary of Defense to request a ceasefire and to stop any shipments of weapons or any other military support to Israel during the evacuation of all US citizens out of Lebanon.
ADC President Hon. Mary Rose Oakar said, "At no time has President Bush, Secretary of State Rice, or Secretary of Defense Rumsfeld called for a ceasefire in Lebanon. To the contrary, the Bush Administration has encouraged the violence by sending an urgent shipment of bombs to Israel giving that country the green light to continue in its indiscriminant bombing of Lebanon." Oakar continued, "This has placed innocent civilians, including thousands of US citizens, in harms way and has resulted in injuring several US citizens in Lebanon."
ADC is joined in today's lawsuit by several American citizens who have returned from Lebanon after escaping the violence and others who remain in Lebanon. The lawsuit was filed in Federal District Court for the Eastern District of Michigan. ADC and its co-plaintiffs are represented by the law firm of Nabih H. Ayad & Associates.
A press conference will be held today in Detroit to discuss the lawsuit at 2:00 pm (EST) at the United States District Court Eastern District of Michigan 231 West Lafayette Avenue Detroit, Michigan 48226.
Press conference will be held at the front entrance (Fort Street Entrance)
For more information contact: ADC Legal Department | 202-244-2990
Attorneys: Nabih H. Ayad & Associates, P.C. Dearborn Heights, Michigan 48127
Related Links
American-Arab Anti-Discrimination Committee (ADC), which is non sectarian and non partisan, is the largest Arab American civil rights organization in the United States. It was founded in 1980, by former Senator James Abourezk to combat racial stereotyping and to protect the civil rights of people of Arab descent in the United States. ADC has 38 chapters nationwide, including chapters in every major city in the country, and members in all 50 states.