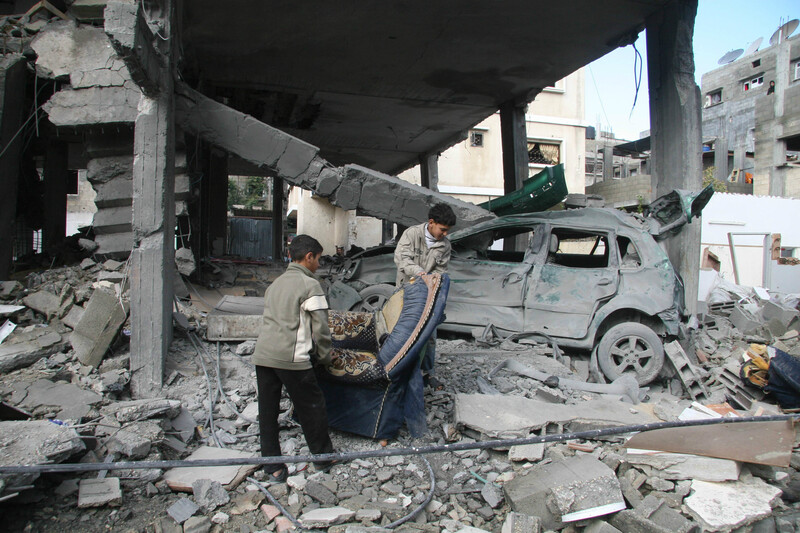 When fellow activist Gavin Pidwell and I were convicted of aggravated trespass of EDO, an arms manufacturer, at a UK Magistrates court on 23 August, pro-Israel commentators were quick to call it a "BDS [boycott, divestment and sanctions] fail." However, this ignores both the wider implications of the arms trade and the long history of the campaign resisting EDO.
EDO/ ITT Exelis are UK-based designers and manufacturers of military aircraft weapons systems. Their products (and components to which they own the patents) can be found in a variety of weapons, such as the precision-guided Paveway bomb and the Sabre bomb rack. In 2007, EDO was bought out by the American conglomerate ITT, one of the world's larger arms companies. When ITT split into three parts last year, EDO became a part of the defense chapter ITT Exelis.
The UK-based grassroots campaign Smash EDO has been protesting against the corporation using a diversity of tactics since 2004, with weekly noisy demonstrations being held outside the premises in Brighton. It grew out of the movement against the Iraq war, and a general frustration amongst activists over the ineffectiveness of the mass resistance to the war. There was also a need for people coming back from solidarity work in Palestine to follow the advice from Palestinians and campaign within their local community. Rather than marching, people protesting EDO wanted to directly target the war and occupation profiteers, to bring the war back to the factory floor.
There have been rooftop occupations, phone blockades (in which people from around the world have phoned the company and questioned them about their business), mass demonstrations targeting their investors and numerous blockades of the factory through the years.
The biggest success so far came in 2010, when nine defendants were found not guilty of criminal damage after breaking into EDO and smashing it up "to the best of their abilities" as a response to Israel's Operation Cast Lead in Gaza during winter 2008-09. After hearing all the evidence, a jury acquitted the activists on the basis that they had acted with the intention of preventing war crimes against Palestinians.
The court case last month — which concerned a 26 April 2011 action in which we superglued and locked ourselves to the gates — made use of some information gained during the cross-examination of EDO's managing director during the trial of the decommissioners, as well as new material.
EDO not lawful
The case was originally listed to be heard by a district judge, but was given a lay magistrates bench. While a district judge is legally qualified, magistrates, who work in groups of three per case, are volunteers who do not need previous legal training. Magistrate Peter Privett opened the case by saying, "It is a relatively simple and straightforward charge in both cases. The two individuals are charged with having obstructed both sets of gates to the premises and preventing people going about their lawful work. That is all it comes down to."
This was a misunderstanding of the case. To be guilty of aggravated trespass one has to trespass on land "with the intention of intimidating, obstructing or disrupting a lawful business." For the following three days, we aimed to prove that EDO's business is not lawful.
One of the weapon components EDO manufactures is the Field Replaceable Connector System — an umbilical cable acting as a guidance unit for the bomb and which is fitted in various fighter aircraft, such as the F-16. They have also developed a different kind of guidance unit cable especially for the new F-35 Joint Strike Fighter (currently in production). At the time of the action, EDO were engaged in fulfilling contracts supplying these cables to the US Defense Logistics Agency and had a contract with Lockheed Martin to supply the F-35.
Enforcing international treaties
The F-16, for which the EDO-made guidance units were manufactured at the time, is publically known to have cluster bombs — including the US-made Joint Standoff Weapon and the Wind Corrected Munitions Dispenser — as part of its arsenal.
The defense argued that by supplying weapons components to the US, EDO is in breach of the Cluster Munitions Prohibitions Act of 2010, which makes it illegal in UK law to assist the use of cluster munitions anywhere in the world. The act is the UK implementation of the Convention on Cluster Munitions, an international treaty adopted in Dublin in 2008.
The convention has 111 signatory states, but crucially neither the US nor Israel are signatories to the convention. In fact at the time of treaty negotiations, US State Department official Richard Kidd wrote that cluster bombs remain an integral part of the US arsenal.
When asked under oath about the guidance unit cable's compatibility with cluster munitions, EDO Managing Director Paul Hills initially denied knowing anything about them, or even that the Joint Standoff Weapon is a cluster bomb.
He was then presented with an EDO promotional document obtained at the 2007 Defence Systems Equipment International (DSEi) arms fair (from before the Joint Standoff Weapon was made illegal) which explicitly states that EDO components have been fitted and tested with those weapons. DSEi, held every other year at London's Excel Centre, is the world's largest arms fair and provides a platform for arms dealers to promote their weapons to a wide audience.
He still maintained throughout the court case that none of EDO's exports were used for cluster bombs, but admitted that he "can't stop somebody doing something wilfully with our product without our knowledge."
EDO and Israel's cozy relationship
Questioned about the contract EDO has with Lockheed Martin for providing Field Replaceable Connector System cables for the F-35, Hills said that although he is aware that the F35 is being supplied to Israel, this did not apply to the variant of F-35 that EDO will supply. He claimed that version "A" will use EDO's especially-developed component while version "I" will be the one used by Israel.
The defense submitted evidence that stated that at least the first batch of Israeli F-35s will be identical to the "A" model, and provided the court with an email from Lockheed Martin which stated that "the sustainment element for Israel will be the same as US and Partners."
The campaign has always suspected that EDO's relationship with the Israeli military is a lot closer than they admit — not least because they own the design rights to a component called the Zero Retention Force Arming Unit which is used on the Israeli VER 2 bomb rack for its F-16s. They have also patented the Field Replaceable Connector System cable in Israel, but still deny exporting there despite its obvious usefulness to Israel's F-16 fleet.
According to Hills, they only provide "technical support" for the arming unit from Brighton. However, there appear to be no export licences (required if related to military goods) for this either, according to responses from the UK Government Export Control Organization to questions filed under the Freedom of Information Act.
When requesting evidence of their export licenses at the start of our trial, the magistrates simply stated that if Hills said they have them we have to believe him.
Unlawful exporting to Israel
According to UK government policy in view of EU and UK criteria on arms export controls, it is unlawful for companies to export military equipment to Israel that might be used for internal repression. Exports of components for F-16s are prohibited as they have previously been used for this exact purpose, and hence EDO have always denied exporting to Israel.
Despite Israel being one of the main users of F-16- and (in the future) F-35-compatible components like EDO's, EDO cannot allow themselves to be seen to trade with Israel or to seek their business. As Paul Hills admitted in the decommissioners case, this would be illegal.
However, in the decommissioners trial, enough evidence was offered to convince the jury that EDO components, exported via the US, are indeed used by Israel, and were highly likely to have been used during Operation Cast Lead. The judge in that case, Bathurst-Norman, even went so far as to suggest that end user certificates for weapons exports are "not worth the papers they are written on" as they can be easily manipulated.
Appeal in the works
Despite Paul Hills' contradictions in our court case, the magistrates decided to not even consider the possibility that the whole truth about EDO's business was not being told. However, they described Hills' evidence as "clear, credible and consistent."
However, as far as we are concerned, it was far from clear, far from credible and far from consistent — just like the arms trade as a whole.
We are disappointed with the verdict in this case, but know that exposing the arms industry and its lack of transparency is a gradual process. An appeal is planned and we are confident that information that emerged during the trial, combined with the existing evidence documenting EDO's numerous breaches of law, will be enough to quash our conviction.
In due time, we hope it will be EDO and Paul Hills who are facing charges. In the meantime, we will continue to research and expose the murky business of EDO.
There is no doubt that challenging the arms trade is difficult, frustrating and slow. The war machine is powerful, protected by the state and with infinite resources and export loopholes at its disposal.
But there is also no doubt that it is an area the boycott, divestment and sanctions movement cannot afford to ignore. The people of Gaza, trying to live their lives under the sound of F-16s and the buzz of drones, remind us of that every day.
Jessica Nero is a boycott, divestment and sanctions and anti-arms trade activist and researcher. She has volunteered with various solidarity groups in Palestine and is the co-author of Targeting Israeli Apartheid: A Boycott Divestment and Sanctions Handbook. For news about Smash EDO visit www.smashedo.org.uk or follow the campaign on Twitter: @smash_edo.
Tags