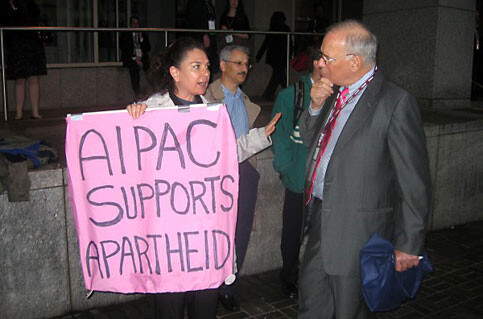 The theme of this year's annual policy conference for the American Israel Public Affairs Committee (

AIPAC

) lobby group was "Israel: Tell the Story." And it was quite a story that

AIPAC

wanted to tell. The conference aimed at imparting to the more than 7,000 attendees "an intimate understanding of the many ways that Israel is making the world a better place," with a focus on peacemaking and innovation.

Outside the Washington Convention Center, together with activists from CodePink, Veterans for Peace, Military Families Speak Out, Avaaz, Jewish Voice for Peace and the US Campaign to End the Israeli Occupation, we tried to bring a little reality to the AIPAC bubble. We carried signs and banners calling for respect for international law and human rights, an end to the siege of Gaza, Israeli apartheid and US taxpayer funding of war crimes.

Using street theatre, we set up a checkpoint to greet the participants, and I, in the role of a Palestinian woman, tried in vain to get through. I pleaded with the sometimes startled conference-goers to help me get to a hospital, but Tighe Barry, playing an Israeli soldier at the checkpoint, pushed me away, telling the AIPAC supporters, "You can pass. This is a Jewish-only road."

During our presence outside the conference, I got an earful of everything from thoughtful debate to the most vulgar of insults to outright ignorance on the issues: "There is already a settlement freeze!" "Gaza isn't under siege, Israel is!" "AIPAC has nothing to do with policy!" This last remark was made while standing under the enormous sign reading "AIPAC Policy Conference."

We were outnumbered roughly 100 to 1, yet the very site of us literally sent some people over the edge. A few people even resorted to violence, shoving and hitting the activists. During a press conference held outside the Convention Center, we were constantly interrupted, with people shouting and walking in front of the cameras. Josh Ruebner of the US Campaign to End the Israeli Occupation rightly judged this as a classic example of the AIPAC crowd trying to completely control the debate so that no other voices can be heard.

The second day of protests outside the conference made use of satire to try to get the message through. CodePink issued a fake press release announcing AIPAC's support for a settlement freeze in the West Bank, including East Jerusalem. The phony release was picked up by several news outlets prompting AIPAC to issue a statement refuting the claim, and thereby confirming that they are not in line with US policy on the issue or the majority of US citizens. Some conference participants were then questioning why AIPAC was not supporting a settlement freeze.

Later that morning, "Netanyahu and the Settlements" arrived at the conference. Activists with the global online advocacy group Avaaz.org showed up wearing cardboard boxes shaped like settlement housing along with someone wearing a mask of Israeli Prime Minister Benjamin Netanyahu and a Caterpillar hardhat, chanting, "Build settlements, not peace." Later that afternoon, nicely dressed activists escorted the conference participants, instructing, "right this way to the Apartheid Conference."

The main attraction of the three-day event was, of course, the gala dinner where Netanyahu himself spoke. Rae Abileah of CodePink, who had purchased a ticket to the conference but then received a certified letter saying that her registration had been cancelled, was nonetheless inside the dinner waiting for her moment. After the traditional Roll Call, the interminable reading of the names of the Congress members present — some 59 senators and 269 members of the House of Representatives — Netanyahu finally took the stage. "When the prime minister announced Israel's commitment to defense, I could no longer remain silent," Abileah said. She jumped up on AIPAC Executive Director Howard Kohr's private table right next to the stage and unfurled a banner reading, "Build Peace Not Settlements" while shouting, "Lift the siege of Gaza! No illegal settlements!"

Following former British Prime Minister Tony Blair's speech the morning of the third and last day of the conference, the AIPAC lobbyists made their way to Capitol Hill, where a reported 500 meetings with Congress had been set. We arrived early to beat the crowd and delivered thank you letters to the 36 members of the House who had voted "no" on the resolution condemning the UN-commissioned Goldstone report.

"Netanyahu and the Settlements" had arrived by the time we finished and were there to greet the AIPAC lobbyists as they lined up to enter the Rayburn building. Holding a gigantic check made out for "Endless Illegal Settlements" signed by US President Barack Obama, we called out on the megaphone, "Bank of Israel, otherwise known as the United States Congress. Nothing is too much for Israel." There were a number of groups of young people on the Hill the same day lobbying for education and jobs programs. As we passed, I told them, "Sorry, no money left for your school or jobs. Congress wants to give it to Israel."

We then paid visits to the offices of Senators Graham and Schumer, who had both spoken at the conference, as well as those of Senators Lieberman and Kyl. Donning tunics that read "Settler" and waving a flag that read "Mine," we moved in, occupied the office, set up a roadblock and began moving the furniture around to our pleasing. Again playing the part of a Palestinian woman, I pleaded with the staff, who were, not surprisingly, alarmed at what was happening, for their help in removing the settlers from my family's land. In three out of four cases we managed to secure a meeting with a member of the staff; at Sen. Lindsey Graham's (R-SC) office Capitol Police arrived and promptly removed us.

As much as AIPAC appears to be living in a bubble, it unfortunately seems unlikely that the US government, or the so-called "international community" for that matter, will take a courageous stance and do what many Israelis have been asking, save Israel from itself. That's why so many activists are now taking it upon themselves to lead the way by supporting the Palestinian call for boycott, divestment and sanctions (BDS) against Israel. Right outside the AIPAC conference the newly formed BDS group of the greater Washington, DC area called on local residents to not buy Israeli products as a way to make a meaningful contribution to ending the Israeli occupation. And on 30 March, the second Global BDS Day, actions took place around the world, calling for an investment in peace and a boycott of Israel.

All images by Stephanie Westbrook.

Stephanie Westbrook is a US citizen who has been living in Rome, Italy since 1991. She is active in the peace and social justice movements in Italy and traveled to Gaza in June 2009. She can be reached at steph A T webfabbrica D O T com