Young Jews Disrupt Netanyahu at Jewish General Assembly from stefanie fox on Vimeo.
Jewish American and Israeli activists with the Young, Jewish and Proud project of US-based Jewish Voice for Peace (JVP) successfully disrupted a speech given by Israeli Prime Minister Benjamin Netanyahu on 8 November. Netanyahu was attempting to deliver a thirty-minute address during the Jewish Federation's General Assembly conference in New Orleans.
One by one, in carefully-orchestrated intervals, five activists stood up and repeatedly shouted different ways in which Israeli policies "delegitimize" the state while holding a banner with the same message.
The activists were attacked by conference attendees after they stood up and confronted Netanyahu, and were escorted out of the room by police officers and security personnel.
In a press release following the action, Israeli-American activist Eitan Isaacson — who chanted "silencing dissent delegitimizes Israel" before being forcibly removed from the conference hall — stated: "We're here to call out the elephant in the middle of the room. Israel continues to expropriate Palestinian land for Jewish-only communities, passes increasingly racist laws in the Knesset, the foreign minister wants to strip Palestinian citizens of their citizenship — these are the reasons Israel is becoming a pariah in the world …" ("Young Jews challenge American Jewish leadership …").
Matan Cohen, co-founder of Israeli Anarchists Against the Wall, also participated in the action. He told The Electronic Intifada that there is a growing and acute discrepancy between the image by which Israel wants to represent itself and the reality on the ground.
"Not only are we standing up and saying that Israel can't continue these policies in our name, but we're constituting a new radical and progressive identity within the Jewish community that returns to Jewish values and distances itself from Israeli apartheid," Cohen said.
Rae Abileah, also an Israeli-American activist with Young Jewish and Proud, told The Electronic Intifada that she was assaulted after she unfurled her banner which read "The settlements betray Jewish values" and in Hebrew, "Justice, justice you shall pursue."
"The crowd was acting more and more like a mob mentality," Abileah said. "They had been chanting 'Bibi Bibi' [Netanyahu's nickname] and 'Am Yisrael chai' [the Jewish nation lives], and they were booing. I stood up after Netanyahu said something about the peace process and I started chanting. A man came from behind me and put his arm around me in a choke-hold. I was pushed backwards. Another man took a seat cover, which was a cloth-like advertisement for El-Al airlines, and he tried to stuff it in my mouth to gag me."
Abileah told The Electronic Intifada that two female police officers escorted her out and told her they were stunned by this kind of violent behavior from the audience. "This is the kind of base-level violence that — on bigger levels — happens every day in the West Bank and Gaza Strip," Abileah said. "This is the shocking reality that we want to focus on."
Abileah and the four other activists were released after being detained for a short time. Afterwards, she reported that many attendees broke out into discussion groups to talk about what had happened inside the assembly hall. "We added an alternative narrative to the conference," she stated. "People had to respond in some way to it."
This disruption of a speech by the Israeli head of state follows a series of similar actions, most notably protests of former Israeli Prime Minister Ehud Olmert's US speaking tour in 2009. In Chicago, San Francisco, New Orleans and other major US cities, Olmert's speeches were interrupted by protesters inside the building, while hundreds of demonstrators took to the streets outside the lecture halls.
Prior to the 8 November action in New Orleans, the Young, Jewish and Proud activists created a spoof "Birthright" trip called Taglit-Lekulanu ("Birthright for All") satirizing the Birthright Israel program. Birthright Israel is a Zionist-Jewish organization that has sent thousands of young Jews from North America on a free trip to Israel to visit sites and meet Israeli soldiers. Activists put the spoof "trip" online and stated that the goal was to "highlight the one-sided narrative that Birthright presents, [which] renders Palestinians invisible" (taglit-lekulanu.org).
Following up with a "spoof denial," refuting its own spoof Birthright trip, Young, Jewish and Proud "laid bare the problematic assumptions underlying Birthright such as the emphasis on marrying Jews and procreating," the activists said. Abileah told The Electronic Intifada that the website was timed to coordinate with the Jewish Federation General Assembly conference. "We will continue to resist, and we will continue to organize creatively," she said.
Massachusetts
Following the national elections in the US on 2 November, voters in four districts in Massachusetts voted yes to a question posed on the ballot asking "Shall the state representative from this district be instructed to vote in favor of a non-binding resolution calling on the federal government to support the right of all people, including non-Jewish Palestinian citizens of Israel, to live free from laws that give more rights to people of one religion than another?"
According to a press release by the Massachusetts Residents for International Human Rights (MRIHR), 30,778 persons voted yes (57 percent) and 22,813 voted no.
In the press release, MRIHR activist John Spritzler stated: "We're ecstatic. Voters showed that they support the principle of equality and don't support Israeli laws that discriminate. When given a chance to choose between the principle of equality versus the Zionist principle of inequality (i.e. that Israel must be a Jewish state in which the sovereign authority is 'the Jewish people' and not all citizens equally) then Americans chose equality, even when few if any politicians will openly support equality."
"The principles of equality and democracy, that [voters] overwhelmingly support, are the opposite of the principles of inequality and top-down control that our politicians and mass media defend by telling us lies about Israel and about Palestinians," Spritzler added.
The passage of this mandate for a resolution to support equal rights in Palestine follows a defeat two years ago, when Somerville residents voted against a question asking whether Palestinian refugees had the right to return to their land of origin, and whether the state of Massachusetts should disinvest from its holdings in Israeli state bonds.
New York
Adalah-NY: The New York Campaign for the Boycott of Israel, along with several other Palestine solidarity groups, called on 17 organizations in the US and abroad to respect the Palestinian boycott call and cancel their participation in an Internet event to be held on 14 November. Entitled "With Earth and Each Other: A Virtual Rally for a Better Middle East," the event is being organized by the Friends of the Arava Institute, an Israeli environmental group, and other partners including the Jewish National Fund (JNF).
Adalah-NY said that the call to cancel the participation by partnering organizations and individuals such as legendary folk musician and social justice activist Pete Seeger has led to email exchanges between representatives of the Friends of Arava and Adalah-NY. "But it is not clear if any groups will withdraw," Adalah-NY stated in a press release. "The event on 14 November has attracted attention due to calls by many groups for Pete Seeger to withdraw from it. In a recent interview, Seeger says he supports the economic boycott of Israel, but not a cultural boycott" ("International organizations urged to abandon online Israel event," 5 November 2010).
The Electronic Intifada reported in September that Israeli activist group Boycott From Within drafted a letter to Seeger appealing to him to cancel his participation in the online event.
Adalah-NY says that the event "is described as a support effort for Arava, an environmental institution in the Negev desert. Arava has been taken to task for failing to take a stand for the rights of Palestinian Bedouins living in the Negev, and failing to criticize the recent demolition, five times, by the Israeli government of the Palestinian Bedouin village of al-Araqib, also located in the Negev."
Adalah-NY added "Al-Araqib village has been demolished to make way for a forest to be planted by Arava's partner, the JNF. Arava did not sign onto [Adalah-NY's] 11 October letter to its partner, the JNF, denouncing the JNF's participation in the dispossession of Bedouins in the Negev. The letter was signed by 28 Israeli organizations and eight American Jewish organizations."
"According to the JNF," Adalah-NY said, "[the organization] granted $357,315 to the Arava Institute in 2008."
Australia
In Australia, solidarity activists convened in Melbourne for the country's first national boycott, divestments and sanctions (BDS) conference. According to the Australian BDS Campaign, the conference represented "a watershed moment in the Palestinian solidarity movement in Australia with activists across various campaigns coming together and addressing the way forward in the global campaign of boycott, divestment and sanctions … the conference helped to bring together unionists who are members of twenty different unions across Australia, with five Australian unions sending official delegations to the conference to discuss practical implementation of BDS resolutions" ("BDS campaign in support of Palestinian human rights moves forward …," 10 November 2010).
According to the conference organizers, attendees unanimously adopted a calendar of boycott, divestment and sanctions actions to be carried out over the next year. Conference organizers urged all attendees "to build on the momentum of the conference and work together to build the strongest possible grassroots campaign to hold Israel accountable for its actions."
The conference was organized in response to Palestinian civil society's call for the international community to implement "a comprehensive boycott, divestment and sanctions strategy against Israeli apartheid as the focal point of solidarity efforts with the Palestinian people," stated the Australian BDS Campaign.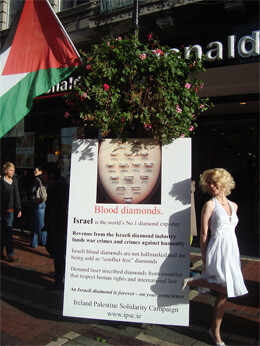 Ireland
The Ireland Palestine Solidarity Campaign (IPSC) announced on 30 October that it had launched a nation-wide awareness-raising day "to expose the contamination of the global diamond market with Israeli 'blood diamonds' " ("Marilyn Monroe launches 'Boycott Israeli Blood Diamonds' campaign in Dublin").
In a statement, IPSC chairperson Freda Hughes said: "Israel is the world's top diamond exporter with exports worth over $19 billion in 2008, accounting for over 30 percent of Israeli exports."
Referring to the winter 2008-09 attacks on the Gaza Strip and the deadly raid on the Gaza Freedom Flotilla earlier this year, Hughes added "The Israeli state which oversees these crimes and the military which carries them out are funded by revenue from these same diamond exports. In the view of the IPSC and the Palestinian Boycott National Committee (BNC) these Israeli diamonds should be unequivocally categorized as blood diamonds."
The day of action came ahead of the annual meeting of the Kimberley Process Certification Scheme (KP) in Jerusalem on 1 November. In the press release, IPSC reported it had an activist dress up like Marilyn Monroe in a blood-stained dress, telling passersby that "the fact that Israeli diamonds are sold as 'conflict free' means that diamonds can no longer be considered a girl's best friend!"
Hughes added "[European Union] law provides for adequate and proper labeling of food produce, whereby the origin and country of manufacture of all food products is mandatory. When it comes to diamonds, the European consumer is not being provided with the most basic labeling information. Consumers are being denied their statutory right to make informed choices with regard to diamonds and as a result jewelers, knowingly or unknowingly, are selling Israeli blood diamonds and misinforming customers by declaring they are 'conflict free' diamonds."