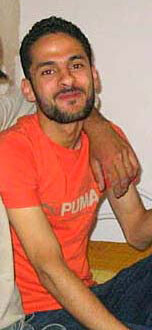 Abed Shinawi has died. In the words of the Palestinians, among others, he was martyred.

The notion of martyrdom, in the context of anything Arab-related, is a loaded word in many Westerners' understanding: it often has a negative connotation, or insinuation of an extreme ideology or lack of love for life, and often of suicide bombings. However, a martyr is one who has died as a result of not renouncing their beliefs or principles, religious or otherwise. "Martyr" in Palestine refers to anyone who has died as a result of the Israeli occupation, as with the 38-year-old handicapped, wheelchair-bound man killed in an Israeli Occupation Forces (IOF) invasion in Nablus' al-Ain refugee camp a month and a half ago. Or it refers to the elderly man shot five times in the chest after he opened his door to IOF assurances of his safety during the same 16 October Israeli invasion that eventually claimed Abed's life.

Abed, the martyr, loved life, and this was evident in his words, actions, his dreams. He told me once he would love to sleep at night, to walk freely in the hills that surround Nablus, to travel to other countries.

He was one of Nablus' resistance fighters, living in and defending the streets of the Old City. They do not receive the same glorified status as that of the invading soldiers, instead are dogged by negative labels like, "militant, extremist." Yet, as the new commander of the al-Aqsa Martyrs Brigades related in a recent Haaretz interview, "We don't attack civilian targets, we aren't dispatching suicide bombers. The army wants to get us mainly because of our actions against forces that enter the city. But it is our obligation and our right to hit soldiers who come to Nablus, and we will continue doing so."

Abed's humanity

Sami* had known Abed for years and considered him a brother. He related to me some of the conversations they'd had. I asked Sami, an avowed pacifist with a vocal distaste for guns, whether he and Abed had ever discussed being a resistance fighter. They had, Sami questioning Abed about his pre-resistance-fighter days which had been just years earlier.

Sami said, "I asked him: 'you are a kind, beautiful man. Why do you fight?' Abed answered, 'I lost my cousins — two cousins — to the IOF, and I want to continue their resistance. My family and neighbors are constantly harassed and never feel safe. I have to do something. I'll never feel good if the soldiers are always entering the Old City and I'm not trying to prevent them from invading homes, kidnapping, and killing people.'"

Sami told me more about Abed. "He was a good man, the children in the Old City all knew him and loved him. They used to make drawings and write letters for him like, 'Mohammed loves Abed. Please don't die.' Abed always asked about the poor in the area: Did they have food and milk? He and Qadaffi were always on their mobiles saying: 'If people need anything, they should go to my house.' He wasn't rich, but he cared about his neighbors." The al-Aqsa Martyrs' Brigades commander in the Old City of Nablus, Bassam Abu-Seria, also known as Qaddafi, was killed during the same invasion during which Abed lost his life.

Sami told me Abed loved to meet foreigners, which perhaps explains why he was so quick to trust and get to know me. Sami said Abed was always telling him, "If you have a foreign friend, bring him to me." We met before Sami could introduce us.

Chance Encounter

Months ago, during one of my first days in Nablus, having heard three building-shaking explosions in the late hours of the night, I looked the following morning in the Old City for the consequences of the night before. I had been told that the IOF had laid explosives at the concrete blocks barring IOF jeep entry to the Old City streets. These blocks, so often placed by the IOF to bar Palestinian entry to Palestinian roads, in this case were placed by Palestinians to hinder the movement of IOF vehicles. So the IOF often bombs them.

I'd also been told that nearby buildings suffered damage from the explosions, and so went to see. At the north end of the Old City, I came to one bombed roadblock section. It was there that I met Abed, leaning against the concrete blocks with two friends. He explained that this was where the IOF had been the evening before, and we began talking in broken attempts at one another's language.

He wasn't what one expects of a resistance fighter, after hearing the words "militant" and "member of an extremist group" tossed about so freely, slurred, in the press. He was slight, average height, neatly bearded, well-groomed, handsome, and nearly always grinning, inevitably teasing someone.

In the course of my time in and out of Nablus over the months, I often met Abed and his family in their home just off an Old City alleyway. They always insisted that I stay the night, but I was usually en route to somewhere else or had work to do later on. I shared some meals with them, Abed teasing, his little sister defiant and holding her own, his mother likewise punchy, his pretty young wife welcoming, gracious, translating our mixed Arabic-English efforts. In later meetings, their newborn boy was present, tiny, quiet, sleeping or being coddled by Abed or his wife.

He was keen to improve his English, and would try to speak it with me, becoming shy when other Palestinians with a better grasp of English were around. Sometimes he'd type out English phrases on his computer, misspelled but discernible.

His mother speaks in a loud voice, sounding somewhat angry even when not. That is her way. Once, discussing living in Nablus under constant siege, she described how she and her family were affected. Weeks would pass without seeing her son, Abed, who was usually in hiding from another IOF kidnapping or assassination attempt. Abed's mother pulled the sides of her robes out like a fan, showing how spacious her dress has become because she's lost so much weight. She is nervous all of the time, doesn't sleep well at night, always worries about her son, Abed, and is consequently losing weight from the stress.

His 11-year-old younger sister, Laila, speaks French. Quite exceptionally for a girl of her age and circumstances, she traveled outside of Palestine, taking part in an exchange to France for one year. An otherwise bright student, her school efforts are now suffering, her attention ever-distracted, her energy fatigued like so many Palestinian children suffering from the trauma of occupation and invasions. Still, she is feisty and holds her ground with her big brother, Abed.

When the army invades

I worried each time I heard that the IOF had invaded Nablus again, worried about Nablus residents caught — collateral damage — in house searches and random army firing, like what happened with the young woman struck by an IOF bullet while in her home during the same raid that killed Qaddafi and then Abed. I worried about Abed and his friends, knowing they were the target of such raids. Worried also about their families, knowing they suffered house raids and relentless interrogation, irrespective of age, sex, or health.

Four months ago, we'd rushed from Hebron to Nablus, hearing that the IOF had invaded again and imposed curfew. We'd met with volunteer medics and joined them on the streets to do whatever we could, deliver bread and food, negotiate passage and accompany people to homes off-limits from the IOF. All the while I worried about Abed. The next morning, visiting houses which had been invaded, ransacked, and exploded, I came across Qaddafi in an alley, and he assured me Abed was still alive.

Honoring the fallen

A martyr's funeral is a morning filled with masses of reverent people gathered in the streets. The procession progresses from the hospital where the body, cleaned and dressed in a Palestinian flag, is carried on the shoulders of the closest friends, down the streets to the city center and beyond through the Old City streets. Shots are fired into the air out of respect, rapid-fire and deafening, filling the void with protest, an homage to the silenced fighter. Mourners sing songs about the fallen, songs about his strength and struggle.

The procession moved from the hospital. Sami had taken me to the morgue where Abed's body lay blue-grey, his handsome face grotesque in death. Other resistance fighters and close friends guarded his body, as they had while still alive and in critical condition in hospital where I'd visited him two weeks ago, the day after he was hit by the Israeli rocket which tore apart Qaddafi and left Abed without his left leg. In the early hours of 16 October, they had been on an Old City rooftop, resisting the latest Israeli army invasion, this time of a neighborhood above the Old City. Abed's wiry frame, unconscious, was small and discolored amongst hospital whites, unnaturally quiet amidst hospital beeps, and mottled with wounds over his chest, arms and face.

Sami, a volunteer medic, who had carried the slain body of Qaddafi, had witnessed the various stages of Abed's deterioration, from post- rocket-strike to hospitalization, to being transferred in his last hours from hiding in the Old City to a hospital anew. Three days after his injury and hospitalization, he had been moved underground from hospital care due to very real concerns of the IOF raiding hospitals in the middle of the night to finish their assassination operation. Suddenly deteriorating in the hours before his death, Sami was called with his ambulance to re-transfer Abed to hospital care, though it was too late.

While the funeral procession passed through the alleys of the Old City, I passed the entrance to Abed's home. I strayed from the funeral march to visit Abed's family. Neighboring women and female family members, in black, wept for the loss. Tough Laila sat with her mother and sisters in the dining area, Laila slumped in her chair and sobbed loudly, weak from despair. Abed's mother sat stonily, miles away, eyes vacant and clouded with loss. Abed's pleasant wife lay unconscious on their bed, passed out, briefly revived by concerned family, and passed out anew from grief. Their raw pain tore into me, past the protective barrier one begins to acquire when surrounded by occupation-related tragedies.

Recalling again our first encounter, Abed had seemed to test me at first, testing my political views, testing my thoughts on resistance. Did I think he was a terrorist? Did I support the media's twisting and ignoring of the facts of the occupation? What did I think of the checkpoints or the wall?

I was surprised, but pleased, now honored, by his trust and friendship. Having stumbled across Abed, I look back now grateful for this chance to know his humanity, the humanity of someone in his position, to glimpse a fraction of the desperation and loss Palestinians know so intimately. It will never be my own struggle, my own story, but knowing it is important, and telling his story and the so many others like his is the most important thing I can do to honor it.

*Names have been changed to respect the privacy of mentioned individuals.

The author, writing under a pseudonym, has lived in various areas of the West Bank for the past six months, volunteering as a human rights worker and witnessing many aspects of Palestinian life under Israeli occupation. Her blog is at opt2007.wordpress.com/.