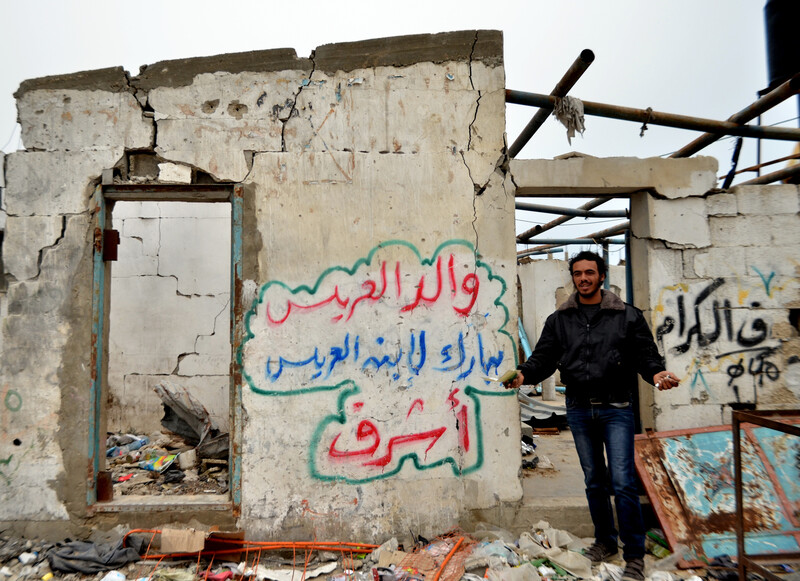 Sakher al-Kafarneh used to have 3,000 chickens, 35 sheep, 5 cows and a horse. That was before Israel attacked his farm in the summer of 2014.
"We have lost everything," he said. "Only two cows are still alive."
Ever since the attack al-Kafarneh and his family have been living in a school run by UNRWA, the UN agency for Palestine refugees. They make trips to their home in the Beit Hanoun area of Gaza so they can use the toilet. It remains intact, although their house was mostly destroyed.
Al-Kafarneh estimates that it would cost $50,000 to repair the damage inflicted on his home and farm. He desperately wants the house to be made habitable again "to restore even a bit of our dignity."
"My wife, three children, my parents and my grandmother all live in one classroom of this school," he said. "I cannot even describe how miserable our life is here."
Almost 9,500 people in Gaza were taking shelter in UN facilities, according to data released last week. UNICEF, the UN children's fund, has reported that the humanitarian situation is worse than it was before Israel began its attack.
The "coping skills" of women and children have been badly affected as a result, UNICEF has stated.
"Unacceptable"
Although international donors pledged $5.4 billion towards rebuilding Gaza in October last year, just a fraction of that aid has materialized. Robert Serry, the Dutch diplomat who has been overseeing the UN's reconstruction activities, said on Monday that the slow pace of aid delivery was "frankly unacceptable."
Oxfam has warned that at current rates of delivery, it will take a century to meet Gaza's needs.
More than 43,500 families have been affected by the destruction of homes.
The family of Um Ahmad are among them. Before the attack, this mother of seven enjoyed spending "good times out in the sun" on the roof of the family home.
After that home was leveled to the ground, she took refuge with her sister-in-law in Khan Younis, a city in southern Gaza. She and her husband, Khaled Redwan (also known as Abu Ahmad), sleep beside the sofa in the living room. Ten people are taking shelter in that home, which has only one bathroom.
Ramez Qanou has an apartment in a four-story building in Shujaiya, a neighborhood in Gaza City where Israel carried out a massacre in July.
Qanou is an officer with the local police in Gaza. He has not been paid his salary for approximately eighteen months.
After borrowing some money recently, he is trying to repair his severely damaged apartment using old bricks. With building materials in short supply, he had no choice other than to buy a bag of cement on the black market for almost $30.
Like many others in Gaza, he needs to move back into his old home as a matter of urgency. "I can no longer afford the rent for another home," he said. "What will I do?"
Rami Almeghari is a journalist and university lecturer based in the Gaza Strip.
Tags