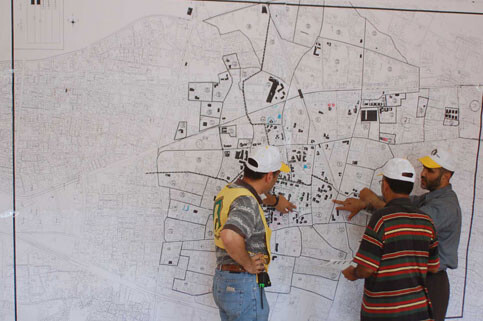 BEIRUT
— United Nations agencies and Lebanese
NGO
s say almost everyone displaced by the conflict between Hezbollah and Israel has either returned home or found alternative accommodation.
About 15,000 houses were destroyed in the 34-day conflict between Israel and Hezbollah, a Lebanese political party with an armed wing, and many more damaged, according to the Lebanese government. However, through extended family networks, second homes or accommodation paid for with compensation monies, most of the 252,184 Lebanese who lived in the now damaged or destroyed houses have found somewhere to stay.
"Basically people are relying on token mechanisms and people from middle-income families tend to have a residence in the south and in Beirut," said Stewart Shepard of the Office for the Coordination of Humanitarian Affairs (OCHA). "Other people are relying on the extended family network. We have been meeting people whose houses have been destroyed but they are staying with family."
Out of the almost one million people forced to flee their homes, it is estimated that about 3,000 remain in centres for the displaced across Lebanon. Most will be able to find accommodation soon, according to Samidoun, a local NGO.
"There are still some people in two schools in Beirut. They are mostly from the southern suburbs [of Beirut]. They went back but their homes were completely destroyed so they prefer to stay in the schools until they find an alternative," said Ghassan Makarem from Samidoun, adding that many were waiting for compensation from Hezbollah.
Hezbollah has pledged US $12,000 to every homeowner whose house has been destroyed to enable them to rent somewhere until homes are rebuilt. This process has already begun.
While the party is reluctant to disclose the sources of their funds, they have indicated that much of it has come from wealthy Lebanese donors in Africa, Latin America and the United States - though Iran is widely believed to have contributed a significant amount.
Immediately after the ceasefire on 14 August, Hezbollah made surveys of the destroyed properties and then organised the compensation programme through a wing of the party called Jihad al-Bina, meaning 'jihad for construction'. It has pledged that all homes will be rebuilt within a year.
To date, Qatar has said it will rebuild the southern villages of Khiam and Bint Jbeil, where about 60 percent of the houses have been destroyed. A Saudi Arabian company has said it will rebuild the Haret Hreik area in south Beirut, where the scale of destruction is similar.
The Lebanese government is also working towards rebuilding the homes and lives of its citizens. At a press conference on Wednesday, Lebanese Prime Minister Fouad Seniora announced that the government would be compensating home and business owners who lost property.
"All the people whose house was damaged or destroyed will be entitled to compensation," said a government spokesman. "What the prime minister announced today are steps to be taken by any individual or business [property] damaged so as to have their rights covered."
Although Beirut has a surplus of properties, there are fears prices could rise. "That's obviously one of the conclusions we have already drawn. When you have tens of thousands of people looking for accommodation it is going to affect demand and supply," Shepard said.
This item comes to you via IRIN, a UN humanitarian news and information service, but may not necessarily reflect the views of the United Nations or its agencies. All IRIN material may be reposted or reprinted free-of-charge; refer to the copyright page for conditions of use. IRIN is a project of the UN Office for the Coordination of Humanitarian Affairs.
Related Links