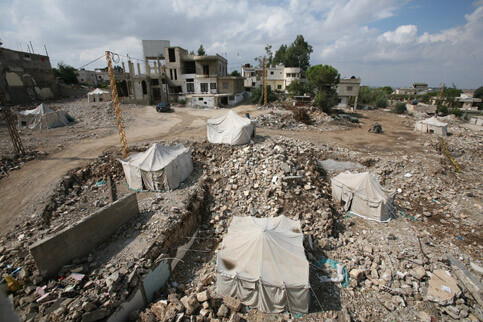 BEIRUT
- Up to 200,000 people could still be displaced in Lebanon nearly three months after the Israel-Hezbollah conflict ended, the United Nations Refugee Agency (
UNHCR
) said on Tuesday.
"We don't have the precise number of IDPs [internally displaced people] since there has been no formal registration, but we can estimate their number to 150,000 - 200,000," Stephane Jaquemet, UNHCR regional representative in Lebanon, told IRIN.
He added that the vast majority of the displaced live with friends or relatives and not in collective centres. This has made it harder for relief workers and authorities to work out an exact figure for the numbers displaced and to assess their needs.
UNHCR spokesman Simon Russel said many of the displaced had been unable to return because of unexploded ordnance littering the landscape and because of the lack of basic infrastructure, such as water and electricity, in some areas.
"Of course, we should take into consideration the fact that the UN would consider as an IDP any person who is still unable to return to his or her home, including those who stay with friends or relatives not far from their normal place of residence," Jaquemet said.
He added that the main problem for the displaced is that many have lost their source of income, particularly farmers in southern Lebanon whose fields are littered with unexploded ordnance.
The villages of southern Lebanon closest to the Israeli border suffered the greatest damage from the war and are therefore the focus of ongoing reconstruction and relief. Basic emergency aid is still being delivered to these heavily damaged areas as many of the displaced live in cramped conditions with host families who are struggling to make ends meet themselves.
These people are likely to spend the approaching winter with their hosts as they can not leave until their houses are rebuilt.
The conflict in Lebanon forced nearly a million people to flee their homes, with some 180,000 crossing the border to Syria, according to the Lebanese government and UN agencies.
Immediately following a UN-brokered ceasefire on 14 August, thousands returned home to find their homes destroyed. According to UNHCR, an estimated 80,000 displaced people have returned to their hometowns, 46,000 of whom came back from Syria 48 hours after the ceasefire.
This item comes to you via IRIN, a UN humanitarian news and information service, but may not necessarily reflect the views of the United Nations or its agencies. All IRIN material may be reposted or reprinted free-of-charge; refer to the copyright page for conditions of use. IRIN is a project of the UN Office for the Coordination of Humanitarian Affairs.
Related Links