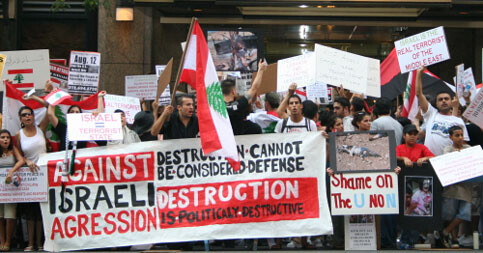 1,500 New Yorkers packed the city block opposite the Israeli Consulate in Manhattan today, chanting and waving Lebanese and Palestinian flags. This was the third in a series of growing protests in New York City over the last two weeks. The protests have been organized by an ad hoc New York coalition against Israeli aggression.

Protesters demanded, "Stop bombing Lebanon." "Free, free Palestine," and "End the occupation now." They chanted, "No justice, no peace, US out of the Middle East." Speakers called for an end to the US and Israeli wars in the Middle East. They criticized the US' one-sided support for Israel, and the lack of media coverage of Lebanese and Palestinian civilian deaths. The demonstration concluded with a spirited march past Grand Central Station and into Times Square.

Israel's attacks on Lebanon are a disproportionate response to the detention of two Israeli combatants. Israeli bombing has killed over 230 Lebanese people, including entire families, and many children, and destroyed Lebanese ports, roads, bridges, power plants, apartment buildings, and Beirut's International Airport. In Gaza, Israel has killed more than 90 Palestinians in two weeks, bombed Ministry buildings, roads, and homes, and jailed Palestinian Cabinet Ministers. This has plunged Gaza's 1.4 million residents into a humanitarian crisis, with little access to electricity, water, medical supplies and food. Israel's actions have been widely criticized by human rights groups and the UN.
Issa Mikel, a spokesperson for the ad hoc coalition against Israeli aggression, said, "Israel must be held accountable for its grave violations of international law, reminiscent of those of the South African apartheid regime. For peace, based on justice, we call on international civil society organizations and people of conscience around the world to carry out broad boycotts, implement divestment initiatives against Israel, and demand their governments impose sanctions on Israel until it ends its apartheid system, respects the sovereignty of its Arab neighbors and the right of refugees to return to their homes and lands, and fully complies with international law."

The protest organizers vowed to maintain the pressure with continued New York demonstrations. Endorsers of today's demonstration included: The National Council of Arab-Americans - New York, International Solidarity Movement - NYC, the New York Campaign for Boycott, Divestment, and Sanctions, ANSWER Coalition, Campus Anti-War Network, American-Arab Anti-Discrimination Committee - ADC NY, International Socialist Organization, United for Peace and Justice - NYC, International Action Center, US Campaign to End the Israeli Occupation, The Party for Socialism and Liberation, Women in Black Union Square, Jews Against the Occupation - NYC, West Queens Greens, and Sunnyside Woodside Peace.

For information contact: protectpalestine@gmail.com

Related Links