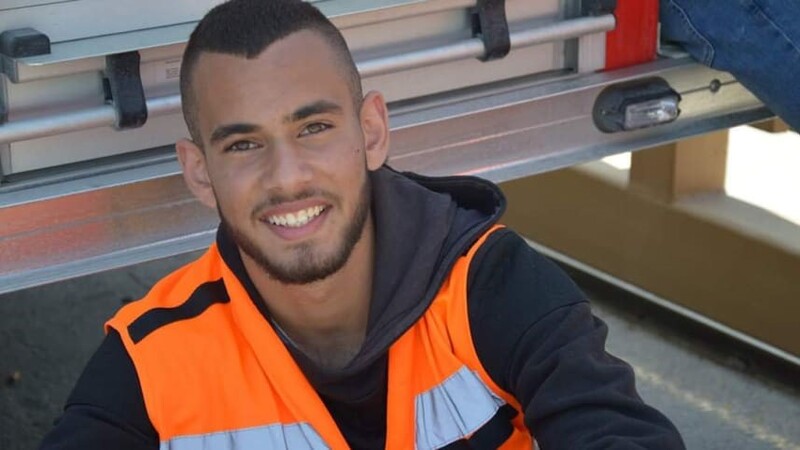 Last month Israeli occupation forces killed a 17-year-old volunteer medic while he was on duty in Dheisheh refugee camp, near the West Bank city of Bethlehem.
Soon after, Israeli army spokesperson Avichay Adraee published a video on Facebook purporting to show the Palestinian youth, Sajid Mizher, on a rooftop, taking off his medic vest and throwing stones at soldiers. The video shows how medics can turn into "rioters in seconds," Adraee claims in his post.
The Israeli outlet 0404 News picked up the video, describing Mizher as a "heinous terrorist" who was only killed after "endangering our forces."
The video is an apparent attempt to suggest that Mizher forfeited special protection afforded to medics under international law by taking off his vest and throwing a stone at a soldier.
But like most of Israel's attempts to justify its use of lethal force against Palestinians, it doesn't hold water.
It is based on a lie, intended to cover up the intentional killing of a medic.
An investigation by the human rights group Al-Haq found that Mizher had not been on the rooftop before he was killed.
Additionally, the figure seen in the video is wearing a white shirt under his high-visibility vest. Mizher was wearing a black shirt under his vest, as is shown in a group photo of the volunteer medics taken hours before a bullet to the stomach took his life, published as an appendix in Al-Haq's report.
The video, which includes no time stamps, shows a rooftop in al-Walajiya neighborhood, according to Al-Haq. Mizher was shot on Dheisheh's main street, 300 meters away from the rooftop shown in the video.
Rather than throwing a stone – which would hardly justify the use of lethal force by heavily armed and armored soldiers, even if it were true – Mizher was "fatally shot while attempting to tend to an injured youth, as part of his duties as a first responder," according to Al-Haq's investigation.
The bullet that killed Mizher hit him in the lower abdomen, just below the reflective vest identifying him as a medic.
"In this context, the targeting of Sajid Mizher amounts to an extrajudicial killing and an arbitrary deprivation of life," Al-Haq states.
Medics killed then smeared
Mizher is the fourth Palestinian medic to be killed by Israeli soldiers while on duty over the past year.

Israeli officials made a similar attempt to smear medic Razan al-Najjar after she was killed during Great March of Return protests along Gaza's eastern boundary last June.

The Israeli military published a video on social media showing a woman medic throwing a tear gas canister fired by Israeli soldiers.

The suggestion is that the medic, who is not clearly identifiable, was participating in a "riot" – the term used by the military to describe the context in which Mizher was killed – though she was more likely throwing the canister toward an open area to avoid tear gas injury to those standing nearby.

Avichay Adraee tweeted that the video proved that al-Najjar was "no angel," while Ofir Gendelman, a spokesperson for Prime Minister Benjamin Netanyahu's office, stated on Twitter that "Hamas used her as a human shield for its terrorists who stormed our border."

Like in Mizher's case, Israeli military and government spokespersons made claims on social media to strip al-Najjar's protected status as a medic and deflect responsibility for her death.

A United Nations commission of inquiry has found that Israeli sharpshooters intentionally shot medics knowing they were medics during Great March of Return protests.

In a recent submission to the UN, Defense for Children International Palestine states that public statements by Israeli officials, particularly on social media, illustrate the intent to persecute a group of people.

The rights group adds: The Israeli Defense Forces Twitter account as well as the public statements made by high ranking government officials consistently describe the civilian population of Gaza as terrorists deserving of their punishment.

Such speech "aims to create the narrative that the protesters are all terrorists and thus it is justified to kill them."

Ofir Gendelman, Netanyahu's spokesperson, recently tweeted an image of female protesters in Gaza holding Palestinian flags, calling them "ISIS women."

A few days ago, the Israeli military posted on Twitter a crude image of a pregnant belly with the word "terror" inside, along with the message "Iran breeding in the Middle East." This state propaganda is reminiscent of T-shirts worn by Israeli soldiers a decade ago inciting the killing of women and children.

One design depicted a pregnant woman with crosshairs targeted at her belly, with the slogan "1 Shot 2 Kills."
Genocidal calls
Five years ago, Israeli lawmaker Ayelet Shaked, currently the outgoing justice minister, published a Facebook post calling for the killing of Palestinian women and the destruction of Palestinian homes in which "little snakes" are raised.
Shaked's post, now deleted, stated: "They are all enemy combatants, and their blood shall be on all their heads. Now this also includes the mothers of the martyrs, who send them to hell with flowers and kisses. They should follow their sons, nothing would be more just. They should go, as should the physical homes in which they raised the snakes. Otherwise, more little snakes will be raised there."
A day after Shaked published her genocidal call on her Facebook page, the Palestinian boy Muhammad Abu Khudair was kidnapped and burned alive by Israeli assailants.
And that same week, Israel launched a 51-day military offensive on Gaza in which more than 550 Palestinian children were killed.
More than 18,000 homes in Gaza were destroyed or badly damaged during the assault, leaving more than 100,000 Palestinians displaced.
Israel tried to distort international law to justify this use of force, which killed entire families in their homes.
As stated by the human rights group B'Tselem:
"Israel insisted that the policy was lawful. This claim … is entirely unfounded, as it is based on an unreasonable interpretation of what can be considered a 'legitimate target,' a complete subversion of the principle of proportionality, and instrumental application of the requirement for precautions."
The Israeli military tried to spin the images of dead children being pulled from the rubble of their homes by publishing crude propaganda on its Twitter feed.
Tags