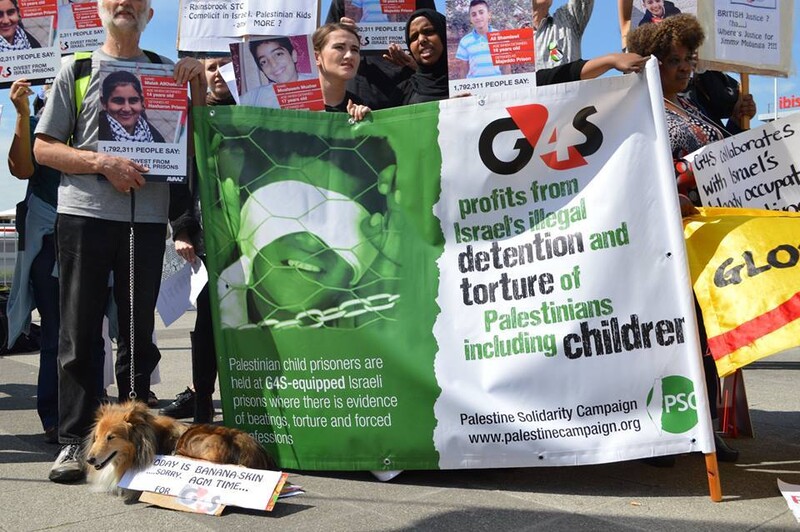 The annual general meeting of the security company G4S descended into chaos on Thursday as board members faced a grilling over the firm's involvement in Israel's occupation.
For the third year in a row, the firm's AGM was taken over by human rights campaigners directing tough questions at chief executive Ashley Almanza and chairperson John Connolly.
Campaigners from groups including the Palestine Solidarity Campaign, London Palestine Action, Stop G4S and War on Want, who had bought a share each in the company in order to attend, far outnumbered those whose shares were bought for profit.
And their angry voices were far louder than those of "genuine" shareholders who only managed to ask two questions during the two-hour meeting in London.
The rest of the AGM was dominated by questions on G4S' Israeli contracts and frequent disruptions from beginning to end by activists who stood up to read out the details of Palestinian prisoners, including children, being held and tortured in G4S-serviced jails.
Some activists wore masks showing the face of the prisoner whose story they were telling, others blew whistles. Two activists threw hundreds of tiny pieces of paper, each one bearing the face of a prisoner on it, which lay scattered across the meeting room floor in silent protest as the AGM went on.
As activists stood up and started reading statements, they were approached by up to four of the G4S security guards who stood lining two walls of the room. Most were carried out by their arms and legs, still shouting, "Stop hurting me," "This is what you do to Palestinian prisoners in Israel" and "G4S has blood on its hands."
Aware of the journalists present in the room, Connolly, at one point, said: "None of our security staff enjoy this aspect of their jobs."
In an unusual move for the AGM of a publicly listed company, G4S had banned everyone attending, including board directors, from taking in mobile phones. Any other recording equipment was also removed from attendees as they went through airport-style security — complete with x-ray machines and hand-held scanners — during registration.
But the draconian measures didn't stop London Palestine Action from smuggling in a recorder and videoing the removal of two protesters shouting "Who supports the siege of Gaza? G4S does!"
For the third consecutive year, G4S board members had lost control of their own meeting. But while they had sat stony-faced and shocked in 2013, this year, their faces and body language betrayed something more akin to resignation coupled with a desire to get the whole thing over with.
But campaigners were here to get answers, and there was to be no easy way out for the board.
Questioner after questioner demanded to know exactly when G4S would be terminating its contracts with the Israel Prison Service, Israeli police stations and the Israeli military — something Almanza had mentioned at last year's AGM, but without giving dates.
This year, Almanza said this would happen "at the end of 2017" but added it was "impossible" to give a precise month.
Connolly added: "We have been very clear that those contracts are not being renewed."
He was asked by Salim Alam, an member of the Palestine Solidarity Campaign's executive, to provide these answers in writing, to which he agreed.
In response to further questioning, Almanza stressed that "we are not looking currently" at entering into further contracts in Israel or the occupied West Bank.
Delusional
As the interrogation continued, both Connolly and Almanza refused to answer further questions about G4S' Israeli contracts, but Connolly's plea to "take questions on something else" fell on unsympathetic ears and the questioning went on.
Through its provision of security services to Israel's jails, where Palestinians are held, often without charge or trial, and routinely tortured or abused, and through its provision of equipment and maintenance services to Israeli military checkpoints in the West Bank, which control and restrict Palestinian freedom of movement, G4S is complicit in the war crimes and human rights abuses carried out by the Israeli state against Palestinians.
Yet, throughout the AGM, Almanza and Connolly insisted that internal and external reviews of their company had shown its activities comply with international law and "applicable" UN guidelines on human rights.
These were delusional statements to make, but perhaps to be expected from a company which, for the 2014 AGM, commissioned what it claimed was an "independent report" into its activities from two academics who are heavily and visibly involved in pro-Israel advocacy.
It was an amateurish attempt to whitewash a complicity with war crimes that is so great it cannot be concealed.
Interspersed among this year's questions around Israel, there were also questions from other campaigners on the company's track record in providing services to prisons in the UK and Australia and housing for refugees.
It all combined to produce an AGM that was a massive failure for G4S — something reflected in the day's media coverage of the event — and a success for campaigners determined to see justice for Palestinians and the other vulnerable people of the world.
Tags