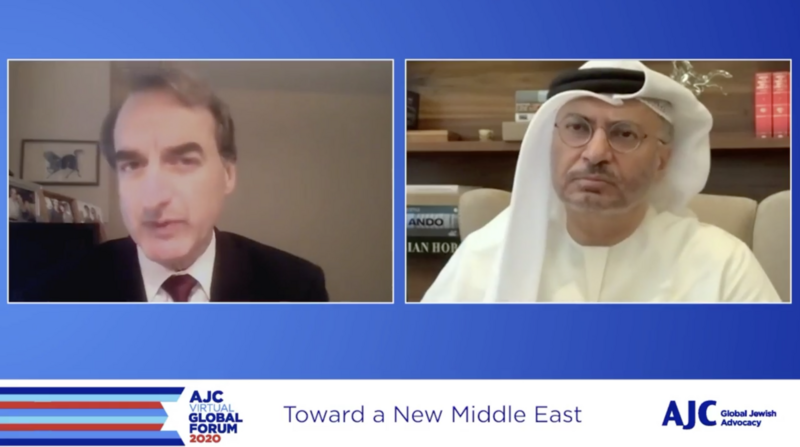 The United Arab Emirates and Israel have announced they will be cooperating on research to counter the coronavirus pandemic.

The move can be seen as further encouragement to Israel to charge ahead with the annexation of occupied Palestinian land with the assurance that it will face no real repercussions from friendly regional governments.

Two Emirati companies reached an agreement with two Israeli counterparts to conduct research. None has been named.

"The health ministers of the United Arab Emirates and the State of Israel will announce cooperation in the fight against coronavirus," Israeli Prime Minister Benjamin Netanyahu announced during an Israel air force graduation ceremony on Thursday.

"This cooperation will be in research and technology development, in areas that will improve the health security of the entire region."

Hend Al Otaiba, spokesperson for the UAE foreign ministry, also announced the deal on Twitter, suggesting a coordinated public relations effort by the two friendly governments.

The UAE and Israel have no formal diplomatic relations, but covert ties go back decades.

In recent weeks, two Etihad Airways flights traveled directly from the UAE to Israel supposedly carrying coronavirus aid for Palestinians.

These are the only known flights by a commercial airline to travel directly between the two countries.

Gulf states and Israel have exploited the coronavirus pandemic to nurture their increasingly close relationship.

The announcement comes days before Israel is expected to move forward with steps to annex large areas of the occupied West Bank.

It also comes a couple of weeks after Emirati ambassador to Washington Yousef Al Otaiba warned that annexation would set back normalization of ties with Israel.

But that "warning" came laced with enticements and offers to Israel of further normalization.

Anwar Gargash, the Emirati minister of state for foreign affairs, spoke at the annual global forum of the major Israel lobby group the American Jewish Committee earlier this month, where he called for increased cooperation with Israel.

"Can I have a political disagreement with Israel but at the same time try and bridge other areas of the relationship? I think I can. I think that is fundamentally where we are," Gargash said, in conversation with Jason Isaacson, chief political affairs officer at AJC.

That statement can be seen as walking back whatever threat of cooler ties Otaiba had made.

On 25 June, Isaacson penned an article in The Times of Israel pledging that the American Jewish Committee would "defend" and "explain" annexation if Israel goes ahead with it.

Mecca-based cleric Mohammad bin Abdulkarim al-Issa also addressed the forum on 15 June.

He heads the Saudi Arabia-based Muslim World League, which previously signed an agreement to carry out joint activities with the Israel lobby group.

"I would also like to commend you for your tireless work and dedication in an effort to rebuild positive Muslim-Jewish relations," he said at the virtual forum.

"It is a testament to the strong ideals of the American Jewish Committee that you speak out as strongly against those who wish to sow division and proliferate Islamophobia as you do against those who promote anti-Semitism."

In reality, the lobby group promotes a misleading definition of anti-Semitism that conflates criticism of Israel's racist policies against Palestinians, on the one hand, with anti-Jewish bigotry, on the other.

Religious and cultural tolerance is often used by Arab states and Israel to mask their efforts to normalize ties.

Al-Issa also co-headed with the CEO of the American Jewish Committee a Muslim-Jewish delegation to Auschwitz, the German government death camp in Poland, earlier this year.

Mossad chief Yossi Cohen reportedly helped broker the deal between the UAE and Israel.
Jordanian anxiety
Meanwhile, Cohen visited Jordan last week to meet King Abdullah, Israeli journalist Barak Ravid revealed on Thursday.
Cohen was carrying a message from Netanyahu regarding the annexation plan, to which Jordan has voiced firm opposition.
King Abdullah reportedly refused to take a phone call from Netanyahu earlier this month.
The Jordanian monarch also spoke to several US lawmakers across the political spectrum in an attempt to rally opposition against Israeli annexation.
Jordan's foreign minister made an impromptu visit to Ramallah, the seat of the Palestinian Authority in the occupied West Bank, earlier this month.
Ayman Safadi met with PA leader Mahmoud Abbas and other Palestinian officials to coordinate positions against Israeli annexation.
Meanwhile, Jordan's role as custodian of Jerusalem's holy sites is potentially being undermined, as reports emerge that Saudi Arabia is seeking representation in the Islamic Waqf – the body responsible for Muslim holy sites in Jerusalem.
Qatari warning on Gaza
Qatar has warned Israel that it will cut financial aid to the Gaza Strip if Israel moves forward with annexation, Ravid also reported last week citing unnamed Western diplomats.
Qatar has provided a financial lifeline for people in the Gaza Strip, whose devastated economy is at a subsistence level due to 13 years of Israeli blockade, successive Israeli military attacks and now the coronavirus pandemic.
The gas-rich Gulf emirate has helped subsidize civil servant salaries, payments to poor families and fuel for Gaza's electricity generating plant.
While that has undoubtedly helped people in Gaza, such aid also takes the pressure off Israel, which as the occupying power is legally responsible for the health and well-being of the population there.
Qatari officials conveyed the message through several channels, including a virtual meeting with international donors to the Palestinians in which Israeli officials took part.
According to Ravid, the Qataris "don't want to be perceived as enabling Israeli annexation by sending money to keep the peace in Gaza."
Ali Abunimah contributed reporting.
This article has been updated since initial publication.
Tags