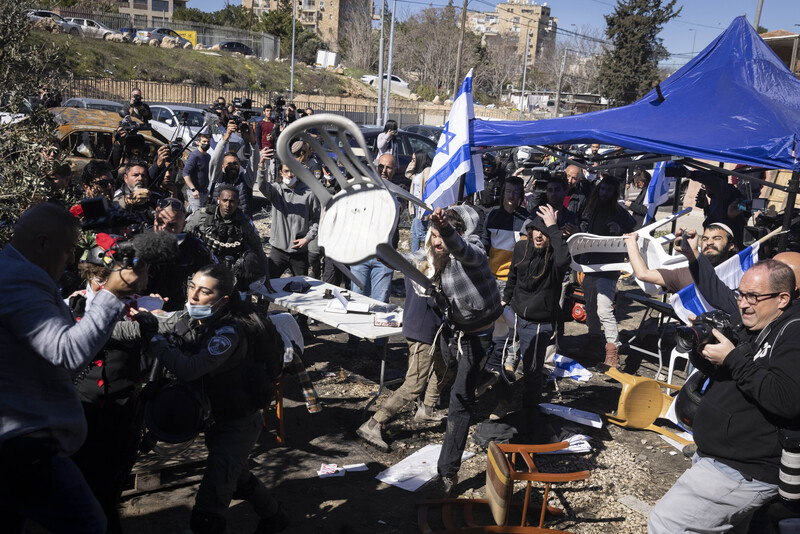 Israeli authorities are attempting to remove a Palestinian family from their home of more than 70 years and hand it over to Jewish settlers.

The Salem family has lived in their home in the neighborhood of Sheikh Jarrah since the early 1950s, when occupied East Jerusalem was under Jordanian control.

If the forcible eviction is carried out, 12 Palestinians will become homeless – half of them children.

Itamar Ben-Gvir, an extreme-right Israeli lawmaker, set up a makeshift office on the lawn outside the family's home earlier this week, provoking confrontations.

The last time Ben-Gvir set up shop in the neighborhood in May 2021, "Israel's most devastating military assault on Gaza in seven years" broke out, as it was called by the group Medical Aid for Palestinians.

Israel's efforts to force other families out of their homes in Sheikh Jarrah last spring escalated into that month's full-scale confrontation with Palestinians.

Extremist Jewish settlers have been stationed near the family home, dancing provocatively, attacking family members and assaulting Palestinian supporters.

"Rather than providing safety and security to the neighborhood's residents, the Israeli authorities instead resort to provocation like this and further fan the flames of unrest," Ir Amim, an Israeli group that monitors settlement activity in Jerusalem, said.

Israel fired rubber-coated steel bullets, tear gas canisters and stun grenades at Palestinians defending their land from Israeli colonization.

At least 35 Palestinians were injured, including three medics and a journalist, according to the Palestine Red Crescent Society.

A spokesperson of the Red Crescent said Israeli weapons were "raised against medics" and one of their ambulances was attacked.

Fatima Salem, the matriarch of the family who has lived in the home her entire life, said a settler threatened to burn down the house with her and her children inside if they don't leave.

Salem told the settler she was staying in the home. She was then attacked, injuring her hand, and pushed to the ground, she told the press.

Israel is giving the family until the end of the month to leave, Salem said.
Ongoing effort
The Salem family are Palestinian refugees who were already displaced during the 1948 Nakba – the ethnic cleansing of Palestinians carried out by Zionist forces to establish the state of Israel in their place.
The house is said to have belonged to a Jewish family before 1948.
Israel conquered eastern Jerusalem in 1967 when it occupied the West Bank, Gaza Strip, Syria's Golan Heights and Egypt's Sinai Desert.
An Israeli settlement group purchased part of the property from the claimed Jewish heirs, according to Tel Aviv daily Haaretz, which didn't name the group.
In 1988, an Israeli court ordered the Salem family to leave their home, an outcome they managed to freeze.
Such rulings are made possible by Israel's 1950 Absentee Property Law, which allows Israel to seize land and property owned by Palestinian refugees who fled or were expelled from their homes during and after the Nakba.
Under a 1970 amendment to its law, Israel allowed Jews to reclaim Jerusalem properties they left in 1948, but did not allow the same right to Palestinians – a blatantly racist measure.
In 2015, the eviction order was renewed, requiring the family to leave by the second half of 2021.
In December, the family received another eviction order from Arieh King, a right-wing settler leader and member of the Israeli-run Jerusalem city council, and Yonatan Yosef, former spokesperson for Jewish settlers in Sheikh Jarrah.
Yosef's lawyer delayed the forcible evacuation until sometime between 20 January and 8 February, Haaretz reported.
Scheduling the demolition on a specific date "could endanger the forces and foil the evacuation's success," chief inspector Eliran Hazan told Haaretz.
Pillar of apartheid
"The Salem family is one of 218 Palestinian families, comprising 970 individuals, including 424 children, living in East Jerusalem, mainly in the neighborhoods of Sheikh Jarrah and Silwan, that are currently facing the threat of forced eviction by the Israeli authorities," UN monitoring group OCHA said on Friday.

Since the beginning of the year, Israeli authorities demolished 19 Palestinian structures in occupied East Jerusalem, displacing dozens, according to OCHA's documentation.

Two of the demolished structures were in Jabal al-Mukabbir, resulting in the displacement of 10 people.

Residents of the neighborhood came out this week to protest ongoing demolitions in their neighborhood in front of the Israeli-controlled Jerusalem municipality building.

Israel is "promoting the construction of thousands of housing units for the Jewish population and almost no housing units for the Palestinian population," Ir Amim said.

"Forcible transfer is a war crime and a pillar of Israel's system of apartheid," Amnesty International said after earlier this month recognizing that Israel practices the crime of apartheid against Palestinians.

"We call on Israeli authorities to immediately halt forced evictions in the neighborhood of Sheikh Jarrah and end the ongoing forced displacement of Palestinians from East Jerusalem."
Tags