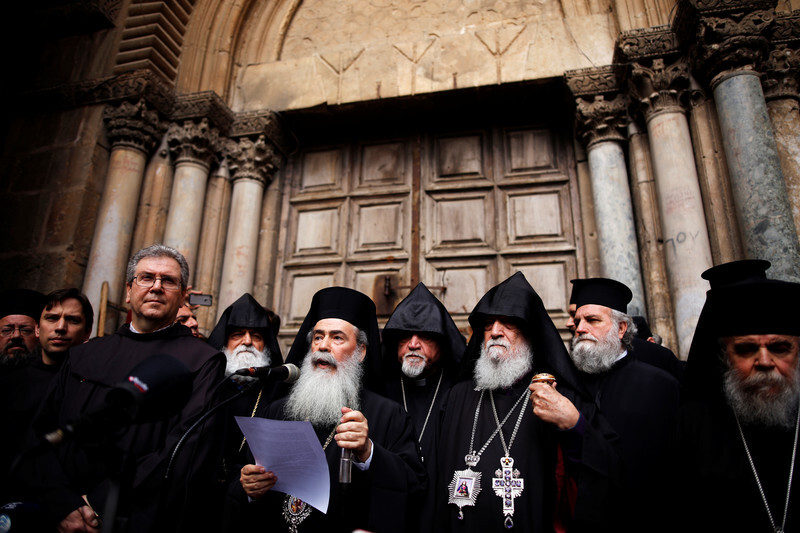 Israel's high court has given the green light for major properties in Jerusalem's Old City to be sold to an extremist settler organization.
The Greek Orthodox Church had appealed against the 99-year lease of three major Jerusalem assets in prime locations near Jaffa Gate, but the high court rejected the appeal on Monday.
Ateret Cohanim, a right-wing organization involved in Israeli settlement on Palestinian land in Jerusalem, claims to have bought church land in 2004 from Ireneus I, the Greek Orthodox patriarch at the time.
The Greek Orthodox Church has subsequently taken over the site but Ateret Cohanim is now trying to seize the land that it bought over a decade ago.
Ireneus I claims his ousting was not legal and still identifies as the patriarch.
Theophilos III, the current patriarch, has rejected the sale that his predecessor approved.
Theophilos III claims the sale involved corruption and was not given the church's green light, according to the Tel Aviv newspaper Haaretz.
He claims that Ateret Cohaim bribed the church's finance director, Nikolas Papadimos, to move forward with the deal.
With the high court's decision, Ateret Cohanim "can dramatically strengthen its hold on the Old City's Christian Quarter," according to Haaretz.
In 2017, the newspaper reported on a number of cases brought to light in recent months where the Greek Orthodox Church sold land and assets at unreasonably low prices on the pretext of having debts to pay.
Storming al-Aqsa
During the past few months, Israeli settlers have regularly raided the al-Aqsa mosque compound in Jerusalem's Old City.

Uri Ariel, Israel's agriculture minister, made an incursion into the al-Aqsa compound, accompanied by Israeli settlers, on Tuesday.

Ariel is a prominent advocate for the destruction of al-Aqsa.

Settlers regularly storm the al-Aqsa compound escorted by heavily armed occupation soldiers to intimidate Palestinians and assert Israeli control over the site.

Israeli occupation forces demolished several Palestinian structures in the occupied East Jerusalem neighborhood of Jabal al-Mukabbir on Tuesday:

On Thursday, Israel arrested a member of the Islamic Waqf – the body responsible for Muslim holy sites in Jerusalem – from the Old City, and two other al-Aqsa mosque workers.

Israeli occupation forces are restricting maintainance work inside the al-Aqsa mosque and preventing the entry of necessary tools for restoration work, according to Safa, a Palestinian news agency.

Dozens of Israeli intelligence and police personnel also stormed the compound on Thursday, Safa has reported.