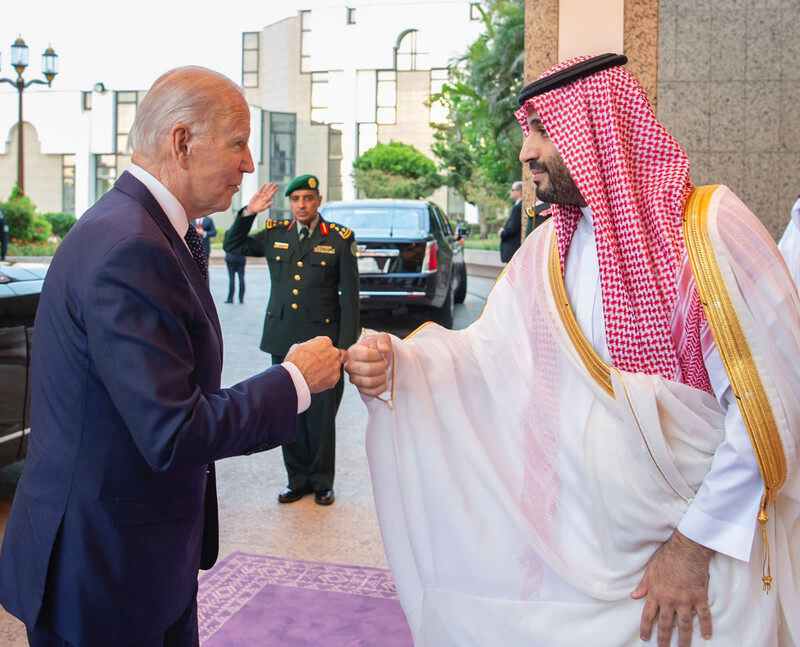 Joe Biden's Middle East tour earlier this month advanced the normalization of ties between Saudi Arabia and Israel, despite denials from the Saudi camp.
Before embarking for Tel Aviv, his first stop, the US president asserted in a Washington Post op-ed that "the Middle East I'll be visiting is more stable and secure than the one my administration inherited 18 months ago."
But despite Biden's attempts to distance himself from his predecessor Donald Trump, the dynamics he is promoting are a continuation of the previous administration's trajectory.
The Abraham Accords were brokered by the Trump administration to formalize diplomatic relations between Israel and Arab states: the United Arab Emirates, Bahrain and Morocco so far – and eventually, it is hoped, with the biggest prize of all, Saudi Arabia.
The aim is to consolidate military, economic and political cooperation between Israel and other local American client regimes and to sideline the Palestinian national liberation struggle.
By forging this alliance, the US seeks to shore up its regional hegemony, contain the power and potential of Iran and counter the rising global influence of Russia and China.
Reshaping the region
While Egypt and Jordan – two long-time clients of Washington – signed peace treaties with Israel in 1979 and 1994 respectively, Amman has been eager to find its place within the newly emerging American-sponsored coalition.

King Abdullah of Jordan enthusiastically told broadcaster CNBC last month that he "would be one of the first people that would endorse a Middle East NATO," omitting to mention that Israel would be a key partner in such an alliance.

As long as Jordan was one of only two countries that had normalized ties with Israel, it enjoyed a special place in the hearts of Washington and Tel Aviv.

But with much richer countries – like the UAE – getting in on the game, Jordan's status is potentially diminished. The Emirates, for instance, can offer Israel potentially billions of dollars in investment and trade that Jordan cannot. This perhaps explains the Jordanian king's eagerness to cement his country's role within a treaty-based military alliance.

On Wednesday, King Abdullah welcomed Prime Minister Yair Lapid in Amman, the third public meeting the monarch has had with Israeli senior leaders this year.

Veteran journalist Lamis Andoni described Biden's visit to the region as "an invasion without a military war," one that aims to "demarcate Iran as a strategic enemy instead of Israel."

Andoni also said that Biden wanted to "ensure Israeli superiority and to tie Arab states to the conditions of Israeli national security."

While Saudi Arabia insists that the open embrace of Israel by some Arab states was a result of their own "sovereign decisions," as Saudi's minister of state for foreign affairs, Adel al-Jubeir, put it in a CNN interview after Biden's visit, there is little doubt that the deals would not have proceeded without the kingdom's greenlight.

Although Saudi Arabia and Israel have a history of covert relations, one of Biden's goals was to nudge Riyadh into formally joining the Abraham Accords.

Biden fell short of that but the US and Israel could still point to moves in that direction.
Small steps
Biden boasted before the trip that he would be "the first president to fly from Israel to Jeddah, Saudi Arabia."

He called that a "small symbol of the budding relations and steps toward normalization between Israel and the Arab world, which my administration is working to deepen and expand."

Riyadh also announced the opening of its airspace to flights from Israel, a move that was welcomed by Lapid as "the first official step in normalization with Saudi Arabia."

Biden described this as "a big deal, not only symbolically but substantively."

Echoing Lapid, the president called the opening of Saudi skies to Israeli air traffic "the first tangible step on the path of what I hope will eventually be a broader normalization of relations."

Nevertheless, the Saudi minister of foreign affairs tempered those remarks.

"This has nothing to do with diplomatic ties with Israel," Faisal bin Farhan Al Saud said during ​​a press conference in Jeddah following Biden's visit.

"It's not in any way a precursor to any further steps."

That is difficult to believe. Saudi Arabia and Israel are dancing together, but the Saudis, ever the enthusiasts for public modesty, want the relationship to appear slower than it actually is.

Meanwhile, an Israeli journalist caused outrage in Saudi Arabia by entering Mecca – a city that is normally off-limits to non-Muslims.

Gil Tamari, world news editor of Israel's Channel 13, said he snuck into the city to do some documentary filming.

"I was here in Mecca, a dream came true," he said in a video in which his driver's face is blurred out. The driver was later apprehended by Saudi police.

Tamari was one of a number of Israeli journalists covering Biden's trip in Saudi Arabia.

Even Zionist Saudi blogger Mohammed Saud expressed outrage over the trip.

Israel's Channel 13 tweeted its "apologies and regret" adding that it is promoting "tolerance between religions."

The promotion of "religious tolerance" has often been used as a cover for pushing normalization and particularly the Abraham Accords, relying on the misrepresentation that the violence arising from Israel's belligerent occupation and colonization of Palestinian land is really rooted in religious strife.
Popular opposition to normalization
Despite the happy talk about a new era, the hard reality is that Arab leaders are embracing Israel in the face of stiff opposition from their people.

The early, modest blip of support for the Abraham Accords in some countries is now waning, according to a recent survey conducted by the Washington Institute for Near East Studies, a pro-Israel think tank.

It found that approval for normalization had fallen to a range of 19-25 percent in Saudi Arabia, Bahrain and the UAE, while opposition to cultural and economic ties with Israel remains high.

This will dampen hopes among Israel and its Arab and American allies that the Abraham Accords will lead to a "warm peace" between peoples, in contrast to the "cold peace" that has prevailed for decades between Israel, Egypt and Jordan.

Last week, Mai Al-Khalifa was sacked as Bahrain's culture minister for refusing to shake hands with the Israeli ambassador at the US ambassador's residence last month.

She reportedly left the meeting, a memorial service for the American ambassador's father, and requested that no pictures of her there be published.

Al-Khalifa received an outpouring of support in Bahrain and around the Arab world for her action.

The Palestinian BDS National Committee (BNC), the coalition of Palestinian organizations that leads the boycott, divestment and sanctions movement worldwide, applauded "her honorable stance rejecting normalization with the Israeli enemy."

Video shows employees of the ministry lining up to applaud and embrace Al-Khalifa as she bade them farewell. "Arab-Israeli normalization is the most important basis for the success of the Zionist project, changing the map of the region, and transforming us into pawns in a global war, preventing Russia and China from rising, and consolidating America's shaky dominance," Andoni, the journalist, asserts.

"The United States seeks the surrender of peoples, not just regimes, making anti-normalization a weapon in the hands of the people," she concludes.

Citizens of repressive Arab regimes may have limited influence on their rulers' decisions, but unlike their rulers, they refuse to betray the Palestinian people's struggle for liberation.
Tags