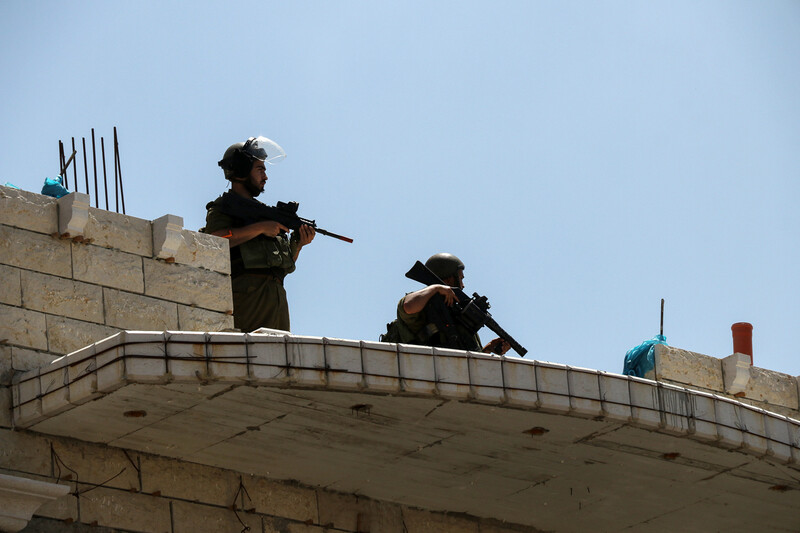 A Palestinian man died on Wednesday, two weeks after Israeli occupation forces shot him in the head.

Fadi Sadeq Musa Washha, 34, was shot during confrontations with Israeli forces in al-Bireh on the outskirts of the West Bank city of Ramallah.

Such confrontations have swept cities and villages all over historic Palestine as Israel intensified its killing campaign in the Gaza Strip and its assaults on Palestinian neighborhoods and holy sites in Jerusalem.

Birzeit University mourned its former student by shortening class hours on Thursday so that students and faculty could attend Washha's funeral.

Scores of people holding the flags of several Palestinian political parties held a public funeral for Washha on school grounds.

Washha was known for his commitment to resisting Israeli occupation. He had previously been injured confronting Israeli soldiers. He spent a total of nine years in Israeli prisons.

In 2014 Israel imprisoned him for five years. Along with his relative Mutaz Washha, he was accused of opening fire on Israeli occupation forces. Mutaz was killed by Israeli forces in February 2014, after he refused to surrender himself to them.
Collaboration
Meanwhile, the Palestinian Authority is escalating its arrest campaign against activists and protesters as part of its broader effort to crush resistance in the occupied West Bank.

The Ramallah-based Lawyers for Justice Group documented more than 20 arrests of activists and former Palestinian prisoners over social media posts or protest participation.

The group documented several cases of torture and humiliation, including hanging from the ceiling and beatings.

The group added that detainees were subjected to attempts at blackmail and extortion, and the PA launched public smear campaigns against them to justify the arrests.

The legal advocacy group said the arrests by the PA were arbitrary and without legal warrants.

A number of detainees were being held at a PA detention facility in Jericho in the occupied West Bank.

They include Mustafa Khawaja, Akram Salama, Anas Qazaz and Mahdi Abu Awad. The group said Abu Awad was tortured during interrogation.

Since its creation in the mid-1990s, the Palestinian Authority has collaborated closely with Israeli occupation forces, under the banner of "security coordination."

This plays a primary role in suppressing Palestinian protest and resistance to Israel's military occupation, and is the main reason why the United States and European countries have been willing to fund the PA.
Foot soldiers of occupation
During the May uprising, PA forces acted as the Israeli occupation's foot soldiers.

PA forces obstructed marches and rallies by Palestinians in the West Bank, acting as a buffer to stop confrontations between Palestinians and Israeli occupation forces and settlers.

The uprising was triggered after Israeli forces attacked worshipers, reporters, medics and others in al-Aqsa mosque compound on 10 May and in the days leading up to it.

The armed wing of Palestinian resistance and political organization Hamas set a deadline for Israel to the leave the al-Aqsa mosque compound, the Sheikh Jarrah neighborhood and release detainees.

Hamas launched rockets from Gaza towards Jerusalem after Israel failed to meet its demands and halt the attacks on Palestinians in Jerusalem.

Israel then launched an 11-day bombing campaign in Gaza targeting civilian homes, offices and other infrastructure, to which Palestinian resistance factions responded with rockets towards Israeli cities and strategic targets as far north as Tel Aviv.

An unprecedented aspect of the recent military escalation was that the resistance factions in Gaza were fighting in defense of occupied Jerusalem, rather than of Gaza alone.

This was a major embarrassment for the Palestinian Authority as well as neighboring Jordan, which bills itself as the custodian of Jerusalem's holy sites.

Tens of thousands of Palestinians gathered on 21 May at the al-Aqsa Mosque compound to celebrate victory the day after Israel agreed to a ceasefire with resistance factions in Gaza.

Crowds chanted against PA leader Mahmoud Abbas, calling him a spy.

It underscored that whatever little legitimacy the PA has retained is draining away.

In April, Abbas canceled planned elections in the West Bank and Gaza, on the grounds that Israel would have blocked Palestinians in Jerusalem from taking part.

This was widely seen as an excuse to avoid a vote Abbas' deeply divided Fatah faction was likely to lose.
Tags