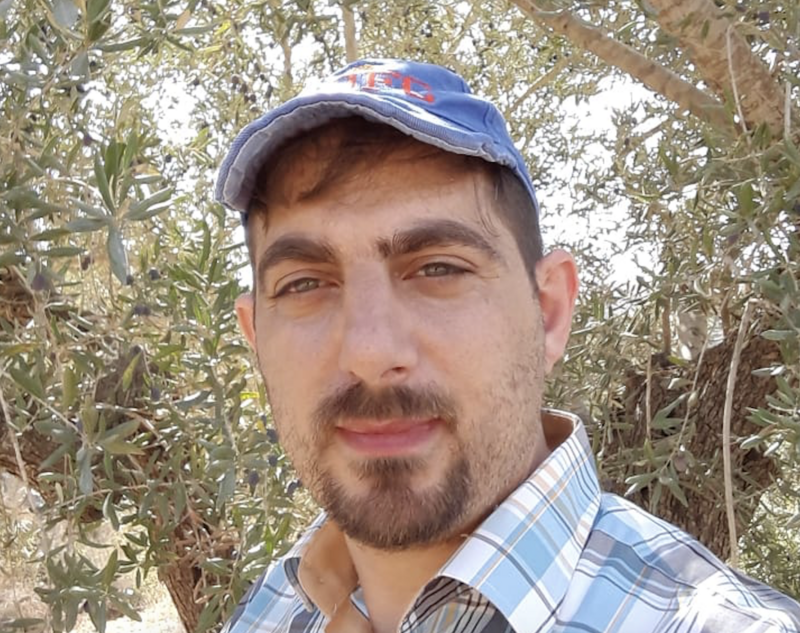 Israel is holding a Palestinian researcher and education activist without charge or trial.
Ubai Aboudi, an American citizen, was due to travel to the United States in January for a conference on science and Palestinian rights.
Prominent scholars, including Nobel Prize winner George P. Smith and Noam Chomsky signed a petition demanding Aboudi's release.
The petition calls on the European Union in particular to demand that Israel free Aboudi. The EU grants Israel huge amounts of money under the guise of research and science partnerships despite Israel's constant violations of the human rights condition in its agreement with the EU.
Israeli soldiers raided Aboudi's home in Kufr Aqab, a neighborhood of East Jerusalem in the occupied West Bank, in the early hours of 13 November and detained him in front of his wife and children.
During the raid, Israeli forces confiscated Aboudi's mobile phone and US passport.
He is being held in Ofer prison, near the occupied West Bank city of Ramallah.
On 18 November, an Israeli military court issued a four-month administrative detention order against Aboudi.
Israel typically issues such orders for six-month periods, but may renew them indefinitely.
Israel uses them to hold individuals without charge or trial and detainees are not allowed to see any evidence against them.
On 1 December, Israel reduced Aboudi's administrative detention to two months, but it remains unclear whether it will be renewed.
Aboudi, 35, heads the Bisan Center for Research and Development in Ramallah.
His colleagues at Bisan are urging "all defenders of academic freedom and human rights to stand in solidarity with our detained director."
Aboudi is scheduled to take part in the International Meeting for Science in Palestine at the Massachusetts Institute of Technology in January.
"His family and children are suffering in his absence and are anxious for his release as they prepare for the Christmas season," the group Scientists for Palestine, with which Aboudi is involved, said.
Nobel laureate Smith is also due to speak at the MIT conference.
Amnesty International is calling for Aboudi's release or him to be charged with a recognizable crime and tried according to international standards.
Israeli forces previously arrested Aboudi in 2005 and 2010. He spent about four years in prison over charges including membership in the Popular Front for the Liberation of Palestine, a leftist party.
Israel considers virtually all Palestinian political parties to be "terrorist" organizations – a pretext to routinely arrest Palestinians for political activity.
Meanwhile, a Palestinian died in Israeli custody on 26 November after years of medical neglect.
Sami Abu Diyak, from the occupied West Bank town of Silat al-Dahr near Jenin, spent over 17 years in Israeli detention.
The 36-year-old was arrested in July 2002. Israeli occupation forces killed two of Abu Diyak's friends during his arrest.
Israel subjected Abu Diyak to prolonged physical and psychological torture at the al-Jalameh detention center in northern Israel after his arrest.
Eventually a military court sentenced him to three life terms and an additional 30 years.
Occupation authorities accused Abu Diyak of killing three Israelis.
Medical neglect
His death comes after years of Israeli medical neglect and malpractice.
In 2015, Abu Diyak complained of abdominal pain while at Rimon prison in southern Israel.
The prison clinic gave Abu Diyak painkillers "without properly diagnosing him," the Palestinian Human Rights Organizations Council stated.
Two weeks later, Abu Diyak lost consciousness and was transferred to Soroka Medical Center. His appendix was removed but the human rights groups say he was misdiagnosed.
After constant transfers between prison and hospitals, Israeli doctors eventually diagnosed Abu Diyak with cancer and removed part of his intestine.
"His critical medical condition was exacerbated by the wrong diagnosis and appendectomy he was given at Soroka hospital, and he went into a coma for 34 days," according to the human rights groups.
In 2017, Abu Diyak was diagnosed with stomach cancer and subjected to more back and forth transfers between civilian hospitals and the Ramle prison clinic, which lacks adequate facilities.
The Palestinian Prisoners Club relayed a statement on behalf of Palestinians held in Hadarim and HaSharon prisons, calling the years of medical neglect of Abu Diyak "a slow murder carried out by the occupation."
Withheld bodies
Abu Diyak is the fifth Palestinian to die in Israeli custody this year.
More than 200 Palestinians have died in Israeli prisons since 1967, human rights groups say. Nearly 70 of them died due to medical neglect.
Israel is holding the bodies of all five Palestinian prisoners, including Abu Diyak's, denying their families the right to bury and mourn their loved ones.
Jordan is calling on Israel to release Abu Diyak's body.
Israel's high court has approved withholding Palestinian bodies as bargaining chips.
Palestinian prisoners refused food for three days to protest Abu Diyak's death.
They also mourned by dressing in black and calling out Abu Diyak's name instead of their own during the daily inspection.
Correction: An earlier version of this article referred imprecisely to Ubai Aboudi as a scientist. He is, in fact, a researcher and an activist whose work focuses on supporting Palestinian rights to education.
Tags