Israel's high court temporarily halted the demolition of the Bedouin community of Khan al-Ahmar on 5 July, in the face of fierce protests from residents and solidarity activists, and mounting international criticism.

Earlier this week, Israel began what may be the final and complete destruction of the occupied West Bank village – an act that would be a war crime.

Israeli military forces arrived in the village on Sunday to begin preparations for demolition.

Some of Khan al-Ahmar's nearly 200 residents tried to resist Israeli encroachment on their land, but Israeli forces beat and arrested them.

Dozens of villagers were injured, and four were hospitalized, Palestinian medical sources told media on Wednesday.

This video shows Israeli forces reacting with extreme violence against Palestinian women and men attempting to defend their homes from the bulldozers, as terrified children look on. One man can be seen with blood on his head:

The court has given the Israeli government until 11 July to respond to the community's contention that they have been denied building permits, but Palestinians are still wary of the temporary injunction given that the same court has previously blessed their forced removal.

"The mood is better, people are less stressed, but we are still worried," Mahmoud Abu Dahouk, 51, told Reuters. Dahouk was born in the village.
Nearby demolitions
While eyes were on Khan al-Ahmar, Israel demolished a dozen structures in the Palestinian community of Abu Nuwwar on Wednesday. As a result, 62 Palestinians, half of them children, were left homeless, according to the Israeli human rights group B'Tselem.

"The children of Abu Nuwwar should not be experiencing the trauma of displacement that preceding generations of Palestine refugees have already experienced," UNRWA, the UN agency for Palestine refugees, stated.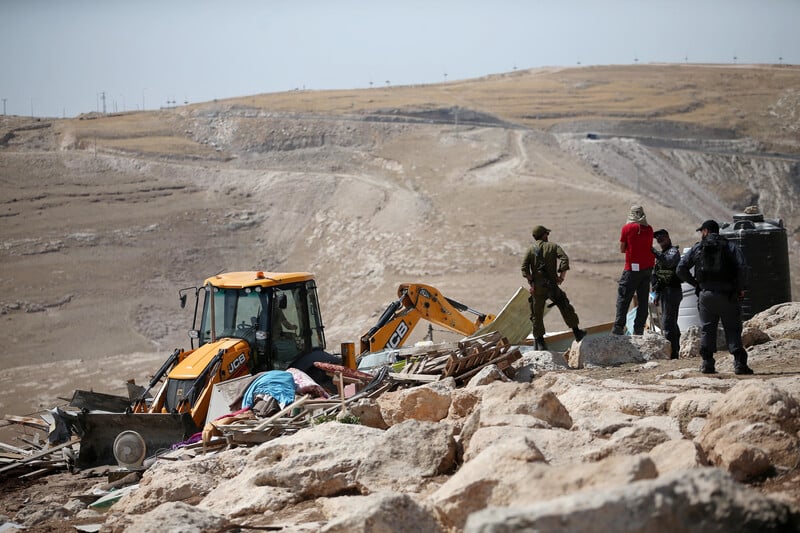 Earlier this year, Israeli occupation forces demolished two buildings in Abu Nuwwar. The destruction left more than 25 children in the third and fourth grades without a place to learn.
The school was built with funding from the European Union and the Palestinian Authority in September, but the EU has done anything to hold Israel accountable for the destruction of the classrooms.
This is in keeping with the EU's inaction over the tens of millions of dollars of projects it has funded that Israel has destroyed in recent years.
On Thursday, Israeli forces demolished the home of a Palestinian family in the community of Susiya in the South Hebron Hills.
Soldiers also beat members of the family of eight when they tried to resist the demolition, which came without warning.
European complicity
On Tuesday, the Israeli military declared Khan al-Ahmar a closed military zone, blocking roads inside and leading to the village.

Israeli forces stopped European diplomats from entering the village as well, preventing them from visiting the area's school.

The school was built in 2009 out of rubber tires and mud in an attempt to evade Israel's restriction on Palestinians using cement for construction, and it too will be destroyed along with the village.

That will leave 160 children from five villages with no school.

The European Union is rarely vocal about Israel's violations of Palestinian rights. It has for example failed to condemn Israel's recent massacres of unarmed civilians in Gaza.

But the EU has been critical of the planned destruction of Khan al-Ahmar, not so much out of concern for its residents, but because Israel plans to build settlements on the land.

The EU sees this as another blow to the already moribund two-state solution.

Mark Pocan, a member of the US House of Representatives, also called on Israel not to destroy Khan al-Ahmar. Pocan tweeted out a letter objecting to the plan that he and 10 colleagues sent to the US secretary of state last October. In December, 10 US senators sent a similar letter to Israeli Prime Minister Benjamin Netanyahu.

Khan al-Ahmar, Abu Nuwwar and Susiya are among a number communities Israel is threatening with demolition and forcible transfer in Area C.

Israel refuses to permit virtually any Palestinian construction in Area C, which constitutes 60 percent of the occupied West Bank under the terms of the Oslo accords signed in the early 1990s. This forces residents to build without permits and live in constant fear of demolition.

Many Israeli leaders now urge the outright annexation of Area C.

Khan al-Ahmar and Abu Nuwwar are in an area east of Jerusalem called E1, where Israel plans to expand its mega-settlements of Maaleh Adumim and Kfar Adumim and connect them to Jerusalem.

According to the UN, more than 8,000 Palestinians face forcible transfer by Israel in the central West Bank, 3,500 of them in the E1 area.

Expanding settlements into E1 would isolate the northern and southern parts of the West Bank from each other, ruling out the possibility of a contiguous Palestinian state.

Despite these concerns, the EU has taken no action to deter Israel from proceeding with the destruction of Khan al-Ahmar and other communities.
Corporate involvement
Human rights defenders are highlighting the complicity of corporations that sell the equipment Israel is using to forcibly transfer Palestinians.
"Companies with headquarters in the UK are directly supporting the destruction of Palestinian homes and schools in Khan al-Ahmar, Abu Nuwwar and countless other villages," Ryvka Barnard of the campaign group War on Want stated.
"Companies like CAT [Caterpillar] and JCB profit from illegal activity – and in this case, war crimes."
"Going ahead with the demolition of Khan al-Ahmar is not only profoundly cruel; it would also amount to forcible transfer, which is a war crime," Magdalena Mughrabi, Amnesty International's deputy director for the Middle East and North Africa, stated.
"Israel must be held to account for such grave breaches of the Fourth Geneva Convention, which is a standard it has set for itself and demanded of other nations."
On Thursday, UN officials also called for an end to Israel's West Bank demolitions and respect for international law.
Israel's violence this week "makes life in these communities virtually untenable," Scott Anderson, of the UN humanitarian monitoring group OCHA, stated.
"These pastoral communities are mostly Palestine refugees – originally displaced from their tribal lands in the Negev. They should not be forced to experience a second displacement against their will."
Tags