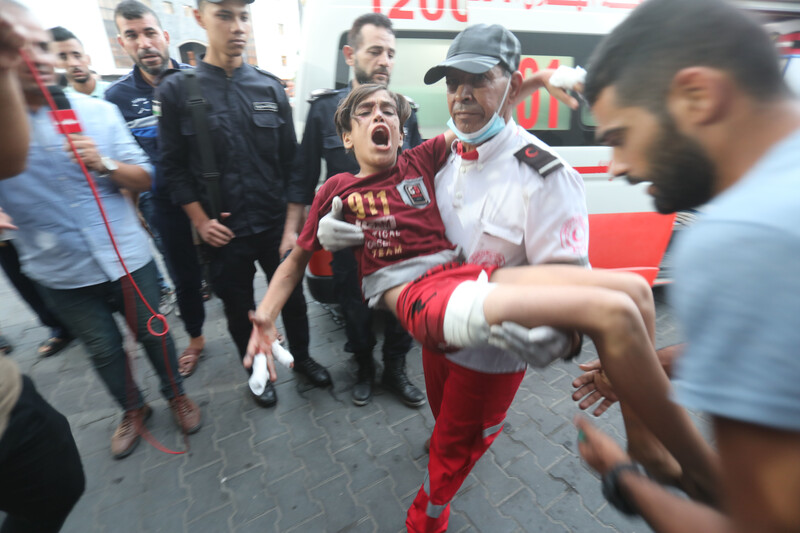 Israeli occupation forces injured more than 40 Palestinians, including at least 24 children, during protests in the Gaza Strip on Saturday.

One of the injured is photojournalist Asem Muhammad Shehade, who was wounded in the face by shrapnel from a live bullet.

Another is a 13-year-old boy reportedly in critical condition.

Israeli snipers deployed on the Israel-Gaza boundary fired machine guns, live ammunition, rubber-coated steel bullets and tear gas canisters at Palestinian civilians who were peacefully gathered near the eastern fence.

Palestinian workers unions and political groups called for the protests near the Gaza City neighborhood of al-Zaitoun to commemorate the 52nd anniversary of the burning of the al-Aqsa mosque by an Australian Christian tourist, and to protest Israel's ongoing siege of Gaza.
Wounded sniper
Local media circulated footage of an Israeli sniper shooting at Palestinians through a small opening in the Israel-controlled separation wall between the Gaza Strip and southern Israel.

Palestinians are seen trying to take down the soldier's gun poking through the opening using sticks and rocks.

An individual is then seen approaching the opening, pulling out a handgun and shooting at the sniper through the opening in the wall.

The Israeli army later announced that the sniper had been wounded with a bullet in the head, identifying him as Sergeant Barel Hadaria Shmueli of Israel's Border Police.

Shmueli was airlifted to the Soroka hospital in Beersheva and is in critical condition.

Israel then launched airstrikes against Gaza in revenge, claiming to have targeted four Hamas weapons storage and manufacturing facilities.

There is no indication that the person who shot the Israeli sniper was associated with Hamas, and his identity remains unreported in the media. The Israeli army reportedly had not been able to identify him.

The Israeli army also said it deployed more forces along the Israel-Gaza boundary fence.

Israeli Prime Minister Naftali Bennett swiftly vowed to "even the score" – revenge rhetoric reminiscent of his predecessors.

The Palestinian right to armed resistance against foreign occupation and colonization is enshrined in international law.
Qatari cash
This comes as Qatar nears an agreement with the United Nations to transfer cash to families in Gaza impoverished by Israel's siege and regular military attacks.
Israeli officials had previously suggested that Qatari aid wouldn't be allowed into Gaza as cash, but instead as food vouchers and humanitarian aid, purportedly to prevent Hamas from getting its hands on the money.
Tel Aviv daily Haaretz said the money would be sent to the UN, before being transferred through Palestinian banks in the occupied West Bank, and then handed over to banks in Gaza which would then distribute it to families.
Yet even this roundabout approach may not shield the effort to provide temporary relief.
Unnamed sources told Haaretz that bank executives fear "legal action would still be taken against them even if the money would go to families in need, because most of them are identified with Hamas."
This logic is absurd – given that Hamas is the political and resistance organization that governs the interior of the Gaza Strip. Any governmental or public institution within the coastal enclave is therefore connected to it. Moreover, Israel classifies virtually every Palestinian political and resistance organization as "terrorist."
Tightening siege
Three months after Israel's latest onslaught on Gaza, 250,000 people have been unable to repair homes that were damaged in the bombings, Al Mezan, a human rights group based in Gaza, stated.
This is due to Israel's continued "severe restrictions" on the entry of goods into Gaza through Kerem Shalom, the Israeli-controlled crossing for goods entering and leaving the Strip, according to Gisha, an Israeli human rights group that monitors Israel's siege on the coastal enclave.
Those restrictions are causing "disastrous results" for Palestinians in Gaza, Gisha said.
Israeli authorities "insist on tightening the siege more severely than it was before the aggression" in May, Al Mezan said.
The restrictions have caused a severe shortage in Gaza's local market – leading to "absurd rise in the prices of some commodities," Al Mezan said.
In order for major sectors to remain operational – such as health and education – infrastructure and equipment need to be repaired and replaced, Gisha said.
When Israel's 11-day attack on Gaza began on 10 May, Israel had closed all ports of entry and exit from Gaza, preventing goods and people from entering or leaving, including medical patients needing care outside Gaza.
Two Palestinian patients died because they could not leave Gaza for medical care due to Israel's closures, Al Mezan said.
With few exceptions, Israel has restricted most types of raw materials and equipment necessary for factories and workshops, including certain chemicals, wood, furniture and cars.
On 13 August, COGAT, the bureaucratic arm of Israel's military occupation, said it approved the entry of 1,000 traders from Gaza into Israel.
The catch is that those permits will only be issued to people who have recovered from a coronavirus infection or who have been vaccinated.
But only around 6.5 percent of Gaza's 2.1 million residents are vaccinated against COVID-19, as Israel refuses to provide vaccines to Palestinians in violation of its legal obligations as the occupying power.
COGAT also announced that it would allow exports to return to their level prior to May's assault, and slightly expand imports to include transportation and communications equipment.
Collective punishment
COGAT also explicitly acknowledged that Israel's restrictions on Gaza are a form of collective punishment by announcing that any easings would be conditioned on whether Palestinian factions resist against continued Israeli violence.
"Stability in security = civilian steps." This is the equation that COGAT said earlier this month it had applied to temporary lifting of restrictions on Gaza residents.
If Palestinian resistance factions "decide to disturb the calm, they will bear the responsibility for disrupting your lifestyle and canceling the steps," COGAT stated. "This is in your interest!"
In exchange, Israel would allow certain goods to enter the strip, permit some Palestinians there to return to work in Israel, as well as slightly extend the permitted fishing area off of Gaza's coast.
The blackmail and threats to withhold basic humanitarian needs and rights from the civilian population as collective punishment for any resistance violate the Fourth Geneva Convention. The convention, by which Israel is bound, states that no civilian under military occupation "may be punished for an offense he or she has not personally committed."
Such outlawed collective penalties are however Israel's standard operating procedure, which it can continue due to the total impunity afforded to it by the so-called international community.
Tags