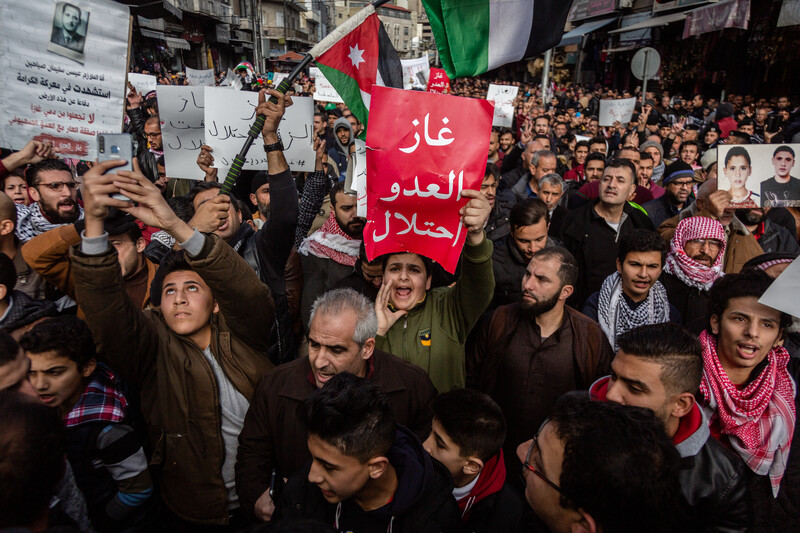 Israel has begun pumping natural gas to Jordan amid staunch public opposition.

Hundreds marched in downtown Amman earlier this month, and other protests took place in various areas of Jordan. The gas deal now being implemented is opposed by Jordanian citizens and members of parliament.

Israel's energy minister Yuval Steinitz called 31 December a "historic day" for Israel.

"I am announcing it here for the first time that Israel is becoming a gas exporter to Jordan," Steinitz told the Israeli publication Ynet.

Yossi Abu, CEO of the Israeli firm Delek Drilling, described the deal's implementation as "a historic turning point in the history of Israeli economy." The deal would strengthen "Israel's position in the region," he added.

Delek is among the consortium of firms benefiting from the gas deal.

Hisham Bustani, a writer and general coordinator of the Jordanian Campaign to Stop the Zionist Gas Deal, previously argued that Jordan's role was to significantly fill a market gap for Israel.

The so-called Leviathan gas field in the Eastern Mediterranean hosts more gas than Israel requires for domestic use.
Benefits for Israel
Contents of the gas deal were revealed for the first time last summer. It had been signed between NBL Jordan Marketing – a subsidiary of the US firm Noble Energy – and Jordan's government-owned national electricity company NEPCO in September 2016.
A consortium of US and Israeli firms operates the Leviathan gas field under an arrangement with the Israeli government. Israel is a direct beneficiary of the transaction and is likely to receive royalty and tax payments worth $15 billion, the Tel Aviv daily Haaretz has reported.
Jordan will be paying at least $10 billion over 15 years for a total of 45 billion cubic meters of natural gas.
In other words, Jordanian taxpayers will contribute to Israel's treasury – which finances the military occupation of Palestinian land.
Israel will also start pumping natural gas from the same fields to Egypt in the coming days. Jordan and Egypt will together account for over 85 percent of natural gas being extracted from the Leviathan field.
Israeli media has reported that the Israel Electric Corporation is paying higher prices for gas than the two Arab countries.
Jordan and Egypt are the two only Arab countries to have formal diplomatic ties with Israel, although several Gulf states have been warming up to Israel recently based on a mutual enmity towards Iran.
Pollution concerns
Jordanians were not alone in protesting their government's involvement in the gas deal. Some Israelis have voiced objections, albeit for different reasons.
Israeli residents of the coastal region have expressed concern over pollution as a result of gas extraction.
A gas rig test was meant to take place in December but was cancelled "because of concerns that the company had failed to meet the necessary criteria for the procedure," according to The Times of Israel.
Israel's environmental protection ministry subsequently gave the go-ahead for the test, however.
The test involved flushing out nitrogen lining the pipe's walls.
Israeli residents of the area evacuated their homes and schools were shuttered due to fears of toxic emissions.
Tags