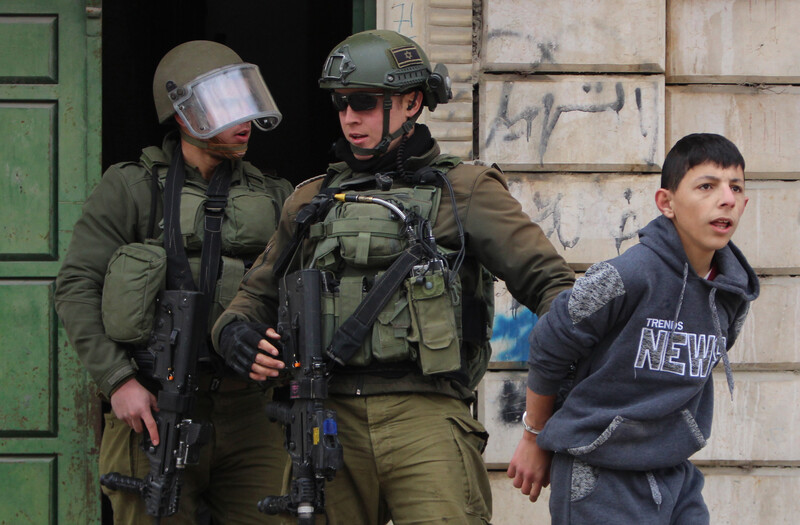 United Nations officials are calling on Israel to immediately release all Palestinian children.
Israel has been jailing more Palestinian children even amid the new coronavirus pandemic.
By the end of March, some 194 Palestinian children were languishing in Israeli prisons. There are currently more than 180.
"This is higher than the monthly average number of children detained in 2019," UN officials said.
"Of the total, the vast majority of these children have not been convicted of any offense but are being held in pre-trial detention."
Due to the pandemic, proceedings in the arbitrary military tribunals to which Israel subjects Palestinians, including children, have been put on hold.
The statement is signed by UN humanitarian coordinator Jamie McGoldrick, UNICEF special representative in Palestine Genevieve Boutin and James Heenan, head of the United Nations Human Rights Office in the occupied West Bank and Gaza Strip.
Making the situation even worse, Israel has banned almost all visits to detained persons. This means that children can't see their families or their lawyers, contributing to their psychological suffering and denying them legal advice.
"Children in detention face heightened risk of contracting COVID-19, with physical distancing and other preventive measures often absent or difficult to achieve," UN officials said.
"The best way to uphold the rights of detained children amidst a dangerous pandemic, in any country, is to release them from detention and to put a moratorium on new admissions into detention facilities."
Support from congresswoman
Israel has the dubious distinction of being the only country in the world that systematically subjects children – and only Palestinian children – to military tribunals.

US lawmakers have in recent years introduced legislation to curb such abuses.

Congresswoman Betty McCollum introduced HR 2407, a bill that would prohibit US funding to Israeli military units found to be involved in abuses of Palestinian children. It also allocates millions of dollars to investigate such abuses.

"I support UNICEF in calling on Israel to release all Palestinian children in its military prisons," McCollum stated on Monday.

"The COVID-19 pandemic and the abuse inflicted on these children justifies their immediate release."

McCollum's bill currently has 23 cosponsors.
Ignoring calls
The UN call echoes those of human rights groups since the beginning of the pandemic.
Defense for Children International Palestine and prisoners rights group Addameer have both called on Israel to release Palestinian children.
Israel has ignored these calls.
In April, Israel arrested 18 more children.
There are currently some 4,700 Palestinians in Israeli jails, 400 of whom are in so-called administrative detention – without charge or trial, according to statistics compiled by Addameer.
Many are placed in mandatory quarantine by Israel upon arrest.
At the end of March, Israel released a Palestinian prisoner from Ofer military prison and he tested positive for the new coronavirus the next day.
Notably, Nour al-Deen Sarsour had been in section 14 of the prison, where he was held among dozens of others, making it likely that many were exposed to infection.
Israeli occupation forces imprison Palestinian children in nearby section 13.
Israel has also continued to punish Palestinian detainees, placing some in solitary confinement and barring others from speaking to their families.
It has ignored repeated warnings by international human rights bodies that authorities must significantly reduce incarcerated populations globally to fight the pandemic.
"Now, more than ever, governments should release every person detained without sufficient legal basis, including political prisoners and others detained simply for expressing critical or dissenting views," Michelle Bachelet, the current UN high commissioner for human rights, stated in March.
One Palestinian prisoner died in Israeli detention during April.
Tags