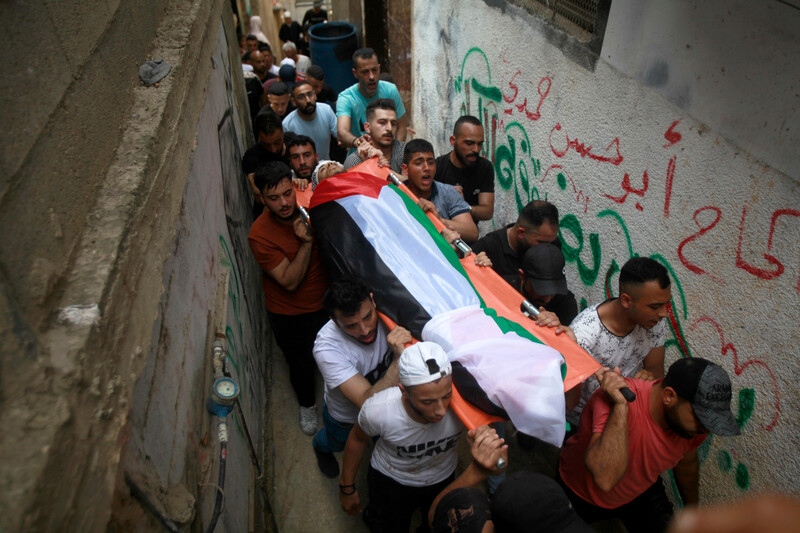 Israeli occupation forces killed a Palestinian man in the northern occupied West Bank city of Nablus during a punitive home demolition overnight on Thursday.

He was identified as Khalil Yahya al-Anis. Local media circulated his picture following his killing:

Israeli authorities demolished the home of a man they accuse of the fatal shooting in October of Ido Baruch, 21, a soldier in the military's Givati brigade, which has been involved in serious crimes against Palestinians in the Gaza Strip and other places.

Collective punishment of this kind is a war crime that Israel only perpetrates against the families of Palestinians accused of harming Israelis, and never against the families of Israelis who harm Palestinians.

Israel has carried out at least 27 revenge demolitions since the beginning of 2022, according to Israeli human rights group B'Tselem.

This includes more than 10 this year alone. "At the current pace, it would be the most demolitions since 2016," The Washington Post reported, citing B'Tselem's figures.

Meanwhile, Israeli occupation forces killed a mentally disabled teenager on Tuesday during their incursion into Balata refugee camp on the outskirts of the West Bank city of Nablus.

Israeli soldiers killed Faris Abd al-Munim Hashash, 19, while he was hiding behind a wall and observing the area where the army was stationed about 200 meters away.

He was shot with three live bullets, one in the abdomen and two in his thighs. Israeli forces also injured seven other people, including two children.

Local media circulated Hashash's picture following his killing:

Israeli forces had invaded the camp as mistaravim – undercover agents dressed as Palestinians – and stationed themselves around the family home of 20-year-old Isam Husam al-Salaj, according to the Palestinian Center for Human Rights.

Agents also took positions on the roofs of nearby homes while special forces cordoned off the house with al-Salaj and his family inside.

Israeli forces, who brought military vehicles and a drone, fired live ammunition and missiles at the house.

They seriously injured al-Salaj, who was evacuated to hospital after Israeli forces withdrew.

Palestinians in the camp confronted Israeli forces in an attempt to break the siege of the al-Salaj house.

Meanwhile, four Israeli soldiers and one settler were wounded in a shooting near the illegal Israeli settlement of Mevo Dotan in the northern occupied West Bank on Tuesday afternoon.

A vehicle with an Israeli license plate reportedly shot at an Israeli military vehicle with soldiers inside near the West Bank town of Yabad near Jenin.
Tags