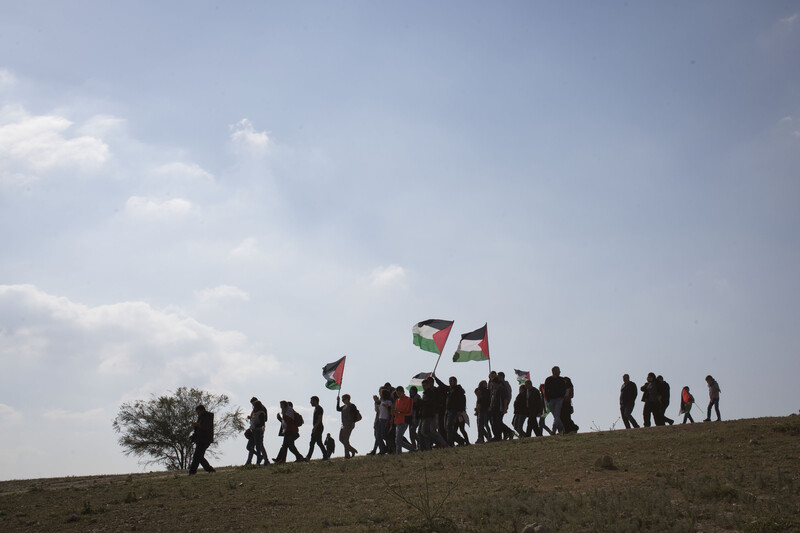 The Israeli government has forced residents of the Palestinian Bedouin village of Umm al-Hiran to agree to be expelled from their homes and resettled to the Bedouin town of Hura in the southern Naqab region under threats of violence.
A community leader, Raed Abu al-Qiyan, said that the Israeli government's Bedouin resettlement authority forced residents to sign the agreement in the early dawn hours of Tuesday as the Israelis brought police and demolition teams into the village.
He said that the families of about 170 residents signed on to the agreement, fearing a repeat of the "blood and murder" of January 2017 when Israeli police demolished homes in the village and killed a 50-year-old Palestinian math teacher.
"I speak to you while I cry, after we were forced to sign an agreement that will distance us from Umm al-Hiran where we have lived for 63 years, for the racist purpose of building a Jewish-only settlement on the ruins of Umm al-Hiran," al-Qiyan told the publication Arab48.
"An act of extreme racism"
The legal advocacy group Adalah, which has represented residents of Umm al-Hiran for 15 years, on Wednesday condemned the reported agreement.
Adalah said its lawyers "took no part in the negotiations to reach a settlement with Israeli authorities due to our principled opposition to eviction and demolition."
Adalah called the forced displacement of Umm al-Hiran's residents an "act of extreme racism, embodying Israel's colonialist land policies with the backing of the entire Israeli court system."
"Israel is moving forward with the destruction of Umm al-Hiran in a plan – reminiscent of the darkest of regimes such as apartheid-era South Africa – to build a new Jewish-only town on its ruins," Adalah added.
Court challenge
On Monday, Adalah had filed a petition to Israel's high court, demanding that authorities cancel the imminent destruction of the village.

Yet Israeli police, accompanied by demolition workers, arrived in the village early Tuesday to survey the area for demolition, according to Arab48.

Israel announced its demolition plans on 21 March when Israeli police posted eviction notices on homes and the village's mosque stating that demolition would take place between 15 and 29 April.
Jewish-only settlement
If carried out, Israel will make 350 Palestinians – all citizens of Israel – homeless.
Only "a Jewish-Israeli citizen or permanent resident of Israel who observes the Torah and commandments according to Orthodox Jewish values" will be permitted to live in the new settlement, according to documents obtained by Adalah last August.
Residents of the new settlement, to be called Hiran, would also have to be approved by an admissions committee.
This discriminatory policy contradicts Israel's 2015 high court ruling that the planned settlement will not prevent anyone from living there, including Palestinian Bedouins, according to Adalah.
In its petition, Adalah noted that this is "one of the most severe cases in the legal history of Arab citizens of Israel since 1948."
Israel was established in that year as 750,000 Palestinians were ethnically cleansed by Zionist militias. The approximately 160,000 Palestinians who remained behind in what became Israel were granted Israeli citizenship. But until 1966, they lived under military rule and saw the Israeli state continuously confiscating their land and treating them as an enemy within, rather than as citizens with full and equal rights.
Today, numbering about 1.5 million, Palestinian citizens of Israel continue to live under dozens of discriminatory laws.
Demolition and looting
Meanwhile, in the occupied West Bank on Monday, Israeli forces demolished and dismantled a primary school in the Bedouin town of Dahariya, south of Hebron.

The Zanuta school was one of seven opened by the Palestinian Authority in March to challenge Israeli encroachment in the area.

The school served more than 40 students and had six rooms and a clinic.

Local media tweeted photos of the demolished school and of children gathering for class by its ruins:

"Despite the demolition, the schoolchildren still showed up to school on Tuesday in the cold rain. Their teachers conducted classes on the floor of the remaining structure," the Ma'an News Agency reported.

Israel is threatening to demolish at least 45 Palestinian schools across the occupied West Bank, including East Jerusalem, the UN humanitarian coordination agency OCHA stated in February.

Israel has already destroyed a number of schools, many funded by international donors. However those donors, particularly the European Union and its members, have done nothing to hold Israel accountable.

Also in Hebron, dozens of Israeli settlers occupied a building near the Ibrahimi mosque on 26 March under the protection of the Israeli army.

These homes were previously occupied by Israeli settlers from the group Hashmiei Kol Ohalech, which allegedly purchases homes in the West Bank to encourage Israeli settlement, but were evacuated in 2016.

Last July, another group of settlers from the same organization occupied another building in Hebron belonging to the Abu Rajab family, but were ordered out in March by Israel's high court after they provided no proof of ownership.

Palestinian media tweeted photos of the settlers moving their belongings from the Abu Rajab home:

The Israeli newspaper Haaretz reported that "the settlers agreed to leave the house after they were promised ownership deliberations would be expedited."

Israeli settlers routinely use forged and fraudulent real estate transactions in their efforts to claim ownership over Palestinian property.

All Israeli settlements in the West Bank are illegal under international law.
Tags