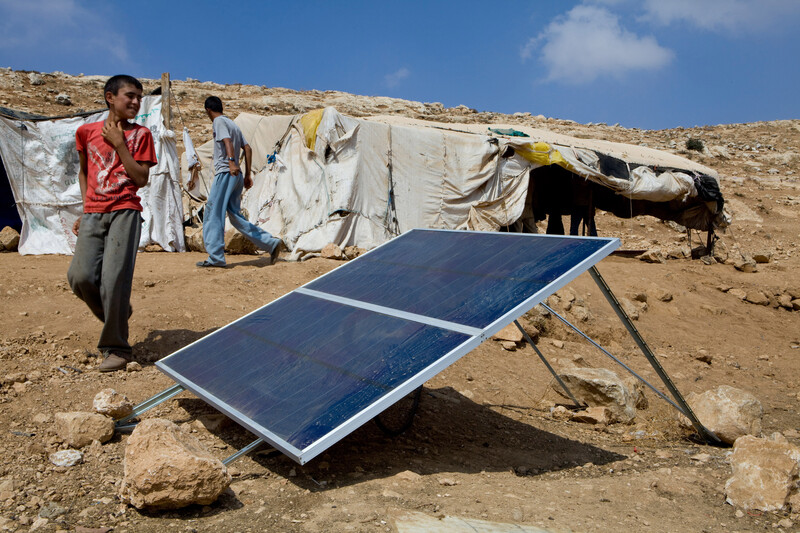 Israel is preventing Palestinians in the occupied West Bank from accessing electricity networks as part of efforts to expel them, a new report has concluded.
The human rights group Al-Haq has documented how Palestinians living in Area C – a zone comprising around 60 percent of the West Bank – have far less access to energy than Israelis living in neighboring settlements.
Those settlements – illegal under international law – are provided with "full access to stable electricity as well as alternative sources of power," a new report by Al-Haq states.
Israel is fully able to provide Palestinian communities with the same access to electric power, but intentionally deprives them as part of a "multifaceted system of discriminatory restrictions designed to isolate, harass, and oppress Palestinians," the report adds. Al-Haq accuses Israel of "creating coercive environments" with the aim of forcibly transferring Palestinians.
Under the Fourth Geneva Convention, Israel is required to meet the basic needs – including energy requirements – of Palestinians living under occupation.
Israeli politicians are increasingly calling for the permanent annexation of Area C, which would leave the majority of Palestinians in the West Bank corralled into tiny islands of the territory. As part of a zoning system introduced by the Oslo accords, Area C is under full Israeli political and military control.
Constant fear of demolition
Israel's restrictions force Palestinians in Area C to depend on solar power not as an alternative source of energy, but as a last resort.
Even then, Israel requires Palestinians to obtain permits to install solar panels or for any new construction in Area C.
Israel allocates only one percent of the land in Area C for Palestinian development, and approves less than two percent of building permits there.
"There is no realistic avenue for Palestinians living in Area C to 'legally' install or maintain solar panels," the report states.
This reality forces Palestinians to either leave the area or build without permits and live in constant fear that their homes will be demolished and their solar panels confiscated.
If Palestinians install solar panels or build without permits, the Israeli Civil Administration – the military body that governs Palestinians in the West Bank – issues confiscation or demolition orders.
Technically, Palestinians can protest these orders in Israeli courts, but injunctions typically go nowhere as courts often rubber-stamp the civil administration's decisions.
The civil administration sometimes proceeds with demolitions even when cases are still pending in court.
Settler surveillance
Nearby illegal Israeli settlers assist the military in demolishing homes and confiscating panels and building materials in these Palestinian communities.
Settlers fly drones over the Palestinian village of Susiya in southern Hebron to monitor new construction, the head of the village, Jihad Nawaja, told Al-Haq.
"When the drones capture 'building materials' or 'construction activity,' the settlers inform the Israeli authorities, who in turn immediately enter the village to confiscate or demolish these structures," the report states.
Profiting
While Israel prohibits Palestinians from installing solar panels in their communities, it still "profits enormously" from renewable energy, according to the report.
Israel generated approximately $460 million in revenue from solar energy projects – including projects located within the West Bank – during 2016 alone.
"To date, four Israeli commercial solar fields have been constructed in illegal industrial settlements in the West Bank," according to Al-Haq. This means that Israeli businesses and investors are directly participating in Israel's illegal activities.
Israel is having it both ways. It is illegally confiscating Palestinian land "to exploit the territory's solar energy without investing the benefits back" into these communities, the report states.
EU-funded construction
The European Union will begin supplying Israel's illegal settlements with electricity in the next few years.
A multi-billion dollar project will connect the EU grid to Israel's illegal settlements. It will supply electricity in both directions.
This will effectively help maintain Israel's impunity for international crimes, according to the Palestinian BDS National Committee, the steering committee for the boycott, divestment and sanctions movement.
The EU funds the construction of many buildings for Palestinians in Area C. Yet it has not tried to hold Israel accountable for the regular practice of demolishing projects that the EU has funded.
From 2001 until 2016, Israel caused an estimated $74 million in destruction to EU-funded projects. That includes $26 million of destruction to EU projects during Israel's 2014 assault on Gaza.
Instead of holding Israel accountable, "European donors have expressed reluctance in funding aid projects without guarantees from Israel," according to Al-Haq.
In the past two years, Israel has "drastically escalated" its crackdown on EU-funded projects.
The report states that Israel destroyed more EU-funded projects in the first three months of 2016 than during all of 2015.
Tags