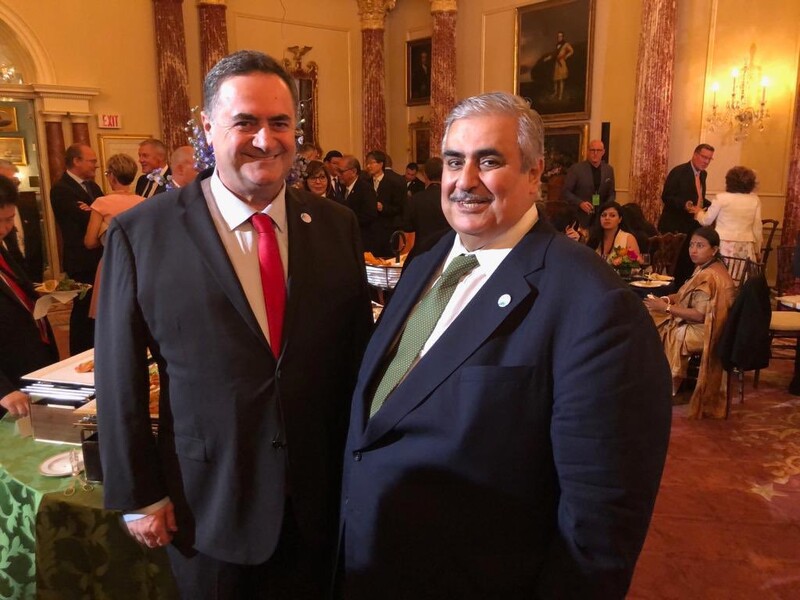 Israeli foreign minister Yisrael Katz revealed on Sunday that he is involved in an initiative to forge non-aggression pacts with Arab Gulf states.

He said the effort had the backing of Israeli Prime Minister Benjamin Netanyahu.

"The historic move will put an end to the conflict and allow civilian cooperation until peace agreements are signed," Katz claimed.

Katz said he had presented the initiative to Arab foreign ministers and US envoy Jason Greenblatt during a recent visit to the United Nations.

He did not name the countries involved, but Israel has no formal diplomatic ties with any Gulf states.

It is unclear if such agreements are likely in the short term. However, Israel and several Gulf states have embraced each other publicly in recent years, bringing into the open clandestine ties that have existed for decades.

Last October, Netanyahu made a formal visit to Oman.
Bahraini normalization
During the UN General Assembly session in New York last month, Katz said he met with an Arab foreign minister whom he did not identify.

"We discussed the regional realities and ways to deal with the Iranian threat," Katz tweeted.

He said they also discussed ways to promote cooperation between the two countries.

Mutual animosity towards Iran has been the key rationale for advancing covert, and more recently overt, relations between certain Gulf states and Israel.

This effort is led by Saudi Arabia.

In another sign of that warming embrace, the American Jewish Committee presented Bahrain with an award for being "opening and welcoming" towards the Israel lobby group.

Bahrain's foreign minister Khalid bin Ahmed Al Khalifa received the "Architect of Peace" award on his country's behalf.

"We in Bahrain want to do our part in achieving Israeli-Palestinian peace," Al Khalifa reportedly stated.

He also praised the peace treaties Egypt and Jordan have signed with Israel – a possible hint that Bahrain hopes to follow suit.

Late Egyptian President Anwar Sadat "achieved a very successful peace agreement with Israel," he stated.

Katz posed for pictures with Al Khalifa at the US State Department in July.

The Israeli minister also led a delegation to Abu Dhabi in June to attend the UN Climate Change Summit – an indication of normalization with the United Arab Emirates.
Saudi custodianship
Saudi journalist Abd al-Hamid al-Ghabin appeared on the TV channel RT to discuss recent developments.

"Everyone will recognize Jerusalem as the capital of Israel," al-Ghabin asserted.

"As for the al-Aqsa mosque, with the help of God, it will be under Saudi administration along with the Two Holy Mosques, and this will happen in the future," he added.

"As for the Palestinians, their alternative homeland will be Jordan or they will have to accept Israeli citizenship, that is the reality."

"Name an Arab country that Iran hasn't tampered with. And what has Israel done in the past 70 years? My brother, it hasn't done anything," al-Ghabin claimed.

Most of these talking points are views long espoused by Israel's ruling Likud Party.

When the host asked why Saudi Arabia should not be the alternative homeland for Palestinians, al-Ghabin appeared stumped.

Al-Ghabin made the case for Saudi custodianship of al-Aqsa mosque on Israel's i24 News in July, a channel he frequents.
Sudan?
Meanwhile, Sudanese Prime Minister Abdalla Hamdok dodged a question about whether his new government will recognize Israel.
Hamdok was asked at a New York press conference to repudiate comments from Sudan's foreign minister hinting at such a recognition.
But Hamdok told the newspaper Al-Quds Al-Arabi only that "Sudan's foreign policy will be based primarily on Sudan's vital interests without interference in internal affairs."
In recent years, Israel has lobbied on behalf of Sudan, whose deposed president is wanted for genocide by the International Criminal Court, reportedly because Israel now sees Sudan as a potential ally against Iran.
Sudanese leaders may hope that gestures towards Israel will help convince the United States to remove their country from the US list of state sponsors of terrorism.
Football as cover for normalization
Meanwhile, Saudi Arabia's national football team is scheduled to play its Palestinian counterpart in the occupied West Bank city of Ramallah on 15 October.

The match would be part of the 2022 FIFA World Cup Asia qualifiers.

Saudi sports officials announced on Twitter that the match was "at the request of brothers in the Palestinian federation."

Palestinians are pointing out that this is a form of normalization, as Saudi players would require Israeli permits to enter the occupied West Bank.

The purpose of the match is "to market and polish Saudi policies in the region and open the door to normalization with the Zionist entity," the leftist political party the Popular Front for the Liberation of Palestine stated.

The party accused the Palestinian Authority of insisting on promoting Arab relations with Israel, and called for the event to become "a platform to express the Palestinian people's solidarity with their brothers in Yemen and to confront normalization."

Yemen has been subject to Saudi-led war and bombardment since 2015.

Last month, Israel denied a football team in Gaza permission to travel to the occupied West Bank for a Palestine Cup match.

The FIFA-recognized competition determines which team will represent Palestine in the Asian Champions League.
Tags