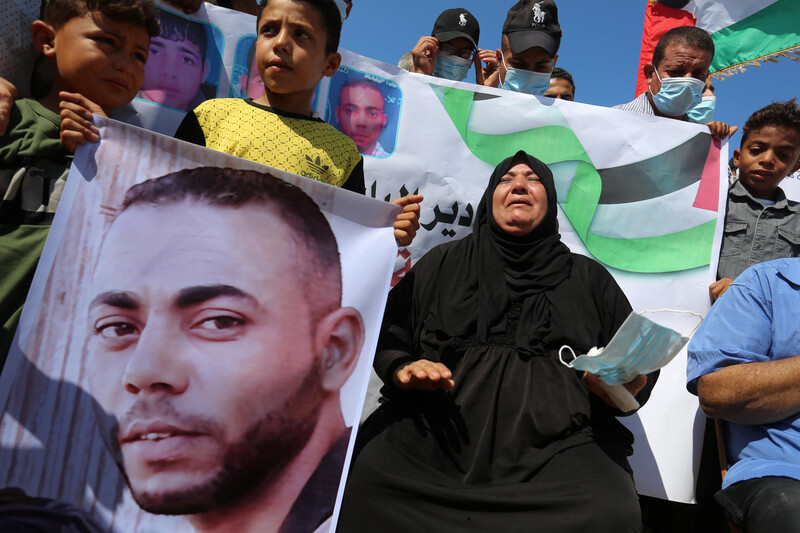 The Egyptian military fatally shot two Palestinian fishers and injured a third off the Gaza coast.

Hasan Muhammad al-Zazou, 26, was sailing with his brothers Mahmoud, 20, and Yasser, 18, near the maritime boundary between the Gaza Strip and Egypt on Friday.

Their boat is suspected to have crossed into Egyptian waters, according to Gaza-based human rights group Al Mezan.

The Egyptian navy then opened fire at the boat, killing Hasan and Mahmoud, and injuring Yasser.

Al Mezan is calling for an investigation and urging Egyptian authorities to review their open-fire regulations.

The Egyptian navy has previously shot and killed Palestinian fishers even when they did not cross into Egyptian territory.

On one occasion, Egyptian gunmen killed a mentally ill Palestinian man who walked into the sea near the Egyptian border even as Palestinian security officers signaled to the Egyptian military not to shoot.

Hasan and Mahmoud's bodies were handed over to Gaza authorities on Saturday through the Rafah border crossing between Gaza and Egypt.

Yasser is still receiving medical treatment in Egypt.

Local media criculated pictures of crowds carrying the bodies of Hasan and Mahmoud during their funeral in Deir al-Balah, central Gaza, where they are from, on Sunday.

"My children were martyred for trying to make a living," Nawal al-Zazou, the men's mother, told the Safa Palestinian Press Agency.

"My sons did not go to fight the Egyptians, they went to fight hunger and poverty," she added.

Gaza's fishing industry is vital to its economy with tens of thousands of families dependent on it for food and income.

Despite that, Palestinian fishers have had little breathing room during the pandemic.

Israel fired at fishing boats inside Gaza's fishing zone more than 100 times in the first four months of the year.

This number continued to go up amid the pandemic.

The Oslo accords, signed by Israel and the Palestine Liberation Organization in the 1990s, stipulated that Palestinians be allowed to fish up to 20 nautical miles from Gaza's shore.

Israel has never allowed Palestinians to go beyond 15 nautical miles, and typically allows fishers to sail only six miles off the Gaza shore.

Israel habitually reduces and restricts the fishing zone, sometimes completely barring Gaza fishers from sailing altogether, as it has done during the pandemic.

This targets Gaza's economy and its two million inhabitants, half of them children. It is collective punishment – a violation of article 33 of the Fourth Geneva Convention, and thus a war crime.
Tags