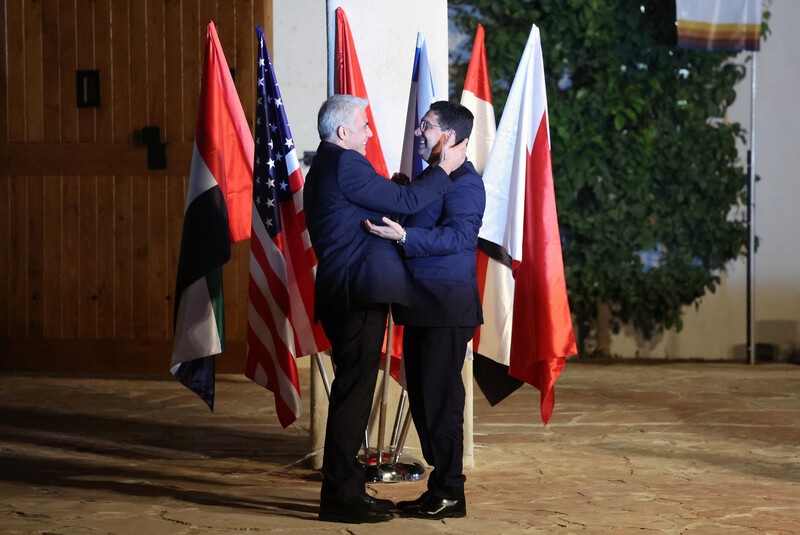 Four Arab foreign ministers participated in a normalization summit in southern Israel on Sunday and Monday.

They were the UAE's Abdullah bin Zayed Al Nahyan, Morocco's Nasser Bourita, Bahrain's Abdullatif bin Rashid Alzayani, and their Egyptian counterpart Sameh Shoukry.

They joined Israel's foreign minister Yair Lapid and US Secretary of State Antony Blinken, who met with Palestinian Authority leader Mahmoud Abbas before joining the conference.

The Negev Summit was held at the Sde Boker kibbutz in the Naqab (Negev) region, where Israel's first prime minister David Ben-Gurion lived and is buried.

Born David Grun in present-day Poland, Ben-Gurion went to Palestine as colonial settler in the early 1900s and as leader of the Zionist movement spearheaded the 1948 Nakba, the ethnic cleansing of 800,000 Palestinians by Jewish militias.

Participants were even served lamb from the occupied Syrian Golan Heights during the conference. It perhaps unintentionally symbolized the victims of Israel's settler-colonialism and their unwilling sacrifices for this new Israel-Arab marriage.

The conference was aimed at boosting military cooperation between the participating states, which are joined by a mutual enmity towards Iran. But it should be seen as a gathering of American clients in the region of which Israel, along with other undemocratic regimes, is just one of many.

At the conference's close on Monday, Lapid said that the countries are working to build "a new regional architecture" that includes "security and intelligence cooperation."

"This new architecture, the shared capabilities we are building, intimidates and deters our common enemies, first and foremost, Iran and its proxies," he added.

"They certainly have something to fear," Lapid threatened, adding that the conference will become a "permanent forum."
Anti-Iran alliance
The importance of an anti-Iran alliance was emphasized by Blinken, Lapid, and Bahrain's foreign minister.
Among the "proxy groups" Bahrain's Abdullatif bin Rashid Alzayani mentioned were the Houthi rebels in Yemen and the Lebanese resistance group Hizballah, both of which make cooperation more "urgent," he said.
He also spoke of "the need to resolve the Iranian nuclear file."
In 2020, the UAE, Bahrain and Morocco formalized their relations with Israel under the so-called Abraham Accords, which brought into the open decades of covert relations with Israel.
Sudan also agreed to normalize relations that year, but officially signed the agreements in January 2021.
Military alliance against Iran has been the bedrock of the Abraham Accords.
The summit comes amid signals that the Biden administration may rejoin the 2015 nuclear deal – known as the JCPOA – which Israel worked relentlessly to sabotage.
Exclusion of Jordan, PA
Notably, there were no representatives from Jordan or the Palestinian Authority at the conference.
Sudan and Jordan were the only Arab nations with formal diplomatic relations with Israel excluded from the forum.
Jordan's King Abdullah and his son Crown Prince Hussein arrived Monday in Ramallah, the seat of the Palestinian Authority in the occupied West Bank, for talks with PA leaders.
Killings in the north
All six officials participating in the Negev Summit condemned the killing of two Israeli Border Police officers in Hadera, a town in northern Israel, on Sunday.

Ibrahim and Ayman Ighbariya, both relatives from the town of Umm al-Fahm, fatally wounded a Border Police officer at a bus station in Hadera. Using the weapon of the dead officer, they opened fire on others, killing another Border Police officer.

One of those killed, Shirel Aboukarat, 19, had come to Israel as a colonial-settler with her family from France in 2006. Relatives and her school principal told media that it had been her "dream" to join the Border Police, a unit that regularly terrorizes and kills Palestinians with impunity in the occupied West Bank.

The other Israeli killed was named as Yazan Falah, 19, a member of the Druze community – an indigenous Palestinian religious minority who are conscripted into the Israeli military.

Several others were also hurt, two seriously, according to Tel Aviv daily Haaretz.

Israeli undercover agents shot dead the Ighbariya men.

Ali Abunimah contributed reporting.
Tags