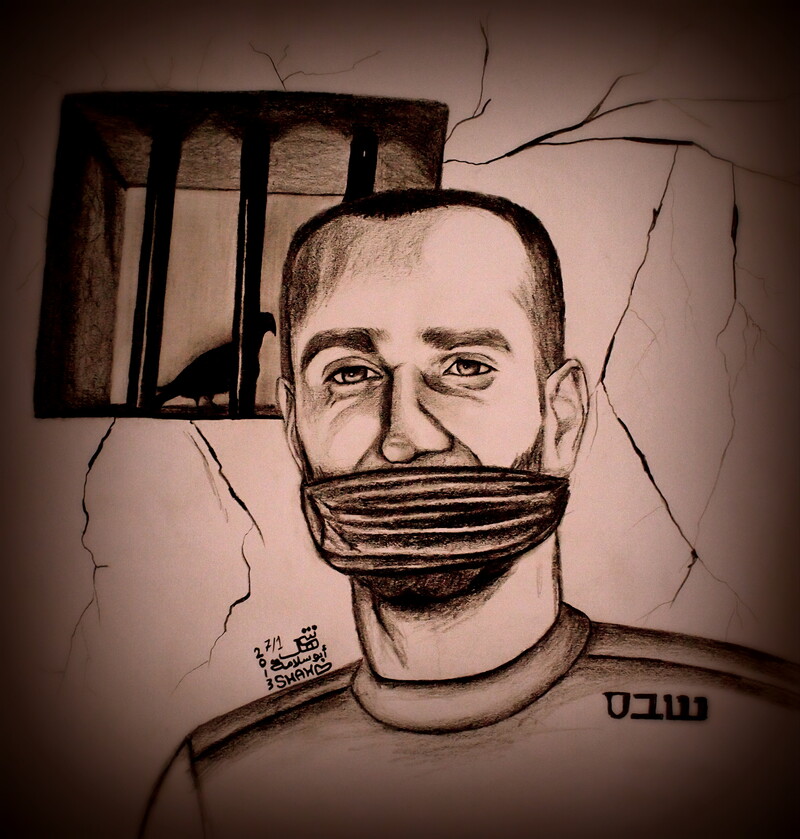 I can't kick the bad habit of biting my fingers when I'm stressed despite my constant attempts. My forefinger is swollen due to this habit and it really hurts; the cold weather makes it worse. The pain was intolerable this morning and it made me cry, but I quickly wiped my tears. I felt ashamed to think that our hero Samer Issawi suffers pains incomprehensible to the human mind.
However, he makes us all proud as he continues to fight injustice. His body has broken the limits of hunger. His hunger has broken the silence and will help defeat Israel's injustice and oppression.
As the rain pounds continuously and the winds howl uncontrollably, Samer Issawi dominates my mind. I think back to my 24 hours of hunger strike on Monday, which caused me a terrible headache, leaving me unable to focus on my studies for my final exams; I observe how very few people walk outside and how even fewer cars drive past my house. Then I think of Samer and I can't but look to him with utter admiration and respect — proud of his shocking ability to refuse food for 168 days. My admiration for him made me give Samer's dire situation priority over my studies and draw him a portrait.
How painful it is to imagine him now … to imagine how much he endures from Israel's constant oppression, medical neglect, pain, hunger and cold. Personally, I can hardly leave my warm bed to go to the bathroom. I'm studying and typing away with trembling fingers while I lie under three heavy blankets. But Samer suffers in the cold. Mum takes very good care of me; she even brings me food to my bed so I don't have to stop my studies and leave this warmth. But Samer suffers alone. Those around him aren't there to ease his pain but to make him suffer more. He finds no one to comfort him. Instead, he is relentlessly harassed.

Nonetheless, while I'm cozy in bed, my thoughts are torn between my books and Samer Issawi. I can't help but travel in my thoughts to Samer: lying in a cold, dirty, narrow solitary cell in Ramleh prison hospital, described often as a "slaughterhouse." Starvation makes the hunger striker feel cold despite the weather.
Shackled
Samer can barely stand on his feet and hardly turn his body on his borsh — a bed of metal that has a very thin mattress, which my father and friends who are ex-detainees often complained caused back pains.
In winter, one of the most brutal practices that the Israeli Prison Service uses to oppress our prisoners is depriving them from their winter needs such as heavy blankets and warm clothes, often even depriving them of hot water. As a result, Samer's sister Shireen worries about him more heavily.
"The sky is snowing in Jerusalem," Samer's sister Shireen has said. "But unlike others, the happiness of seeing the layers of snow covering everything escapes me. When one has a little wound, its pain increases in cold weather. So imagine the situation of Samer who is hunger striking for 168 days and left without blankets or heavy clothes. Imagine him after he was physically attacked by the savage Israeli soldiers, causing him fractures in the rib cage. These are unbearable pains that one can hardly endure. But Samer lives and suffers these pains every moment, every day."
He is shackled from his hands and feet to his bed or his wheelchair, and left with no means to defend himself. All this doesn't deter the Israeli soldiers from repeatedly beating him up. Israel tried every inhumane way to put pressure on Samer Issawi to end his strike. He wasn't the only target of this inhumanity: his family, his people in the village Issawiyeh, even sit-in tents installed in solidarity with him were targeted as well. 
Israeli bulldozers recently demolished the house of Samer's brother that was under construction and left it as rubble. But they couldn't break his brother's resilience. Instead he was thankful he didn't meet the fate of other Palestinians who had their houses demolished while they were inside, burying them alive.
Sadistic
Moreover, Israeli forces get a sadistic pleasure in making the heart of Samer's mother burn in worry over her sons and daughter. They arrested her son Fares and her daughter Shireen several times and called them to the investigation centers on numerous occasions. Raising Samer's voice to break the racist walls and reach beyond his cell to the hearts of humans of conscience was their only offense. The Israeli occupation forces attacked Samer's house several times and couldn't care less whether they raided the house at noon or after midnight. Moreover, Israel has cut the water supply to his family's house. They enjoy making them live in panic day and night. Isn't it painful enough for her to watch her son Samer dying every day?
Samer gets updates about his family through his lawyer. "With all the pressure that targets me and my family openly with no shame, Israel aims to force me to break my hunger strike,"  Samer has said. In a message delivered through his lawyer, Samer has commented powerfully on these latest inhumane practices Israel committed against his family.  "They reflect their feeling of defeat through enjoying punishing me and my family as if my arrest and my life being in danger weren't enough," Samer said.
"After they shamelessly fabricated a play in which Israel played the victim's role and accused me of being the attacker while my family and I were aggressively attacked openly in the Israeli racist court despite my critical health situation about a month ago, they hurried to demolish my brother's house. Why now?" Samer asked. 
"This demolition is a threat Israel tried to convey to me. That house was practically my future home in which I was planning to marry and establish my own family after my release from the 10-year imprisonment in Israeli jails, in the swap deal for [Israeli soldier Gilad] Shalit. Moreover, reacting to the failure of the Israeli intelligence in misleading public opinion and fooling them about the reasons for my re-arrest, they cut the water from my family's house ignoring the hardships they suffer. That was another threat for me that aimed to pressure my soul to submit and surrender.
"All that wasn't enough for the Israeli occupation which turned my family's life into a living hell. They continue to provoke my family every now and then and call my sister Shireen and my brother Fares to interrogation centers and arrest them aiming to prevent them from delivering my message to the world and break my determination which will never weaken or shake.
"Where are the international human rights organizations when all that is happening? Israel continues to commit crimes against us and the world responds with silence. Are the Palestinian people excluded from international law? Or are we not humans, therefore these laws don't apply to us?"
Gratitude
However, despite all the pains Samer Issawi suffers, he conveyed a message of gratitude for everyone who supports him, through his lawyer who has visited him and witnessed his terrible condition. Samer gained more hope and faith in humanity from the latest international hunger strike in solidarity with him, organized by Malaka Mohammed, in which people of different nationalities fasted for 24 hours. Moreover, there have been expressions of support from all over the world calling for his release. "I send my greetings to all who are fighting with me in this battle and who go out for this cause, I don't consider them in solidarity, but [that] they are warriors," Samer said.
Let our voices rise higher, break through the racist walls and reach Samer to provide him with more strength to withstand the torment. Let us double our efforts to rescue his life. Let us make his words echo all over the word and chant after him, "freedom and dignity is more precious than food." He shouldn't be left alone in this fight against injustice.
"Injustice anywhere is a threat to justice everywhere," Martin Luther King, Jr once said. Let King's words inspire you to join Samer's fight against Israel's injustices. His death would be a threat to your security, your humanity, to your values of justice and human rights. We need our Palestinian legend Samer Issawi alive as he deserves to live in dignity and freedom. 
Tags