The Palestinian art duo Basel Abbas and Ruanne Abou-Rahme, based in Ramallah and New York City, were announced last week as winners of the 2016 Abraaj Group Art Prize.
The $100,000 award is given by a major private equity firm with the aim of "empowering potential and giving often under-represented contemporary artists the resources to further develop their talent."
In its seven-year history, the vast majority of the artists and curators awarded the prize have come from the Middle East, North Africa and South Asia.
Palestinian artist Taysir Batniji was one of the 2012 winners.
Dystopian
Working largely in video, photography and installation, much of Abbas and Abou-Rahme's work depicts and engages with their Palestinian environment, tackling themes of colonialism, occupation and militarism.
They cite as influences figures as wide-ranging as the "histories and imaginaries" of German Jewish philosopher and critic Walter Benjamin and the musical remixing of drum and bass.
The results are often dystopian, contrasting the stark reality of the Israeli occupation and its scars on the landscape with the bizarrely ill-fitting exuberance of advertising billboards.
Incidental Insurgents
The Abraaj Group prize is the duo's second major win this year. In March 2015 they were also among the recipients of the Sharjah Biennial prize, awarded for "contribution to the cultural landscape of Sharjah and the Middle East."
That prize included a commission for the third part of their series The Incidental Insurgents, an earlier part of which was shown at London's Institute of Contemporary Arts in 2013.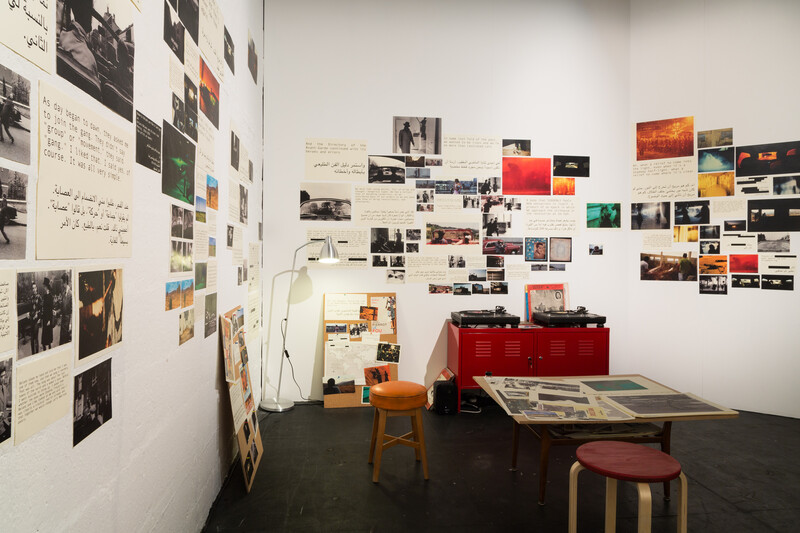 The second part of the sequence is on show at the Carroll/Fletcher gallery in London until 24 October. The series tackles themes of radical politics, action and violence, through figures ranging from Russian anarchist Victor Serge to 1930s Palestinian rebel/bandit Abu Jildeh.
Looking at an aspect of political action which is rarely interrogated, the work asks what such activities mean "for those who are not killed, somehow left behind … [it] is about things lost and others glimpsed in the wreckage, about what can be conjured into being from the ashes."
An excerpt from the series can be viewed at the top of this page.
Tags